Love to the Beat– Are you in sync with your partner?
Expedition | Sat & Sun 10h-18h
In January 2018, the leading scientific magazine Nature published a paper describing skin-to-skin contact between loved ones can reduce pain. It appears people are able to sync their biometric signals: an area of research in which a lot still needs to be discovered. This inspired researchers from imec to develop a research setup based on imec's Chill+ smart wristband. By measuring and comparing biometric signals (heart rate, Galvanic Skin Response, skin temperature), they try to assess how much in sync you are with some one you know or with a stranger. Once beyond the fun factor, biosynchrony can have relevant applications in the contexts of healthcare, smart offices etc. At SuperNova, imec is looking for test persons to participate in the research setup and for industrial partners interested in the technology and applications. The demonstrator can be found at the Living Pavilion, near Urban City.
LEDs for indoor positioning
Expedition | Sat & Sun 10h-18h
Indoor localization finds some of its most promising future opportunities in the industrial production and product distribution environment (e.g. in the tracking of goods and the guiding of automated guided vehicles). Existing systems, however, tend to be too expensive (e.g. laser-based systems), not accurate enough (e.g. RSS-based systems), or are not flexible (e.g. systems using induction loops in the floor for automatic vehicle guiding).
Imec has developed a LED-based Visual Light Positioning (VLP) solution that is potentially low-cost, highly accurate and easy to install. At SuperNova, imec is looking for industrial partners that can provide a context in which the potential of this VLP positioning system can be demonstrated for a specific application. In the first place for industrial infrastructure, although the system will also find applications in healthcare (patient and asset tracking), retail (personalized content) and large venue halls (indoor navigation). The demonstrator can be found at the Work Pavilion, Leon Van Parys building (Godefriduskaai). In collaboration with FlandersMake.
Making the invisible visible: the power of hyperspectral imaging
Tech Fair, FlandersFood booth | Conference pass needed on Thu & Fri (9h-19h) | Free access on Sat & Sun (10h-18h)
During this hands-on demonstration, imec and its partner MeBioS show how to make the invisible visible using spectroscopic sensors. Challenge yourself finding the foreign objects in a batch of chocolate callets using hyperspectral camera's and experience how you can "see" the sugar content of apples using a small, hand-held sensor. The demonstrator can be found at the FlandersFood booth. In collaboration with FlandersFood.
Antwerp's Digital Twin– Virtual Reality environment of the city of Antwerp
Imec booth | Tech Fair | Conference pass needed on Thu & Fri (9h-19h) | Free access on Sat & Sun (10h-18h)
As part of the City of Things project, imec collaborates with TNO (NL) to create a digital twin of the City of Antwerp. At SuperNova, imec demonstrates this unique virtual environment in an impressive experience cave. Designed for smart-city policy makers who want to acquire this technology for their own cities.
City of Things engagement booth
At De Techpeditie, in front of the MAS | Thu to Sun 10h-18h
Imec City of Things is a major research project looking at how various tech-based solutions are used that can make our lives in the city better. One thing that we know for certain at imec is that building a smart city is a joint undertaking. That's why we are reaching out to governments, businesses, research institutions and interested private individuals. At SuperNova, imec demonstrates some of its use cases in Antwerp and is looking for engaged citizens to join the test panels and focus groups. Would you like to help build the city of tomorrow? Then be sure to contact us! You can find us at SuperNova or apply directly online.
I want to join the City of Things project

Floorplan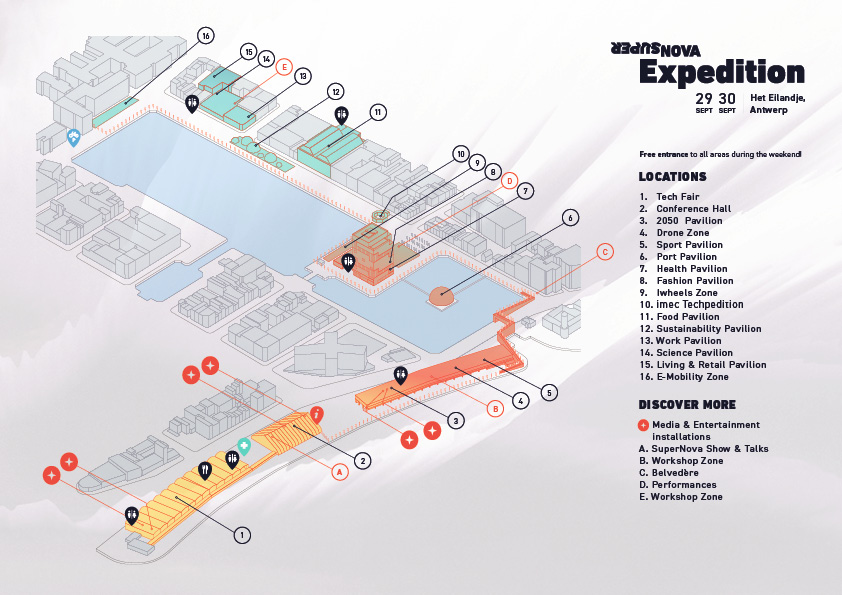 Full overview