The 'City of Things' initiative
Through its 'City of Things' initiative - in collaboration with the City of Antwerp - imec paves the way for the creation of tomorrow's smart cities. City of Things is a large-scale testing ground - covering a surface of 80 square kilometers - that will enable thousands of Antwerp citizens and visitors to communicate (and interact) with a huge amount of smart devices and sensors. Being the largest smart city living lab in Europe, it provides tech entrepreneurs with a unique opportunity to get in touch with users who can help them develop, test and optimize future products and services.
As the Internet of Things (IoT) grows and matures, the foundation is laid for 'smart cities' in which tens of thousands of sensors and connected devices will optimize the way in which we live and work.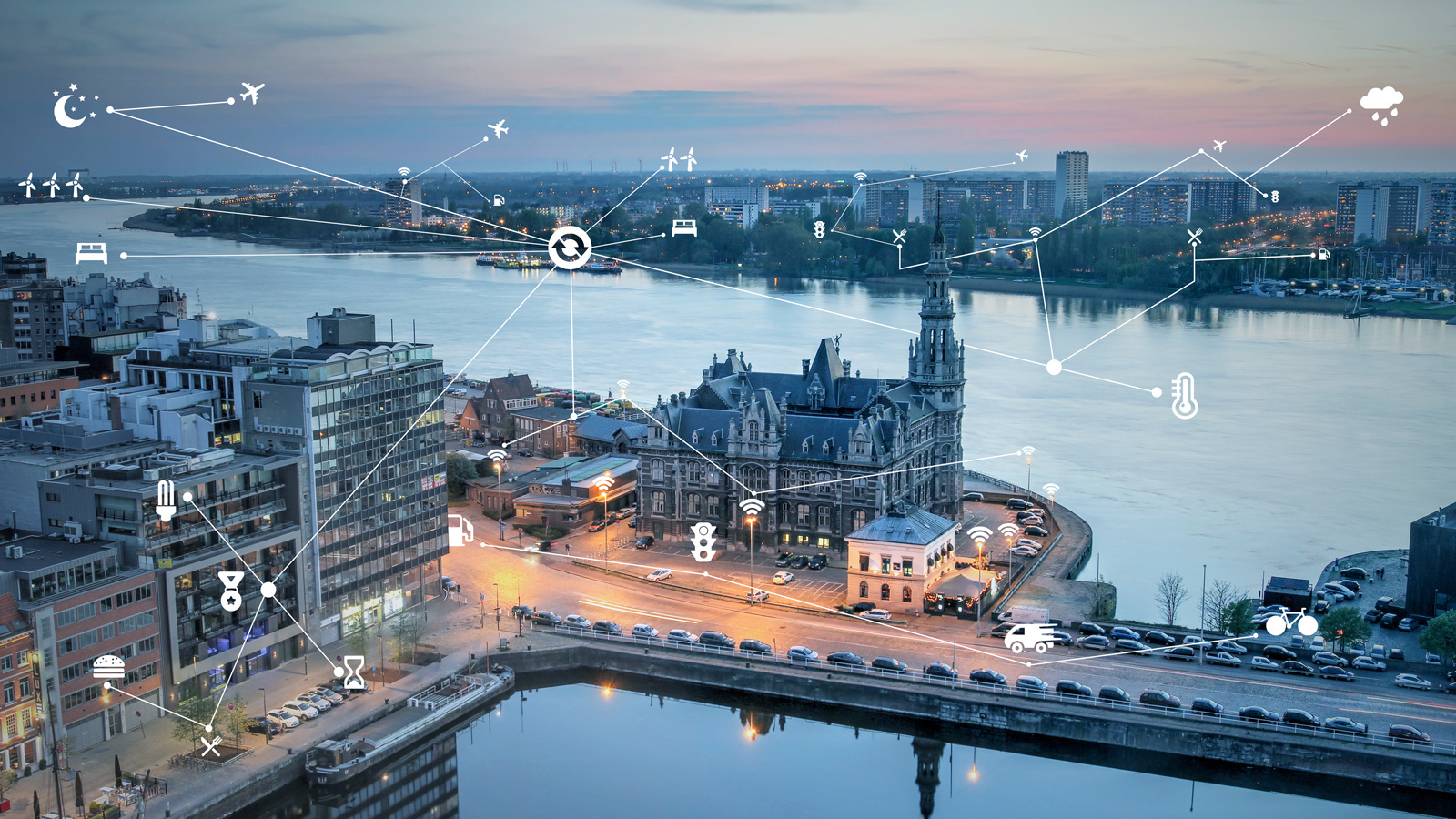 Inspiring examples of smart cities include Amsterdam, Barcelona, Helsinki, Vienna and Singapore (to name a few). Each of them tunes the smart city concept to its own needs, but what they all have in common is the basic premise of using digital tools, services and processes to improve the city's mobility, sustainability, public services, retail, culture, and more.
"Yet, a smart city is not just a prefab machine designed by architects or engineers, and crammed with the latest technologies; it is a city that makes optimal use of digital, sensing and communication technologies to respond to people's actual needs. As such, it lifts quality of life to a new dimension." - professor Pieter Ballon, Smart Cities Expert at imec - VUB.
Smart city research at imec
From developing and optimizing microchips and sensors, and testing new wireless communication technologies, to conducting living lab research that puts citizens center stage.
"Thanks to organizations such as imec, smart cities in Flanders and abroad can benefit from a significant head start. We have the scale to cover smart city research end-to-end and continuously share our insights and technological breakthroughs with the broader community. As such, we avoid that everybody has to go through the same learning curve." - professor Pieter Ballon, Smart Cities Expert at imec - VUB.
The intelligence that sits at the basis of today's and tomorrow's smart cities originates from the Internet of Things with tens of thousands of sensors and connected devices generating a constant stream of data.
Specific smart city challenges that are tackled by imec researches include:
How can microchips and sensors be optimized for use in demanding (smart) city environments – while taking into account important considerations such as low power consumption, low cost and zero maintenance?
What should a robust smart city communications network look like?
How can we derive knowledge from the zettabytes of data that are generated by smart cities' sensor networks and connected devices?
How can we fuse (combine) all those data – and build on that knowledge to make living in smart cities a more pleasant experience?
How can we protect smart city networks and safeguard the privacy of the citizens that make use of smart city services?
How can we put those citizens center stage when building and evolving smart cities?
Related material/examples/use cases
Together with the documentary makers of Flemish news show 'Koppen', professor Pieter Ballon (Smart Cities Expert at imec - VUB) travelled to Amsterdam and Barcelona, two of Europe's most advanced smart cities. Garbage bins equipped with sensors that indicate when they need to be emptied, or smart sensors that predict traffic jams: in smart cities such as Amsterdam and Barcelona this is no longer science fiction.
As part of the City of Things initiative, some concrete use cases are already being developed. A number of cars from bpost (the Belgian postal services), for instance, have been equipped with imec sensors to measure air quality in the city in real time. And sensors have also been installed to measure the amount of traffic on two pre-determined routes. When the bpost vehicles cross those traffic routes, the relationship can be examined between traffic and air quality. That information can then be used to make living in Antwerp more enjoyable.
New imec sub-GHz radio chip enables smart metering, smart home, smart city and critical infrastructure monitoring. The new radio chip is a best-in-class product, which can operate with a lower level of power consumption than any other radio chip technology released to date for long range connectivity in sensor networks.
One of imec's applied research projects, TraPIST, provides a good example of how real-time data can be turned into intelligent smart city information... Today, adequate travel planning requires people to actively hunt for information in various places (their agendas, public transportation time tables, floor plans from underground stations, weather forecasts, etc.). This requires a lot of upfront preparation and often does not allow for on-the-fly adaptations (to cope with delays or meetings running late, for instance). That's why, as part of the TraPIST project, an intelligent framework has been developed that knows the traveler (agenda, destination, travel preferences, special needs, etc.) and acts accordingly. It continuously filters all available data from a variety of sources and proactively provides relevant, tailor-made travel info at the right moment. As such, an optimal travel experience is created while restricting travelers' efforts to a minimum.
Making the 'Internet of Things' more private and secure? Researchers from imec - KU Leuven say that using open source software is key! "As the IoT matures, we risk no longer being in control. Connected devices monitor our activities and behavior 24/7 and - unless stringent security mechanisms are in place - all of the info these devices gather, might be shared (without our consent) with unknown parties. It is a threat that particularly holds true if the IoT is built on so-called closed source software." - professor Bart Preneel, imec - KU Leuven.