Integrating innovative hardware
Entrepreneurs are now looking for smart products, products that will shake up a market, that automate or radically improve how things are done. Often, the key for such successful smart products is innovative hardware. Hardware for example with unique capabilities for sensing and data collection. Combined with matching intelligent software to process the data and extract valuable knowledge, this makes for applications that are truly disruptive: not only faster or more efficient than existing products, but offering totally new possibilities.
Peter Lemmens: "Specialized imaging technology is one example. Imec in Leuven has a world expertise in designing and fabricating specialized imaging chips, such as hyperspectral sensors, or sensors tuned to specific parts of the spectrum. The engineers of imec Taiwan will typically take such sensor chips and build smart cameras around them, adding the necessary supporting electronics and software that can handle the huge data streams, designing a slick form factor, producing and fine-tuning prototypes, and finally if required also overseeing the mass production. Such hardware, we have already witnessed, has an enormous potential, for example to automate quality control and processing. And that in many domains, such as logistics, security, or healthcare."
Next to products based on imaging technology, imec Taiwan is also an expert designer of smart Internet of Things (IoT) applications such as health monitoring wearables. And last, the team has developed a way to fabricate freeform, flexible surfaces – conformal structures – studded with electronic components such as e.g. LEDs or sensors.
10 years in Taiwan
Imec Taiwan was incorporated in 2008, first as a sales and representative office that allowed imec a close line of contact with its Asian customers and suppliers. In 2009, an R&D department was added, focused on system development and product prototyping.
Peter Lemmens "When we started imec Taiwan, we were aware there could be some challenges. Other European companies before us have tried to build a foothold here, only to see their efforts wither after a while. Obviously, there are the cultural differences; there is another way of doing business, another environment. But we persisted and succeeded. In imec's home region, we've even become an example; I've already shown several CEOs around who are curious about our secret and who are also keen on setting up a company in Asia."
Today, imec Taiwan has grown into a team of close to forty committed people who are helping our partners to build great products. The team has its own well-equipped lab in which it can test designs and produce prototypes. "But what is truly unique is that we are surrounded by leading companies in every facet of electronics fabrication. Through the years we have built a network of dependable partners. That allows us to meet our customers' demands in a most flexible way, contacting the best-suited partners for about any task."
Taiwan is an agreeable place to do business and create products. It has a highly skilled workforce, giving us access to talented and experienced people. Also, the regulatory environment is business-friendly, with a level of protection for intellectual property comparable to Europe or the USA.
Offering with a great USP
Peter Lemmens: "Many of our customers are system integrators. They integrate components, design quality PCBs, and package them into attractive products. But there is a limit to how small they can go. Very few companies think micrometer or even nanometer. That's the scale at which we operate. With imec's background in semiconductor research, with our world-class tools and expertise, we integrate the very tiny."
"Also, we don't guess or approximate. When we model, simulate or design applications, our work is based on the best science and tools available. We like to understand what we build; we like to be able to predict what will happen in the future, under extreme conditions, in other environments. It is in our DNA to do so, and imec has the scientists and PhD researchers to back this endeavor."
"That leads to the next unique point: we make our products future-proof. With hardware that is ready for many generations of software-defined functionality, so that the application remains relevant without replacements and redesigns."
Case 1: An active multi-view vision camera

For one of its customers, imec Taiwan recently integrated a high-quality multi-view vision camera, a camera that photographs a scene from multiple angles and combines the resulting pictures in a 3D image. Multi-view vision cameras are used in for example robotic vision and automated quality control.
Robbie Vincke, responsible for the development of the camera: "To build this camera, we've integrated a number of patented concepts, moving innovation from R&D into industrial use. One of the challenges was combining the images from the sensors into the target 3D images within the constraints of the hardware. To do so, we had to co-optimize software, having it make optimal use of the exceptional hardware. The result is an extraordinary camera ready for a wide variety of use cases. It has a higher speed (frame rate), better precision (depth accuracy) and lower costs than comparable systems. And it illustrates that we are able to do a full camera design – even for very demanding cameras, including the image processing algorithms, firmware, software, mechanical encasing, optical design, and PCB design."


Robbie Vincke – Multi-view vision camera
Case 2: Transferring LEDs onto freeform, flexible structures
"Not so long ago, a customer asked us to develop a method to batch-transfer arrays of microLEDs on freeform, conformal structures," says Peter Lemmens. "In addition to the requirement of a cost-effective transfer of massive numbers of microLEDs, the customer also wanted to be able to change the spacing or pitch of the microLEDs during the transfer."
With current pick-and-place equipment, that simply is not possible. As the microLEDs are so very small (350µmx225µm), the required machine accuracy, flatness, heating uniformity and software control are not available. In addition, every error can cause an entire microLED array to fail during transfer. So imec Taiwan developed their own Conformal Structure Method (CSM) to fabricate stretchable, freeform structures with integrated electronics.
"We make use of monocrystalline silicon microsprings of 3.5µm wide. With the microsprings, it is possible to simultaneously stretch the spacing between thousands of components such as microLEDs, and that in two directions. The CSM method allows transferring high-performance wafer-based devices (such as LEDs) onto various substrates. This can be done in great quantities, at various pitches and in bare die form. It allows to make 2D-flexible and semi-transparent packages with conventional semiconductor devices in a cost-effective process. It's a cost-efficient, precise and fast alternative to current pick-and-place equipment and can be used to solve the severe bottlenecks that exist in today's packaging of wafer-based devices for large-area electronics applications."
"But as these conformal structures are made through non-traditional semiconductor and MEMS processes, the development of the transfer processes and equipment is always a dedicated and innovative development for each project," says Wei-Lung Sung, who helped develop a solution for the microLED structures of the customer. "This has been a full turnkey project, going from proof of concept to design, manufacturing and prototype testing. The project has involved amongst others machine design, manufacturing and processing, micro-component design and manufacturing, microLED supply, and transfer process and software control. This made it quite challenging, but also a valuable showcase for our expertise."

Case 3: A powerful IoT sensor hub with a great look
"A product we're very proud of," says Peter Lemmens, "is a powerful, small IoT sensor hub that we built in about 8 months. It has about ¼th of the form factor of a standard IoT hub while containing many more features. This makes it suitable as smart sensor hub for a wide variety of applications."
Edward Liang helped oversee the development: "The challenge for this design was to combine state-of-the-art Wi-Fi functionality with a multifunctional sensor board in an elegant package that is smaller than most standalone Wi-Fi hubs. There was the thermal issue, for example, but also the challenge to design a small board with the ten sensors, to have the sensors and Wi-Fi work without interference, to design an interface... Imec took on these challenges. We defined the architecture, designed the interface hardware and software, designed the sensor hub board hardware and software, integrated the system, did the mechanical structure design, and eventually also defined the test specs and did the ODM/EMS management for the production."

Case 4: Zembro bracelet for assisted living
The Zembro bracelet has been in production since 2015. It allows elderly people to alert their family and contacts. These can then contact the bracelet, set up a conversation or check the whereabouts of the wearer. The bracelet has a one-week autonomy and coverage all over Europe.
Jay Yeh, who was involved in the Zembro design, says that the customer gave them quite a challenge. "The idea was to design a bracelet that was completely geared towards the elderly and that could be worn anytime and everywhere. The wearable should be able to do GPS localization and cellular communication and blend seamlessly into people's life. Therefore, it should also be waterproof and look really good."
The key of the design was to reduce the complexity and therefore the interface to the absolute minimum, so that all elderly people would be able to use it.
"Therefore," says Jay, "we designed the whole watch surface to be one button that can easily be pressed from any angle or with any pressure. And so we had to come up with an innovative pressing mechanism. Eventually, we developed this product as a full turnkey project, designing the hardware, firmware and the software. The development time was around 8 months."

Case 5: Smart garments for professional athlete training
To help athletes fine-tune their performance during ski training, imec Taiwan has created smart training garments. These include motion capture, muscle activity analysis and cardiovascular tracking. All data are captured and stored in real time on an SD card for offline playback and analysis. That way, athletes and their crew can track performance, look for patterns, improve training, and prevent injuries.
"The customer who asked us to design this product is a leader in textiles but has little expertise in electronics," says Jay Yeh. "So they challenged us with the concept of a smart shirt for training, and we took over from there. The project duration was 5 months from idea to prototyping. Imec worked on the hardware, firmware, software design and the hardware to textile interface. The customer took care of the shirt manufacturing."
"One advantage we had over other companies is our expertise in electronics-to-textile interfaces. Many companies could probably design the electronics or the textile separately, but only few can do the smooth integration. One challenging aspect was to strike the right balance between the performance and a slick appearance. Another was to get the sensor calibration right and design the fusion algorithm. In the end, we managed to come up with a design that will in no way hinder the athletes and will allow them to monitor their training routines in a most comfortable way."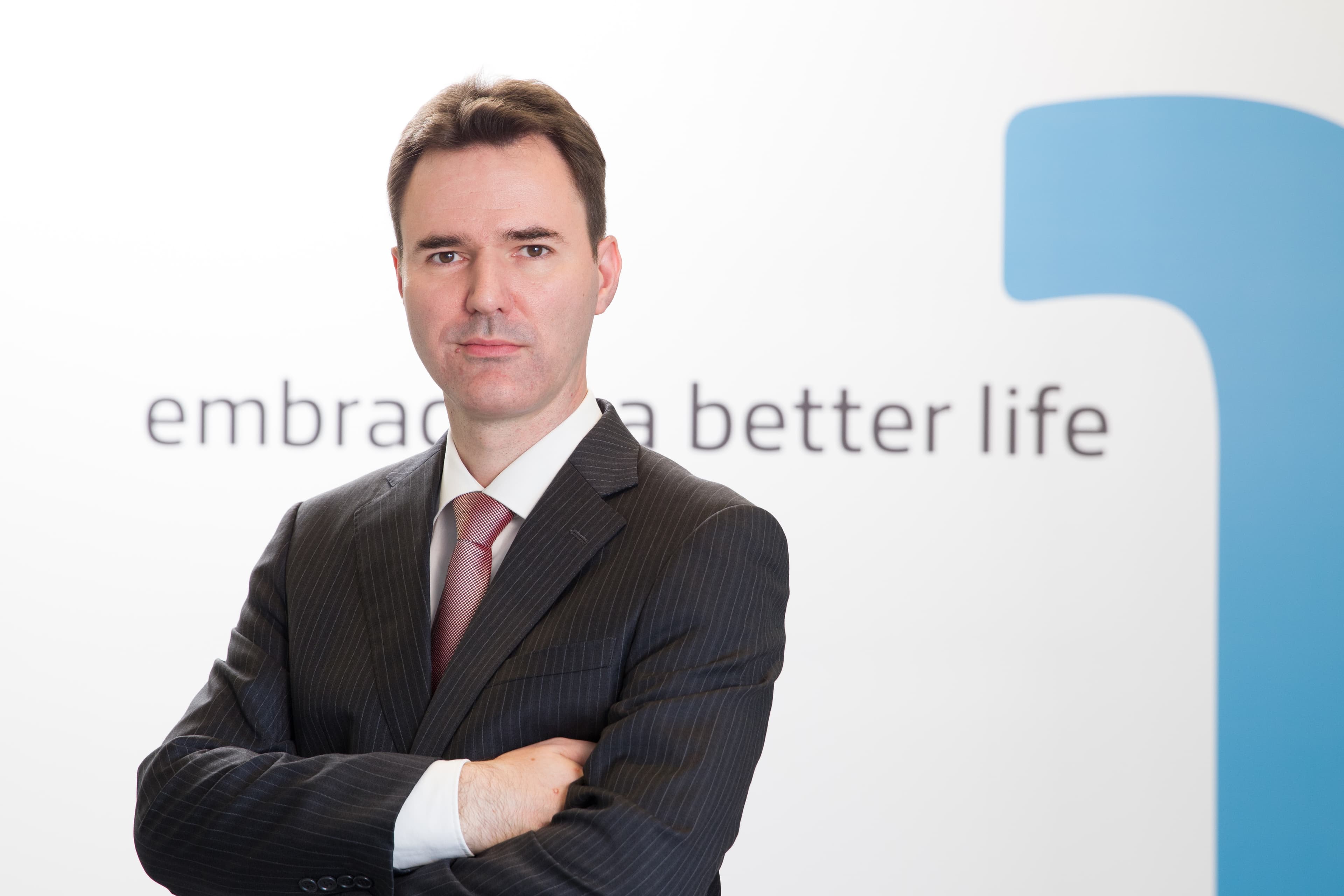 Peter Lemmens is general manager of imec Taiwan. Before he joined imec in 2007, he worked as R&D manager at Philips Electronics in Belgium, the Netherlands and Taiwan. He has also coordinated various FP7 European research projects for imec in Leuven, in the areas of technology-aware design and multicore embedded systems. Peter Lemmens has an MSc in Industrial Engineering from KU Leuven and a BSc in Business Economics.
Published on:
3 August 2018