"Conferences like FutureSummits are perfect for strengthening (and celebrating) existing contacts and discovering new talent and ideas. They're also great for laying the foundations of new working relationships."
On 14 and 15 May, around 2000 interested visitors from industry and the world of research gathered in Antwerp to reflect about the future. The event was also designed to take stock of the many technological breakthroughs, trends and challenges of today. On day one, we hosted a mainly technical and international audience. We paid tribute to Martin van den Brink, President and CTO of ASML, who was presented with the Imec Lifetime of Innovation Award 2019. This is an accolade that is awarded annually to individuals who have made an important contribution to the chip industry. Past recipients have been TSMC Chairman Morris Chang (2015), co-founder of Intel, Gordon Moore (2016), Samsung President and General Manager of the Semiconductor Business Division, Kinam Kim (2017), and Qualcomm founder, Irwin Jacobs (2018). Martin van den Brink thoroughly deserves to join this select band, precisely in the year in which ASML – just like imec – turns 35. And 2019 is also the year in which the first chips with structures printed with extreme UV lithography are due to roll off the production line. It doesn't get much more symbolic than that!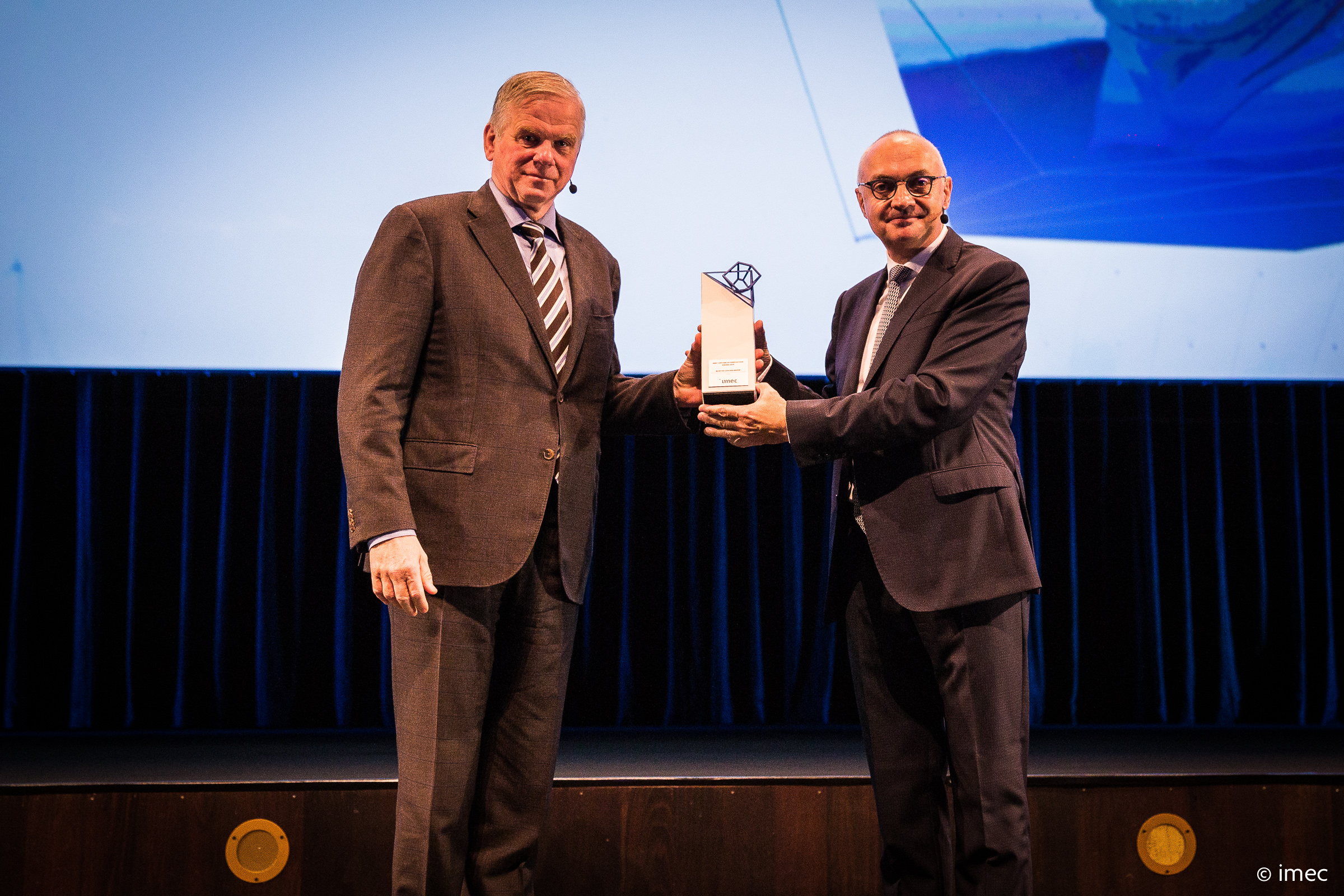 Martin van den Brink and Luc Van den hove during the award ceremony for the Imec Lifetime of Innovation Award
On day two of FutureSummits, several visionary speakers took the stage and illustrated how technology is able to help solve social problems. They included some (very) young talent: Tanmay Bakshi, at the tender age of just 15, spoke about artificial intelligence and quantum computing as some of the most important trends for the future. After watching a few videos about IBM's Watson supercomputer, Tanmay fell totally under the spell of machine learning and artificial intelligence (which he prefers to call "augmented intelligence", as an extension of the human brain). He's currently working on two projects related to AI, including one to detect the early signs of depression in young people, designed to help stop youngsters from contemplating and even committing suicide. Tanmay is convinced that algorithms are better able to detect these signs than humans are, based on age, location and activity on social media. I'm already a great fan of this young genius!
On the same day, AI and its potential was again on the agenda in the AI Flanders program. This was also what prompted us to publish a special issue of imec magazine about AI. Using a few striking examples and testimonials, we demonstrated to the business world how AI can have an impact in areas such as healthcare, living in the city, and industry. 
The talk by Isabelle Dehaene (who is a specialist in the obstetrics and gynecology department) and Sofie Van Hoecke (professor at IDLab, the imec research group at UGhent, and a specialist in machine learning), nicely demonstrated how AI can offer solutions for problems in every sector. They aim to use AI very specifically to predict premature births better so that doctors can start the appropriate treatment at the right time.
As part of the AI impulse program, for which the Flemish Department for Economy, Science and Innovation will make 30 million euro a year available in the years ahead, imec will be conducting more research with various partners (Agoria – VOKA – SIRRIS – imec – Flanders Make – VIB – VITO – VIL – VUB – KU Leuven – University of Antwerp – University of Ghent – UHasselt) into AI applications that can make a world of difference for a variety of sectors. New technology will also be developed, with a great deal of attention being focused on keeping businesses and other interested parties informed about the status of AI. 
In this issue of the magazine we take a look at the 5 most important trends we've spotted on the demofloor of FutureSummits. Plus we delve more deeply into the status of EUV lithography and fan-out wafer-level packaging, a new packaging technique for chips. Other articles include a patented concept for making Raman spectroscopy portable, even for complex samples. Raman spectroscopy can be used for screening the quality of milk, the genuineness of medical drugs, the composition of meteorites – and so much more. And, finally, we describe how radio waves are able to charge IoT objects wirelessly. Happy reading!
Luc Van den hove, President and CEO imec
P.S.: I hope I was able to convince you to visit our FutureSummits next year (19-20 May 2020, Antwerp, Belgium) and if you like we can send you a reminder. In case you would need an extra push, this movie will certainly do the trick: