Imec's development on demand (DOD)
Imec's development on demand (DoD) projects are bilateral projects tailored to your specific needs.
We can either develop a manufacturable process of a prototype you might already have, integrate your current product on-chip, or tackle a specific application using semiconductor technology.
Our Specialty Components team can leverage imec's complete technology portfolio (MEMS, photonics, 3D integration, design, simulations, bonding on CMOS, etc.) to enable your specific solution. In a second stage, low-volume manufacturing of your product can happen at imec; or - if needed - a path for high-volume manufacturing with a foundry partner in Asia is available.
Product development
The product development phase can be divided in 5 main phases:
Feasibility/concept study: this phase is optional; it is required only for very challenging projects with ambitious specs. Within this phase, imec will perform simulations, modelling, etc. to make sure that it is theoretically possible to achieve the targeted results
Main module development: within this phase, imec will develop or adapt the main processing module (i.e. building block) that will be used to fabricate your product
Prototyping: this is one of the most exciting phases as it deals with designing your product (by imec or by yourself), the further optimization of the dedicated processing module, and the realization of your product's first prototype
Engineering: the design and manufacturing process of your product is tuned to reach the specifications; a first yield read-out is performed at the end of this phase
Low-volume manufacturing at imec or transfer to a foundry: if you decide to leverage imec's low-volume manufacturing capabilities, a dedicated team will focus on increasing yield and reproducibility to deliver the requested products. When volumes exceed imec's production capacity, the process can be transferred to imec's foundry partner or to any other foundry of your choice that is compatible with imec.

Capabilities
To develop your product, imec will use its 200mm CMOS pilot line which has also been equipped with MEMS and 3D integration capabilities.
Full CMOS-compatible flow capabilities:
80nm on 200mm wafers
20nm on 300mm wafers
Wafer exchange between 200mm and 300mm fabs is possible
Wafer handling and packaging
Wafer thinning down to 20µm, grinding and CMP
Wafer-to-wafer bonding: silicon or glass
Chip-to-wafer bonding
Wafer-level bonding of MEMS on CMOS substrates
Custom post-processing on wafers from other foundries
Materials
Broad variety of polymers for wafer-scale integration
Low impedance, corrosion-resistive electrode materials
ALD with sub-nm thickness control, High-K dielectrics
Electroplating of Cu, Sn, Ni
Exotic materials and new material deposition development upon request
Special features
Through-silicon wafer etch capability
Bumping and through-silicon via integration
Extensive in-line metrology and defect characterization, features down to 50nm
State-of-the art optical waveguide performance for visible light, NIR, IR
Integrated optical filter stacks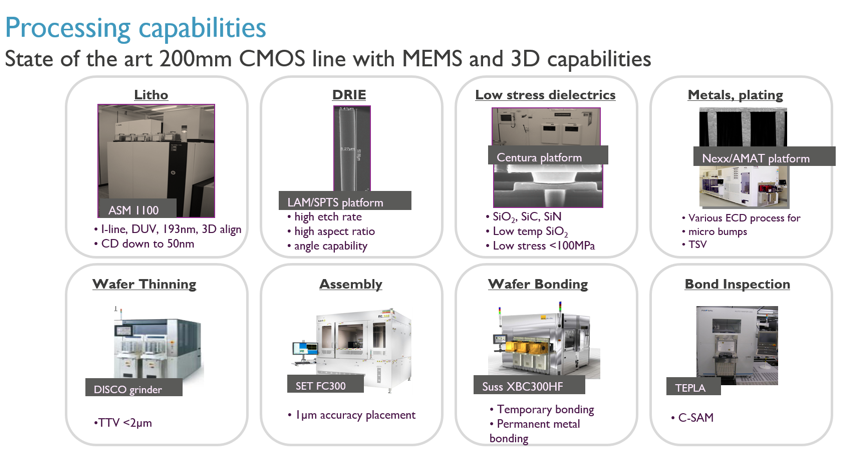 Technologies
Imec combines unique expertise in many different technology domains that can be used to create a chip for your specific application, or to tackle the challenges related to manufacturing your unique device:
MEMS
Si & SiN photonics
3D integration
Design
CMOS
Microfluidics
Advanced MEMS, system and thermal simulations
...
Imec's silicon nitride (SiN) photonics platform, in particular, is a very versatile platform that allows SiN photonics components to be processed stand-alone or on top of a foundry imager, thus facilitating a very high level of integration. Imec's SiN platform shows very low losses and undetectable auto-fluorescence. The latter aspect is very important for sensor and spectroscopy applications (e.g. on-chip spectrometers).
This photonic platform can also be used for Solid State Lidar.

MEMS & 3D integration
Imec has more than 20 years of experience in MEMS & 3D integration. Instead of focusing on standard and commercially-available MEMS processes, we can enable unique and challenging MEMS processes.
Imec has 2 MEMS platforms: SOI and SOI-bonded-on-CMOS. With the first platform, we can realize very large membrane devices such as microphones, pressure sensors, etc.The second platform bonds the CMOS wafers with the ASIC to the MEMS on SOI to realize monolithic integration between MEMS and ASIC.
Next to our processing expertise, we have a vast experience in MEMS design and modelling.
Advanced integration can be realized with our versatile, low-temperature 3D platform that features:
Integrated passive device interposer
TSV "middle"
TSV "last"
Direct low-temperature bonding (e.g. sensor on read-out IC)
Microbumps chip assembly
Wafer-level MEMS packing (high vacuum)
Advanced active chip cooling (microfluidics)