Acoustic gesture recognition allows users to interface with electronic equipment such as tablets, smartphones, car dashboards or smart watches in a touchless manner. Piezoelectric transducer arrays integrated with the display emit ultrasound pressure pulses and subsequently listen for the echo of these waves as they are reflected by the user's hand or fingers. Differential pulse-echo analysis is then used to deduce the 3-dimensional motion of the reflector.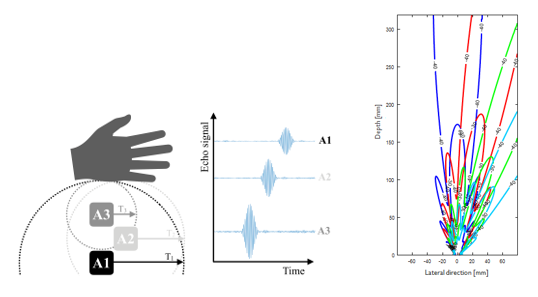 For simple gesture recognition, e.g. the waving motion of a hand to flip through the pages of a book, it suffices to have all transducers launch a pressure wave simultaneously and then wait for the echo. However, for finer gesture recognition, e.g. fingers adjusting an imaginary volume tuner, a much more subtle approach is required. Beam forming or spatial filtering can be applied to the elements of a piezoelectric micromachined ultrasound transducer (PMUT) array so that the pressure field can be focused. Moreover, the focal point can be moved to obtain a scanning effect. In receive mode, the same principle can be applied to analyze the echo signals.
Based on the available PMUT technology this master thesis explores the available beam forming strategies and transmitter/receiver topologies to achieve the desired specs (i.e. frame rate, spatial resolution, imaging volume, ...). Following a thorough literature study and simulations, the proposed solutions will be implemented and tested.
Type of project: Thesis
Duration: 6-12 months
Required degree: Master of Engineering Technology, Master of Engineering Science
Required background: Computer Science, Electromechanical engineering, Electrotechnics/Electrical Engineering, Mechanical Engineering, Nanoscience & Nanotechnology
Supervising scientist(s): For further information or for application, please contact: Pieter Gijsenbergh (Pieter.Gijsenbergh@imec.be) and Veronique Rochus (Veronique.Rochus@imec.be) and Alexandre Halbach (Alexandre.Halbach@imec.be)
Imec allowance will be provided for students studying at a non-Belgian university.