​As we continuously scale devices new challenges for process control in semiconductor manufacturing arise. There is a continuous need for better insight into process control by using better data analysis methods. Conventional process and metrology tools used in the industry while generating a lot of data do not always use them in feed-forward and feed -back cycles. The goal of this project is to use data from the manufacturing tools and use them for building models for better process control and correlate with electrical performance of devices.
The student will learn conventional process flow and work collaboratively toward developing and applying "Machine learning" based optimization algorithms with a goal to tackle the aforementioned challenges in terms of 1) Reducing computational cost, 2) reduce tool cycle time, 3) predictive process control approach in enabling advanced node semiconductor manufacturing. 4) Improving metrology data.
Machine learning applicability includes:
Brainstorm "Technical diligence" of the project: to meet desired performance and engineering timeline.
Tool Data Analysis: Collect data, analyse data, and suggest hypothesis with expertise feedback loop.
Machine Learning Modelling – build from scratch or improving an existing algorithm for a given application task optimization o address or overcome metrology/process control-based tool limitations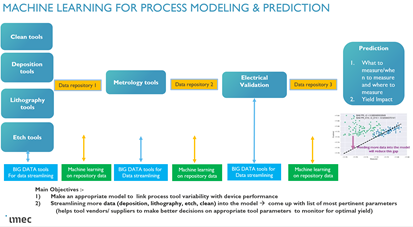 Required background: Basic knowledge in machine learning algorithms, any scripting languages (preferable Python), implementation OS environment UNIX/LINUX is mandatory.
Type of work: 50% for preparation and execution of experiments, 30% for data analysis, 20% for literature study.