The Fano effect originates from the interference between two physical phenomena in one medium, where one has a discrete energy spectrum (high quality factor) and the other a continuous spectrum. The interference causes the emergence of an asymmetric line-shaped peak in the spectrum. Since its discovery1,2 the Fano effect has found numerous applications in several branches of physics including atomic physics, nuclear physics, condensed matter physics, microwave engineering, nonlinear optics, and photonics. Surprisingly its emergence and potential applications in acoustics3 is much less studied, and many interesting properties and promising applications like acoustical induced transparency, sound attenuation or acoustical exceptional points are still only partially investigated.
In our group at IMEC we are investigating innovative acoustic devices based on the Fano effect to enhance specific properties such as bandwidth or multiple frequencies. The goal of this thesis is to simulate and measure an acoustic device based on the Fano effect. In particular, we are interested in the interaction of multiple resonances inside the device and their possible applications.
This Master thesis offers the possibility to work on a full project in an innovative and promising field of acoustics: starting from the simulation of the physical properties, the research will proceed to the design, characterization and analysis of the devices.
In summary, the student will work on:
Literature study on Fano effect and its applications, with particular reference to acoustics.
Simulation and design for a specific application using Matlab and COMSOL.
Design and building the set-up for acoustic measurements.
Characterization of the devices.
Data analysis and estimation of the device performance.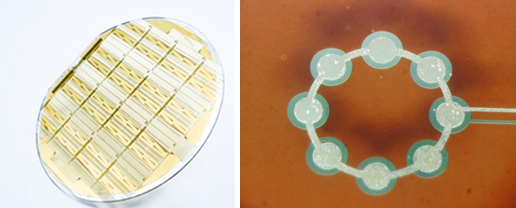 Fig.1: Polymer-based PMUT fabricated at imec.
Type of project: Internship, Thesis
Duration: 6-12 months
Required degree: Master of Engineering Technology, Master of Science, Master of Engineering Science
Required background: Electromechanical engineering, Electrotechnics/Electrical Engineering, Materials Engineering, Mechanical Engineering, Nanoscience & Nanotechnology, Physics
Supervising scientist(s): For further information or for application, please contact: Xavier Rottenberg (Xavier.Rottenberg@imec.be) and Alessio Miranda (Alessio.Miranda@imec.be) and Veronique Rochus (Veronique.Rochus@imec.be)