​
As further scaling of Si CMOS transistors is expected to saturate in mid-term future, novel beyond-CMOS devices and materials are under investigation as a possible replacement for Si. Among other materials, two-dimensional (2D) materials and in particular transition metal dichalcogenides (TMDs) are widely investigated by the scientific community in mono- or a few-layer form using for instance a Van-der-Waals homo- or heterojunction layer stacks.
Due to their lower maturity and scaled dimensions, defects and interfaces play a major role in these novel materials and need to be understood. Also, finding a metal with a low Schottky-barrier height to achieve a low contact resistance is one of the key challenges to address towards 2D-material CMOS. The combined effect of a typical defect, like a Sulfur atom vacancy in MoS2 or WS2, on the resistivity of the metal -TMD contact resistance is not well understood or known and needs to be investigated. High doping is also known to be a key factor to reduce contact resistivity but traditional doping techniques such as implantation are not possible in atomistically-thin 2D materials. A promising way to dope 2D materials is to use in-situ doping techniques to locally change the chemical structure by replacing a transition metal or chalcogenide atom by another one. Depending on the nature of the local impurity atom or defect, charge doping or even other properties like magnetism could be induced. Again, understanding is key and a prerequisite for application.
Fundamental understanding of the properties and potential of these materials for device applications are difficult to assess by experiments alone. Ab-initio atomistic methods, such as Density-Functional-Theory (DFT), combined with quantum transport simulations are required to consider intricate band-structure and transport effects, as well as to understand the impact of defects and interfaces on the physics and performance of devices made of these low-dimensional materials.
The proposed work relies on the use of our state-of-the-art dissipative ab-initio atomistic Non-Equilibrium Green's Functions (NEGF) simulator, ATOMOS [1,2], to explore the fundamental physics and properties of devices made of these novel materials, including defects, in-situ substitutional doping and (metal) interfaces. As defect and interface modeling usually implies computationally expensive large supercells, multiscale approaches, as well as specifics algorithms and advanced method development could also be envisioned. You will work in collaboration with a team specialized in atomistic modelling. You are also expected to closely work and interact with experimentalists and to support and guide the experimental exploratory programs at imec.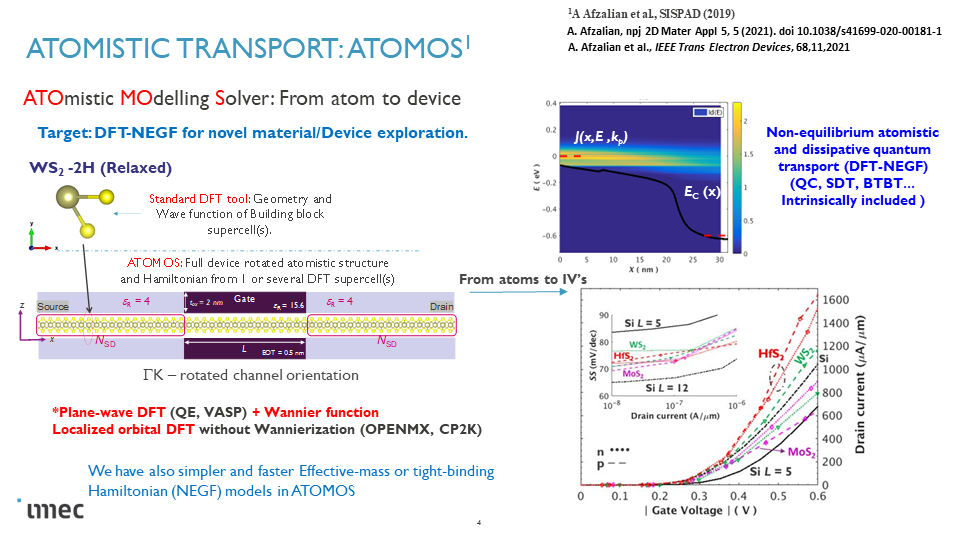 [1] Afzalian, A. Ab initio perspective of ultra-scaled CMOS from 2D-material fundamentals to dynamically doped transistors. npj 2D Mater Appl 5, 5 (2021). https://www.nature.com/articles/s41699-020-00181-1
[2] A. Afzalian, E. Akhoundi G. Gaddemane, R. Duflou and M. Houssa, "Advanced DFT–NEGF Transport Techniques for Novel 2-D Material and Device Exploration Including HfS2/WSe2 van der Waals Heterojunction TFET and WTe2/WS2