​The industry's need to continue the scaling of commercial electronics and, also, increase the data transmission rates has led the research towards Silicon Photonics. This disruptive technology aims to revolutionize many application areas such as data centers, imaging and sensing using the, already acquired, CMOS Si knowledge.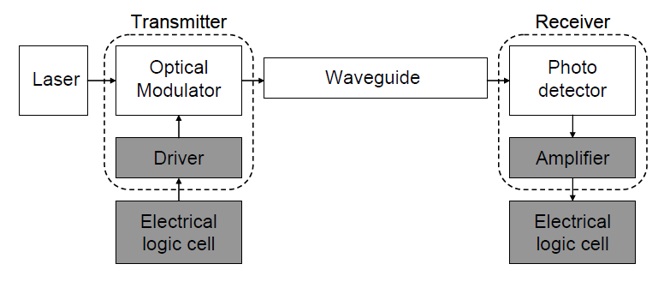 The above figure [1] shows the building blocks that are included on a silicon photonics chip. First, an on-chip laser source is necessary to provide the pumping mechanism. Recently, the research interest has turned into the III-V group of materials that has been widely used in commercial laser devices. Then, to transfer the data in the form of optical signals we need a modulator: Si ring, Si Mach-Zehnder and GeSi electro-absorption modulators. At the receiver end, in order to detect light and convert it back into electronic signals, Ge p-i-n photodetectors and Ge avalanche photodetectors are in charge.
However, along with the advancements in the semiconductor industry, additional reliability issues have emerged. Defects induced by the fabrication process or the ageing of the device under stress, can lead to the degradation of the device's characteristics.
The objective of this work is to contribute on the electrical characterization and the ongoing reliability studies on wafer and package level, of the aforementioned components developed at imec's Si Photonics platform, towards the design and fabrication of a more robust and reliable technology.
Content of the thesis:
30% theoretical
40% experimental (electrical measurements)
30% data analysis and interpretation
[1] Ali Okey, Thesis, SI-GE Photodetection Technologies for integrated optoelectronics, Stanford University, 2007​

Type of project: Internship, Thesis, Combination of internship and thesis
Duration: 6 months
Required degree: Master of Science, Master of Engineering Science, Master of Engineering Technology
Required background: Materials Engineering, Nanoscience & Nanotechnology, Physics, Electrotechnics/Electrical Engineering
Supervising scientist(s): For further information or for application, please contact: Artemisia Tsiara (Artemisia.Tsiara@imec.be)
Imec allowance will be provided for students studying at a non-Belgian university.