Technological advances, including neuropixel probes developed at Imec, now allow us to acquire large-scale brain-wide neural data. However interpretation of mesoscale measurements of neuronal dynamics in combination with complex behavior of the subject is not trivial. Here we aim to apply graph-based network analysis methods to investigate brain-wide neuronal data acquired by either imaging or electrophysiological approaches. Nodes on the inferred network will represent specific brain regions and links (edges) will be inferred from temporal statistical relationships of the measured signals measured at two nodes. Functional connectivity analysis framework that will be prepared in this project will be applied in interpreting data acquired in several projects to understand how information flows in the brain during active visual/spatial behaviors in mice. Findings will also guide us design new projects to test causal role of identified hub nodes in driving perception and behavior.
Specifically, we are interested in working with highly motivated students who are interested in neuroscientific research using cutting edge imaging and neural recording approaches in vivo, this can be the perfect opportunity. If you are interested pursuing this project with a friendly team please contact us along with your CV.
​​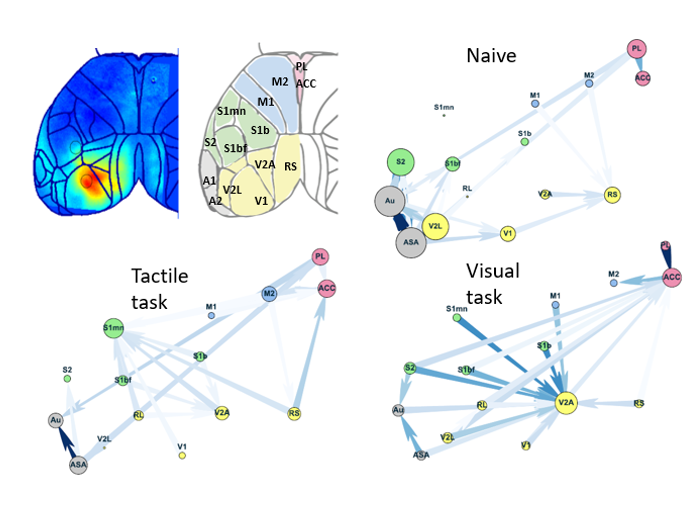 Type of project: Combination of internship and thesis
Duration: 6-9 months
Required degree: Master of Engineering Technology, Master of Science, Master of Engineering Science, Master of Bioengineering
Required background: Physics, Computer Science, Biomedical engineering, Bioscience Engineering
Supervising scientist(s): For further information or for application, please contact: Vincent Bonin (Vincent.Bonin@nerf.be) and Asli Ayaz (Asli.Ayaz@nerf.be)
Imec allowance will be provided for students studying at a non-Belgian university.