​To overcome the power conversion efficiency (PCE) limit of single absorber solar cells, the concept of tandem solar cells has been introduced. Tandem cell research based on perovskite (Pk)/ silicon (Si) absorber combination has gained attention and has undergone tremendous advancement to achieve PCE ≥30% at lab-scale. However, the performance of the tandem inevitably drops when upscaled to larger areas. This master thesis/internship focuses on upscaling the 2-terminal tandems using industrially compatible techniques. We propose solution processing of Pk using blade coating directly on top of (textured) Si wafers, a technique which can be upscaled to full Si wafer size. Towards this goal, the tasks will be divided as:
Blade-coating on textured Si substrates: The project will begin with blade-coating on smaller areas (6 cm2) on flat Si substrates and will move on to larger areas (16 cm2) and finally to full wafer size, with varying levels of roughness (slight undulated surfaces to surfaces with upright pyramidal textures). The goal is to achieve full coverage, defect free, blade coated Pk with high opto-electrical quality. The blade coating will be done in dedicated gloveboxes at EnergyVille lab in Genk. Characterization techniques: SEM, XRD for grain structure evaluation, time resolved photoluminescence (TRPL) for lifetime analysis.
Tandem cell fabrication: Pk/Silicon heterojunction (SHJ) tandem cells will be fabricated. The SHJ cells will be processed in imec, Leuven followed by top cell fabrication at EnergyVille, Genk. These cells will be metallized by screen-printing (SP). SP of Ag pastes is the workhorse for fabricating commercial Si solar cells. However, much needs to be understood in terms of material and processing compatibility of this method with the Pk top cell and related degradation mechanism(s). Characterization techniques: IV, EQE measurements, SEM, XRD. With this thesis we aim to achieve high efficiency, reproducible large area textured Si tandems with deeper understanding of relevant material and process interactions when upscaling small-area devices to full wafer-size.
During this work the student will learn end-to-end processing of Pk/SHJ tandems with technologies such as PECVD, sputtering, blade coating, evaporation and screen-printing.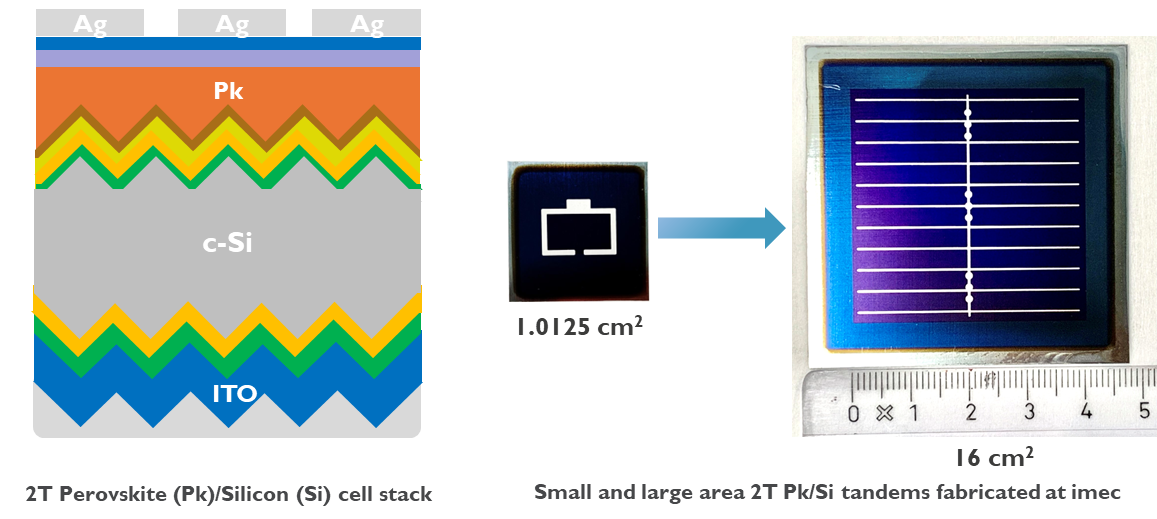 The work will be conducted in laboratories at imec,Leuven and imo-imomec (an affiliated research centre of imec in UHasselt), located in EnergyVille, Genk.
Type of Project: Combination of internship and thesis; Thesis; Internship
Master's degree: Master of Engineering Technology; Master of Science; Master of Engineering Science
Duration: 9-12 months
Supervisor: Jef Poortmans
For more information or application, please contact Devika Rajagopal (devika.rajagopal@imec.be)
Imec allowance will be provided for students studying at a non-Belgian university.