Advanced nano-wires in an electronic chip endure high current densities, mechanical stresses and temperatures which can result in void formation, growth and migration and ultimately wire failure.
In this PhD project, the candidate will work towards modelling and characterization of extremely thin nano-wires for use in future chips. Novel methodologies for numerical modelling and experimental characterization will be developed at nano-scale. This includes computational methods using either multiscale finite element modelling (FEM) or quantum mechanics simulations depending on candidates' background in either of the two approaches. In addition, mechanical characterization experiments at nano-scale and in-situ tests on the nanowires will be conducted for model calibration and validation.
The position is best suited for candidates from engineering, material science or physics preferably with interest in modelling and multidisciplinary research. Experience with numerical methods and programming is a prerequisite.​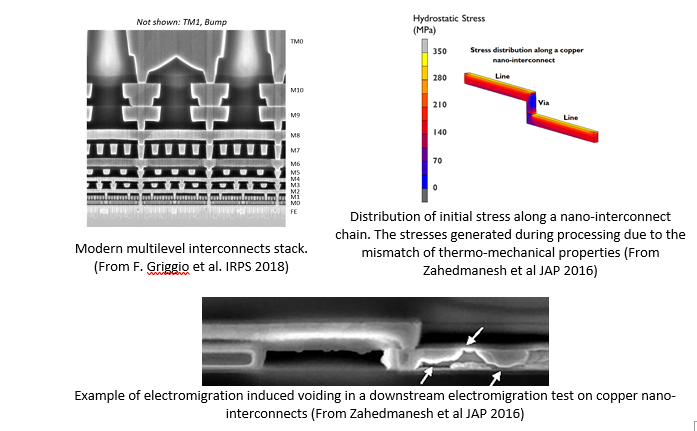 [1] H Zahedmanesh et al., Investigating the electromigration limits of Cu nano-interconnects using a novel hybrid physics-based model, Journal of Applied Physics 126, 055102 (2019).Related reading:
[2] M Kraatz et al., A model for statistical electromigration simulation with dependence on capping layer and Cu microstructure in two dimensions, Computational Materials Science 120 (2016) 29.
[4] A . Bower et al, A finite element model of electromigration induced void nucleation, growth and evolution in interconnects, Modelling Simul. Mater. Sci. Eng. 15 (2007) 923–940.
[5] K Croes et al. Study of void formation kinetics in cu interconnects using local sense structures, IRPS 2011.
[6] R Orio et al. Physically based models of electromigration: From Black's equation to modern TCAD models, Microelectronics Reliability 50 (2010) 775-789