​Ferroelectricity is a relatively new subject, only discovered in 1920 when studying Rochelle salts (Joseph Valasek). It studies materials with a permanent polarization that often have a characteristic hysteretic response to an external electric field. The use of a ferroelectric layer as the gate oxide in a field effect transistor goes back to the 1950s. Currently, the main interest is in nanoscale ferroelectric materials for future memory technologies where the hysteretic response is used to create two (or more) distinct memory states.
When applying a large enough electric field the spontaneous polarization can change direction (or sign, P to -P), in doing so one can switch between the two memory states. A large field over the gate oxide will also change the oxide properties, it can for instance result in charge injection (trapping). The charge in the oxide will alter the device electrostatics and therefore the control over the polarization and memory states.
The modelling of realistic devices where charge injection influences the ferroelectric properties is crucial to understand device performance and reliability. In this project we will take a simplified approach and consider the electrostatic interaction in 1 dimension (gate to channel) to model ferroelectric capacitors and FETs.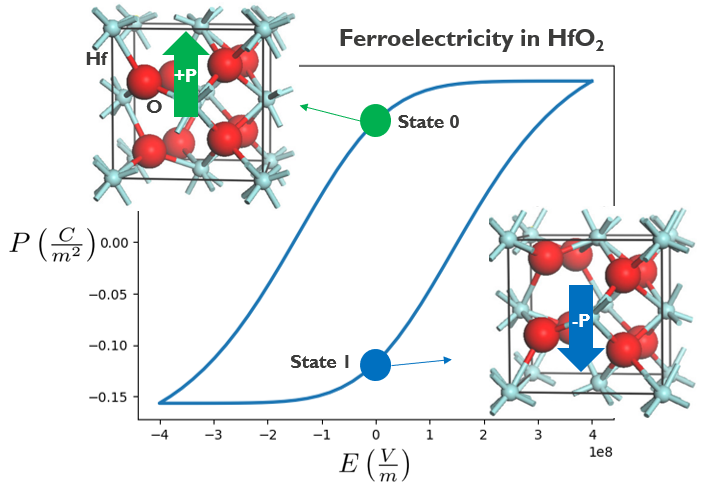 What will you do?
Modelling of the ferroelectric interaction with charge injection (1-D electrostatics, FET electrostatics, charge injection, polarization response to changing electric field).

Who are you?
Physics/chemistry/engineering
Knowledge of semiconductor physics
Knowledge of programming and simulations
Type of Project: Thesis
Master's degree: Master of Science, Master of Engineering Science
Supervising scientist(s): For further information or for application, please contact Brecht Truijen (brecht.truijen@imec.be)