Crystalline-silicon (c-Si) wafer-based solar cells have always been the photovoltaics industry workhorse, ensuring most of the PV electricity production worldwide. In 2017, they accounted for 95% of the total module production. Based on an abundant and non-toxic material that is very familiar to the semiconductor industry, this technology has progressed at a steady pace. From around 23% record energy-conversion efficiency in 1993, to almost 27% in 2019, c-Si solar cells in the lab today are getting very close to their theoretical limit. To reach beyond that limit, the most prominent idea is to add a perovskite-based cell on top of the silicon-based cell. Working in tandem, these two solar cells with complementary bandgaps have the potential to extend and optimize the possibilities of sunlight absorption and reach beyond 30% for a limited additional cost, provided the two devices are optimised to function in tandem. For the bottom c-Si cell, one of the tasks is to optimize the photon absorption in the Si bottom cell for infrared light, as sunlight is filtered by the top perovskite cell.
This research topic proposes to go beyond the conventional approaches of light management, that typically involve random micron-scale pyramid front-side textures (left picture) and rear-side mirrors, and to explore the effect of texturing the front or rear side of c-Si cells with periodic nanotextures (right picture). By scaling down the dimension of the surface texture to the photon wavelength (~ 200–1200 nm), one may play with the now-accessible photonic effects for greater light absorption in c-Si. However, other solar cell functions will be influenced, such as surface passivation or the perovskite cell deposited on top. At imec, such nanotextures have already been integrated in stand-alone c-Si solar cells with nanoimprint lithography, and we propose to further investigate this process in view of an integration into tandems, either at the front-side or rear-side of the cell, or also the glass cover. The reproducibility and uniformity of the texture, the type of pattern and its effect on the different layers constituting the cells will be investigated.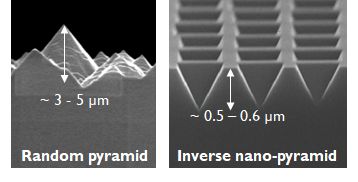 In this frame, the main tasks will be experimental and performed in the cleanroom lab:
Fabrication of nanotextures by nano-imprint lithography and etching on silicon and/or glass
Coating of nanotextures by depositing passivating and/or antireflective coatings, or perovskite-top-cell layers
Characterization of the samples (morphological, optical and electrical) to assess their potential.
Type of project: Thesis, Internship, Combination of internship and thesis
Duration: 9-12 months
Required degree: Master of Engineering Science, Master of Engineering Technology
Required background: Electrotechnics/Electrical Engineering, Energy, Materials Engineering, Nanoscience & Nanotechnology
Supervising scientist(s): For further information or for application, please contact Valerie Depauw (Valerie.Depauw@imec.be)
This project is only available to self-supporting students.