Pulsed DC electromigration on aluminum interconnects used for high commutation speed power switches
Wide bandgap materials allow the development of an exciting new semi-conductor technology which promises a revolution in the distribution and control of electrical power, enabling the control of high power while at the same time wasting less energy. However, the potential for this technology goes beyond mere power control and at IMEC we are developing a new class of power switches which have very high commutation speed. These switches are ideally suited for demanding applications such as LIDAR, which is an imaging technology used to enable self-driving vehicles. The novel power switches, will enable a breakthrough in LIDAR system design, enabling a much higher resolution imaging compared to what is currently possible with a comparable silicon component.
Such power devices are connected with aluminum interconnects that allow to carry the power generated to the outside of the chip.
Therefore, it is of upmost importance to develop a reliable back-end technology and bring it to a level of maturity such that the power components can be used reliably in these novel applications. High power, fast commutating devices require a very particular cross-bar architecture for interconnecting and routing the power through the different levels of the components. Moreover, the interconnect levels are used to distribute the electrical fields near the gate.
The aim of this internship is to study the impact of high currents on the degradation of the metal layers over time. During this internship, the student will learn how to perform electromigration measurements with different stress conditions (DC and pulsed current...). The student will then analyze and understand the measured data and evaluate the validity of the degradation model. Besides, he/she will have the opportunity to report the findings to the process integration engineer.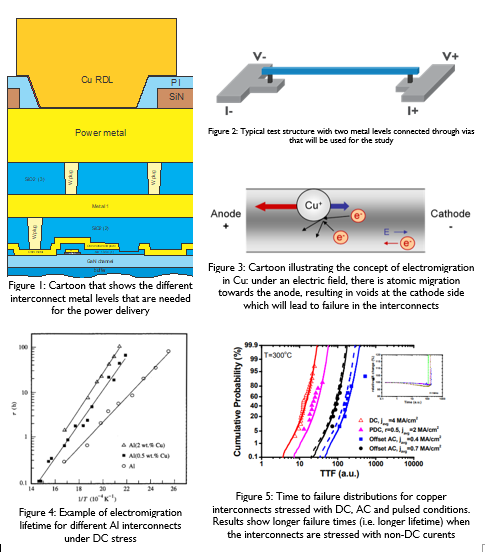 References:
J. Tao et al., "EM reliability of W and Al vias and improvements under AC current stress", IEEE TED, vol 40, no 8, 1993
Kenneth P. Rodbell et al., "AC electromigration (10 MHz–1 GHz) in Al metallization", AIP Conference Proceedings, 1998
S. O. Safonov et al., "Estimating the Reliability of Aluminum Metallization of Integrated Circuits by Accelerated Electromigration Testing at Constant Temperature", Russian Microelectronics, Volume 44, issue 7, 2015