​
Unlike traditional industrial robots, collaborative robots, or cobots, are intended to provide more flexibility on the work manufacturing floor and allow physical and close distance interaction with humans in their shared workspace.
By merging human dexterity and flexibility with robotics strength, endurance and precision, the use of cobots can help in fulfilling the increasing production flexibility demanded by the upcoming trend in
mass customisation and responsive supply chains and, at the same time, decreasing a worker's workload. However, because of their higher operation speeds, traditional industrial robots are still far more productive than cobots, which hinders the economic attractiveness of a collaborative workstation.
The reason behind this can be found in the safety issues risks related to robots working in close proximity to human operators. The ISO/TS 15066 defines cobots' safety functions and performance in four distinct operation modes. In the Speed and Separation Monitoring mode, the cobot is allowed to move concurrently with the operator, as long as they maintain a predetermined distance apart from each other, whereby the maximum velocity of the robot is based on the distance between the operator and robot. As the robot moves very slowly in close proximity to the human operator, this significantly reduces the robot's performance in terms of productivity. Alternatively, Power and Force Limiting (PLF) allows physical interaction between the operator and cobot by using an interaction control strategy. But again, to prevent injury, the payload and speeds of the robot are limited since it needs to anticipate a collision at all times that does not surpass biomechanical injury thresholds, which again negatively influences the usability and economic possibilities of cobots.
The general project will target the development of ultrasound sensor patches and radar sensors. This will allow the intrinsically safe and efficient human-centric human-robot and robot-environment/objects physical interaction capabilities at natural human speed or more.
The student should be working on analysing the capabilities of ultrasound patches, combining several of these patches and processing the received data to enable robotic safety. The student is expected to publish his findings, processing approaches and the capabilities of the novel system in high-ranking robotic journals.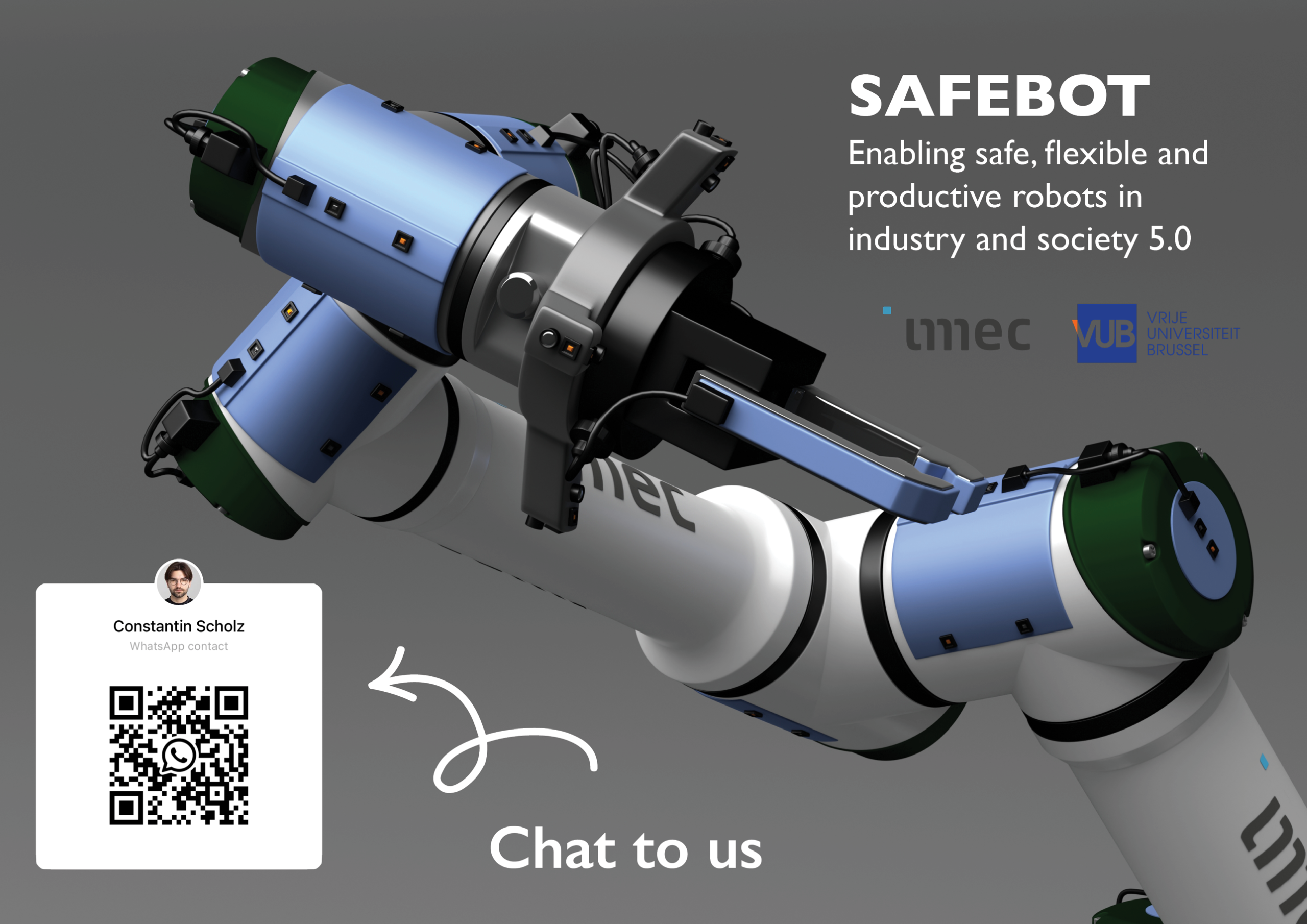 Required background: One or more of the following backgrounds: Software Dev. , Analogue & Digital Circuit Design, Communication Networks, Digital Signal Processing & Filters, Machine Intelligence, Large Dimensional Data Processing, Robotics, Algorithms, Distributed Algorithms