​The power of flat optics lies in the fact that one can make planar optical components with unique and complex optical functions using a relatively simple semiconductor manufacturing process. Furthermore, these components are typically much smaller and lighter than the optical systems they replace. Flat optics can be used to realize components with a wide variety of optical functions, which would otherwise require complex optical systems, e.g. multiple lenses. Typical optical components consist of achromatic flat lenses, collimators, color filters, color splitters, polarization splitters, etc. To demonstrate the power of flat optics we highlight a result from [1] in the figure below, in this paper a simple one-layer flat lens is shown to out-perform a commercial lens.
While many passive flat optic components have been demonstrated, little progress has been made on the design of tunable solid-state flat optic components.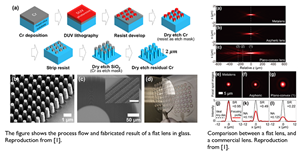 The objective of this research project is to develop and demonstrate a platform to produce solid-state tunable flat optic components enabled by imec capabilities. Hereto, the applicant will have to perform a literature survey of the available electro-optic effects that could be used for modulation. Among others, this could include materials that have a high Pockels effect, or materials susceptible to a reversible phase transition at low temperature. After defining a suitable architecture, the candidate will demonstrate the platform using a selected application and enabling optical system. This could be a tunable lens for integrated zoom, a tunable color filter for integrated spectral imaging, or a spatial light modulator for imaging through turbid media.​
[1] Park Joon-Suh, et al. 2019. "All-Glass, Large Metalens at Visible Wavelength Using Deep-Ultraviolet Projection Lithography." Nano Letters 19 (12): 8673–82.