Introduction
Integrated photonics are replacing or complementing fields that in the past were purely electrical in nature. Optical transceivers are already used in datacom sites to enable fast and low power consumption systems. Optical FPGAs have been proposed as a fast and low power alternative to electrical FPGAs. A key component in these types of optical systems are optical phase shifters. The most common types are thermal or PN depletion mode phase shifters. These devices enable many applications but come with limitations such as speed or optical insertion, which impact the total system performance.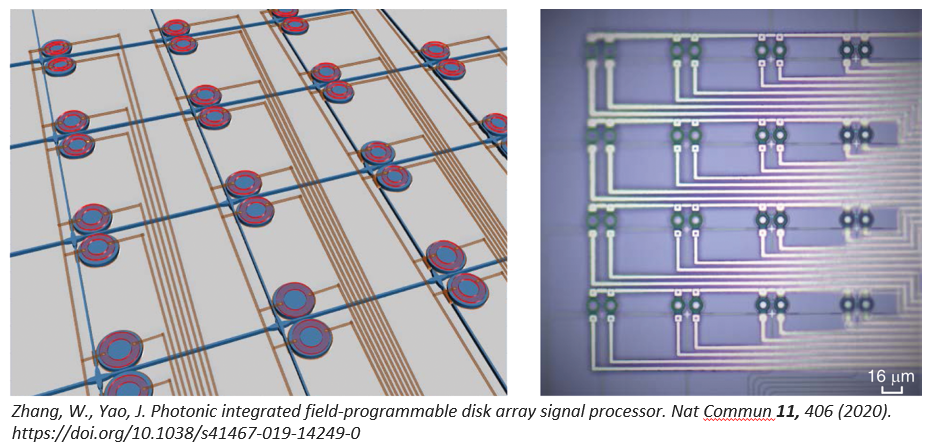 Fig 1: Optical FPGA implementation using ring resonators as proposed by Zhang in Nature Communications. This work relies on thermal phase shifters, which bring penalties for power consumption and speed.
Topic
Imec is developing alternate optical phase shifter technologies to complement its powerful integrated photonic offering, with a target of ultra-fast and low loss operation. The purpose of this PhD is to provide design and modeling support for this development, and importantly, to leverage the capabilities of these phase shifters to implement advanced systems such as optical FPGAs. The student will research existing architectures and propose and implement novel architectures that are suited to the strengths of the new technology.
The candidate
You are a highly motivated recent graduate holding a master's degree in photonics, physics, electrical engineering, or related. You have an interest in design and characterization of optical systems. Scripting and programming skills are a plus. You will be expected to report regularly on your progress and interact closely with the other team members. You are a team player and have good communication skills, as you will work in a multidisciplinary and multicultural team spanning several imec departments. Given the international character of imec, an excellent knowledge of English is a must.