Introduction
Gallium nitride (GaN) is anticipated to be the next-generation power semiconductor. With a higher breakdown strength, faster switching speed, higher thermal conductivity and lower on-resistance, power devices based on GaN significantly outperform Si-based power chips. The first-generation GaN-based power devices will play a key role in the power conversion within battery chargers, smartphones, computers, servers, automotive, lighting systems and photovoltaics. Today, GaN is grown on a variety of substrates, including sapphire, silicon carbide (SiC) and silicon (Si).
Imec takes today gallium nitride on silicon (GaN-on-Si) e-mode and diode technology to a higher level of maturity and explores the next generation GaN technology with higher level of integration (GaN-IC) and higher performances.
We have been pioneering GaN technology for more than 15 years, evolving 200mm/8-inch wafers to realize GaN-on-Si devices at lower costs while maintaining world-class performance. Our research covers GaN epitaxy as well as device engineering and processing technology.
Imec's engagement offering are:
GaN Industrial Affiliation program: to be part of an ecosystem of IDMs and tool vendors where imec complements your research team by exploring and de-risking the next generation of GaN-based technologies (GaN-IC, novel substrates, higher voltages beyond 650V, (quasi) vertical device, evolution of GaN-on-Si, etc...)
GaN technology transfer: transfer state of the art 200mm GaN-on-Si epitaxy, e-mode and diode technology to slash your time-to-market
GaN private Lot: you can design your device into imec'sstate of the art 200mm GaN-on-Si technology platform for 200V and 650V (e-mode) power devices. Imec delivers prototype wafers to you, can tune the process for your needs and eventually sustain low-volume production.
We also provide a dedicated package for technology transfer to shorten your time-to-market, or help you to develop a solution tailored to your needs using our state-of-the-art Au-free CMOS compatible 200mm GaN-on-Si technology platform for 200V and 650V (e-mode) power devices. Our platform is also available for low-volume production.
Imec platform
Imec has built a 200mm/8-inch Au-free CMOS-compatible platform, with a major focus on E-mode and Schottky diodes for power-switching applications. With the same platform we can also enable GaN-based RF devices, thanks to a 200mm/8-inch GaN-on-Si substrate with low RF losses.

Epitaxy
200mm/8-inch GaN-on-Si epitaxy is challenging and requires a carefully-designed buffer for stress engineering to enable high-breakdown voltage and avoid formation of cracks and slip lines. Next to this, the buffer needs to be dispersion free. Imec has been exploring and optimizing several buffer architectures for 200mm/8-inch GaN-on-Si epitaxy.
Our latest 200mm/8-inch GaN-on-Si epitaxy shows excellent surface morphology and good reproducibility. Moreover, it is dispersion-free and has low vertical leakage current both at RT and at 150C.
Our 200mm/8-inch GaN-on-Si epi recipes are available on 3 different reactors from 2 vendors (Veeco K465i & Veeco Propel, Aixtron G5+ C). Imec's proprietary recipes can be transferred to partners quickly, and are available for licensing.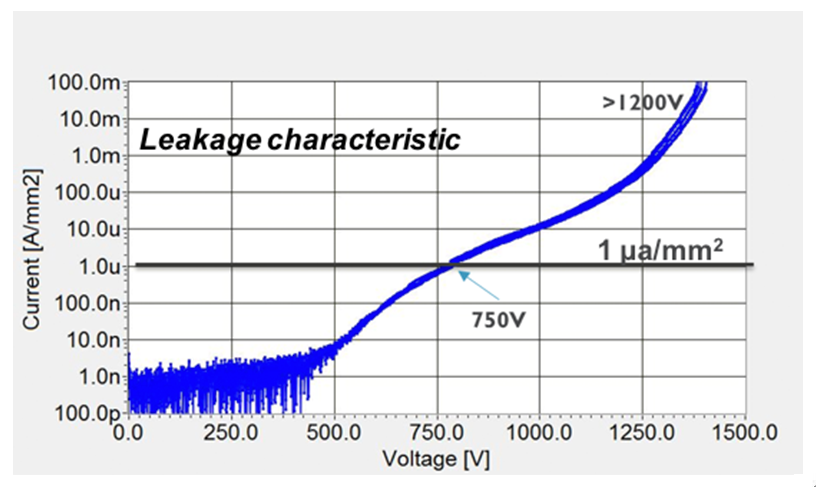 | | | | |
| --- | --- | --- | --- |
| Voltage Application | Voltage @ 1μA/mm2 - 25°C | Voltage @ 1μA/mm2 – 150°C | Max Breakdown at |
| 200V | 450 | 390 | >700V |
| 650V | 780 | 750 | >1200V |
E-mode (Normally-off)
Imec has been pioneering GaN and on e-mode (i.e. normally off) device technology.
Our latest GaN-on-Si e-mode device technology shows:
large threshold voltage (VTH>2V)
Very low specific on-resistance
Dispersion free (<20% Dynamic RDS-ON)
200V and 650V voltage ranges
Imec's 200mm CMOS compatible and Au free GaN technology can be transferred to your fab and also tuned to your specific needs.
Moreover, imec can provide to you our PDK such that you can design your e-mode device within imec technology.
A lot of 12 200mm/8-inch GaN-on-Si wafers will then be processed with your private mask set, characterized and delivered to you.
Imec can also help you in the device design and, if needed, tune the GaN processing according to your needs.

| | | | |
| --- | --- | --- | --- |
| Parameter | Description | 200V | 650V |
| RDS_ON – 25°C | On-state resistance at 25°C | <10Ω mm | <20Ω mm |
| Dynamic RDS-ON | 10µs ON, 90 µs OFF - substrate grounded - at maximum rated voltage and full temperature range | <20% | <20% |
| VTH_gm | Threshold voltage from maximum gm slope | 2.9V | 2.9V |
| VTH_current | Threshold voltage (ID=10µA/mm VDS=VGS) | 2.15V | 2.15V |
| ID_OFF | Off state drain leakage at rated voltage | <50nm/mm | <50nm/mm |
| IGS_ON | On-state gate-source leakage at VGS=6V | <10µA/mm | <10µA/mm |
| VGS_MAX | Absolute maximum gate voltage. | 7V | 7V |
| | | More details | More details |
Schottky diode
Imec has developed a 200mm GaN-on-Si diode technology with our proprietary Gate Edge Termination (GET) technology.
The main challenge that comes with developing power diodes is to obtain devices that simultaneously show low leakage current and low turn-on voltage – and exactly that can be realized with imec's GET diode device architecture. Imec's Schottky diodes meet forward and reverse specifications across the full temperature range (from 25˚C till 150˚C) with a tight distribution.
Imec's technology can quickly be absorbed by our partners and can also be tuned to their specific needs.


| | | | |
| --- | --- | --- | --- |
| Description | Test Conditions | 200V | 650V |
| VF_25C | Forward Voltage at 25˚C, IAC = 0.1 A/mm | 1.3V | 1.6V |
| VT_25C | Turn-on voltage at 25˚C, IAC = 0.001 A/mm | 0.6V | 0.7V |
| IR_25C | Reverse Leakage at 25˚C, VAC = rated voltage | 10nA/mm | 5nA/mm |
| RON | ON resistance 25˚C, Max slope ΔVAC/ΔIAC | 3.5Ω·mm | 5.7Ω·mm |
Next-generation technologies
Next to improving GaN-on-Si e-mode and Schottky diode technology, imec is also investigating the next generations of GaN technologies that will provide:
Higher level of integration (GaN-IC)
Higher performance
Larger voltage rating toward 1200V and beyond
Our research stretches along 3 main paths tracks:
Epitaxy on novel substrate technology: to enable GaN-IC (e.g. GaN-on-SOI) or thicker GaN epitaxy for higher voltage range and (quasi)vertical devices
GaN-IC:to develop isolation and integration modules to enable and design GaN-based integrated circuits such as high-side/low-side switches on chip.
Novel device: to explore (quasi) vertical device for high voltage/current applications and novel e-mode architecture for lower on-resistance
All these activities will be performed by using imec'sstate of the art 200mm/8-inch GaN-based CMOS compatible platform.
As of today, imec has already demonstrated GaN-on-SOI epitaxy as well as a first high-side/low-side GaN-IC on chip with perfect isolation among the transistors.
Moreover, imec has shown 200mm GaN-on-QSTTMtransistors processed into imec's200mm CMOS line.
Next to this, a first prove of a concept of quasi-vertical device has been processed into the imec's200mm CMOS line: the first version of imec'squasi vertical device shows a Vth beyond 4V.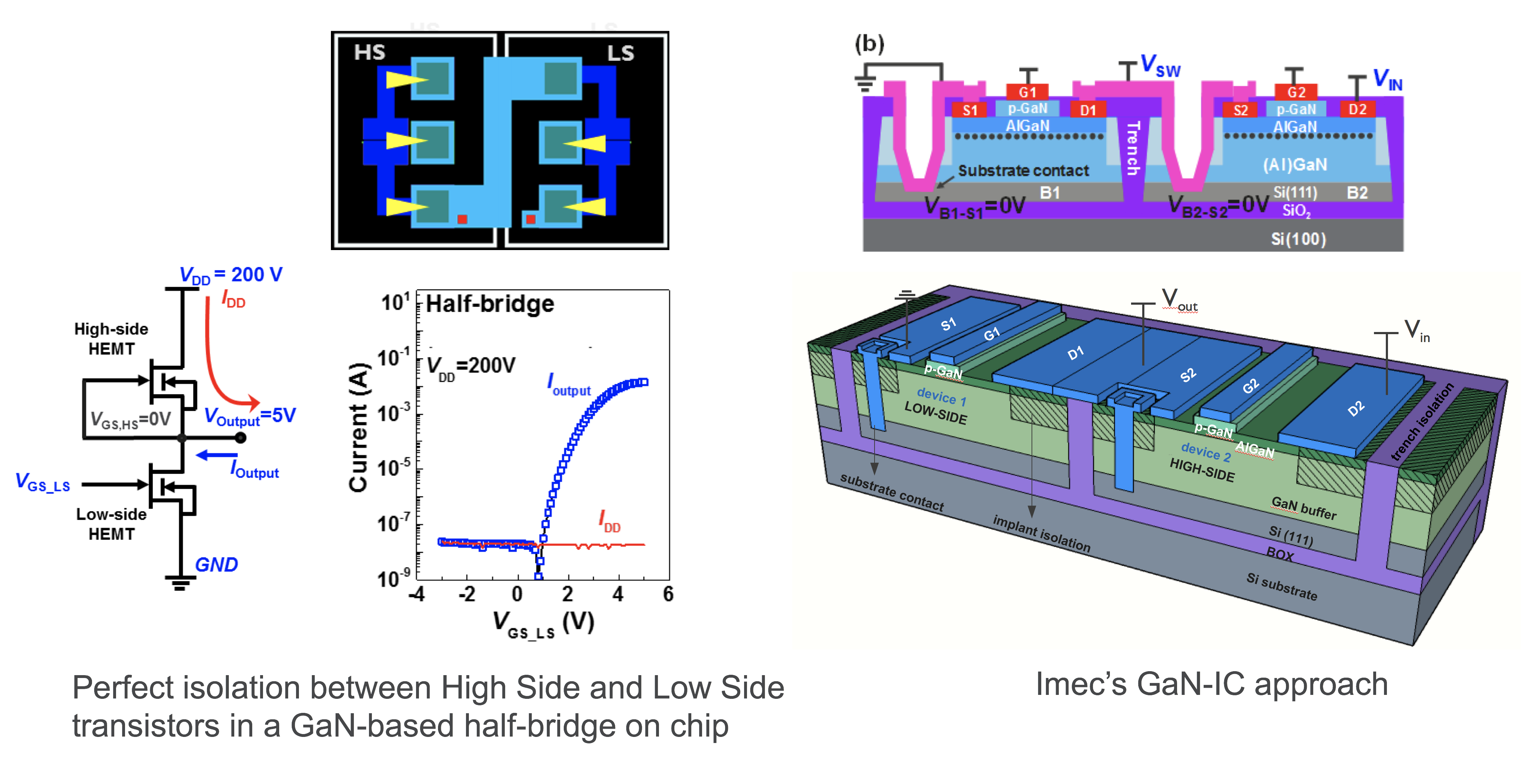 At imec bright people build a bright future.
You could be one of these builders. Whether you are an engineer or an operator, a consultant or PhD student, we need a versatile group of people to help us create positive change.
Join the forward thinkers
What can we do for you?
We have unique cleanroom facilities including a state-of-the-art, Au-free, CMOS compatible, 200mm GaN-on-Si technology platform for 200V and 650V power devices.

Our industrial affiliation program (IIAP) connects you with imec's global partner ecosystem, enabling you to share costs and lower risk through collaborative and precompetitive research.

Our expertise enables us to develop a solution tailored to your needs. We also accommodate the low-volume production of your device.
Why work with us?
Our research is based on a strong synergy between epitaxy, process integration, device technology and simulation
We have an excellent track record in GaN-on-Si power devices with state-of-the-art d-mode (depletion mode) and e-mode (enhancement mode) power devices.
Our research is founded on high-quality 200mm/8-inch wafers with GaN power electronics featuring buffer layers with a high-breakdown voltage.