Growing market for handheld Raman spectrometers
Food, pharma, healthcare, ... many industries make regular use of Raman spectroscopy for the identification and verification of substances. Raman analysis is:
fast – without need for sample preparation
safe – non-invasive and non-destructive
reliable – for a wide range of organic and non-organic materials
To increase Raman spectroscopy's potential as a tool for regular quality control, there's a growing need for spectrometers that are portable, affordable and easy to use by non-specialists. And now, the technology is ready to meet that demand.
Challenges to portable Raman spectroscopy
Today, handheld Raman spectrometers already exist. But they don't meet the performance standards of tabletop models.
The reason is that traditional Raman spectrometers make use of moving parts such as mirrors, which limits their robustness and wide adoption. Imec's integrated solution overcomes this problem while maintaining the optical throughput and spectral resolution.
Towards a handheld Raman spectrometer without quality concessions
Imec developed the technology that allows you to make portable Raman scanners even smaller than current models. With an optical throughput that's similar or better than that of tabletop analyzers.
How is that possible? Through the use of photonics-on-chip. The scattered light is divided across a massive number of tiny interferometers on top of an image sensor. The resulting readout is entirely in line with that of high-end tabletop analyzers.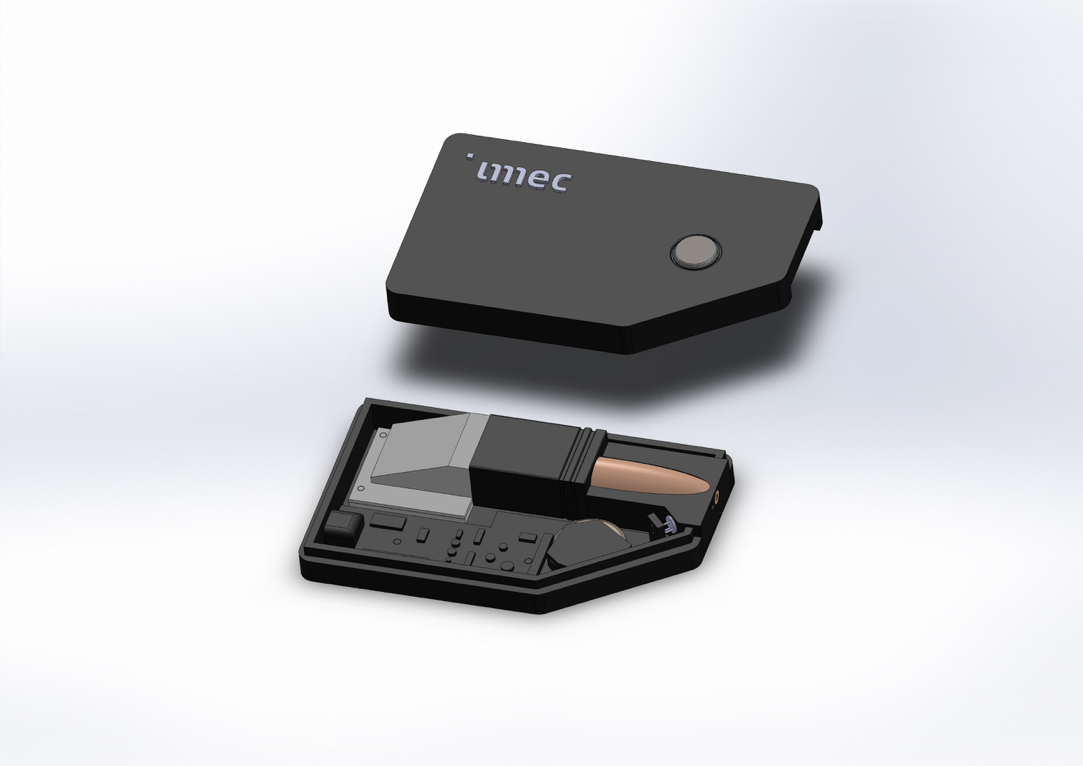 Prototype of a handheld Raman spectrometer based on imec technology
Portable, reliable and affordable
The use of chip technology drastically reduces the size of the spectrometer – up to 1000 times compared to a tabletop analyzer. That even opens the possibility to integrate it in other devices. Why not incorporate a Raman scanner in a professional line of smartphones, for instance?
And there's more: an on-chip Raman spectrometer has no moving parts. That means it's robust enough to be used in all circumstances. And that it's easy to mass-produce – which will drive down the price of your handheld Raman spectrometer.
Are you interested in developing this technology into a market-ready application with us?