AORTA onderzoekt hoe ziekenhuizen efficiëntiewinst kunnen boeken aan de hand van een dynamische toewijzing van taken en middelen aan logistiek en verplegend personeel. Het project tracht de verschillende logistieke processen te ondersteunen en te integreren met nieuwe systemen die zich voortdurend aanpassen aan de context in een ziekenhuis. Op deze manier wil AORTA o.a. wachttijden voor patiënten inkorten, verplegend personeel ontlasten van taken die niet aan de zorg gerelateerd zijn en een efficiëntere stockage van verbruiksgoederen mogelijk maken.
The imec.icon project AORTA investigated how hospitals can achieve efficiencies through dynamic allocation of tasks and resources to hospital staff, for instance by combining the transportation of patients with that of medical equipment and goods. The goal was to support the different logistic processes through technology that continuously monitors and adapts to the changing environment of a hospital, with a view to increasing cost efficiency, reducing waiting times for both patients and staff, relieving nursing staff of non-care related tasks, and improving quality and patient safety.
Project outcomes
Wearable device communicates tasks through messaging architecture
Scheduling algorithms become dynamic and self-learning
AORTA Leaflet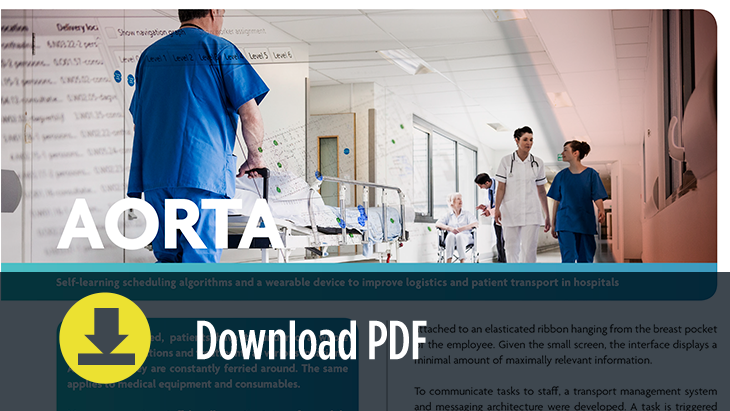 AORTA
Self-learning scheduling algorithms and a wearable device to improve logistics and patient transport in hospitals.
AORTA is een imec.icon onderzoeksproject gefinancierd door imec en IWT.
Het werd opgericht op 01.01.2015 en het project liep tot 31.12.2016.
Download as pdf
Project informatie
Industry
AZ Maria Middelares
Xperthis
Het Ziekenhuis Netwerk Antwerpen
Televic Healthcare
Research
imec - mintlab - KU Leuven
imec - ITEC - KU Leuven
imec - IDLab
Contact
Project Lead: Peter Beirlaen
Research Lead: Greet Vanden Berghe
Innovation Manager: Eric Van der Hulst