Nearly 200 million Europeans suffer from restrictive foot or ankle pain. Fortunately, orthoses offer pain relief: from orthopedic shoes and insoles to ankle-foot orthoses (or AFOs). The current production process of these orthoses is however very labor intensive and leads to variable end results. It often relies on plaster moulds and manual corrections, or in the best (digital) case scenario on virtual modelling, milling and vacuum forming. Ultimately, the quality of every orthotic device also depends on the technician who makes it.
"In the context of FOOTWORK, the project consortium wanted to develop an automated digital orthotics workflow consisting of digital patient measurement, computer-aided analysis, 3D modeling and digital fabrication of the orthoses," says Toon Huysmans, Research Lead of the FOOTWORK project. "The aim was to apply, for the first time ever, a data-driven methodology using statistical foot models at each stage of the orthotics development. By developing such an automated digital process, the FOOTWORK project can strongly increase the efficiency and reliability of the orthotics workflow thereby ensuring the quality of the orthopedic shoes and corrective insoles."
Project outcomes
A modular scan setup able to handle different scanning needs in a cost-efficient and accurate way
Innovative digital techniques to (1) detect the pathology (by using statistical foot models) and (2) provide design criteria for the orthoses (by using artificial intelligence)
New techniques for 3D printing of lasts and anklefoot orthoses (AFOs)
Download leaflet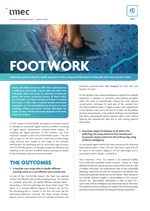 FOOTWORK
Automation and innovation for quality assurance in choice, design and fabrication of orthopedic shoes and corrective insoles.
Footwork is een imec.icon onderzoeksproject gefinancierd door imec en IWT.
Het werd opgericht op 01.10.2015 en liep tot 30.09.2017.
Download as pdf
Project informatie
Industry
Orthopedie De Prêtre
RSLAB
RSPrint
RS Scan International
Research
imec - PSI-VISICS - KU Leuven
imec - Vision Lab - UA
Contact
Project Lead: Fien Burg
Research Lead: Toon Huysmans
Innovation Manager: Els Van Bruystegem