When the human genome sequence was published for the first time in early 2000s, the scientific community agreed that, in order to make genome sequencing available to every patient, the cost of Whole Genome Sequencing (WGS) had to decrease to 1,000 USD. Although sequencing itself has now become cost-effective, analyzing the avalanche of raw sequencing data in clinical use has become the economic bottleneck.
Within the genome analytics platform project, researchers and industry leaders in Belgium want to tackle this challenge. The aim is to develop a new genomic analytics platform that bridges the gap between the low cost of sequencing and the high cost of analyzing raw sequencing data. It generates and manages data for clinical and research genomic applications that analyze the genome of patients (such as Agilent Alissa OnePGT, Alissa Interpret, KU Leuven HiVA or KU Leuven WiNGS) and makes it easy for doctors and researchers to analyze and compare genome data for diagnosis, prognosis, or treatment selection.
The outcomes
1. A unique hybrid cloud platform for fast and cost- efficient whole genome sequencing and analysis
The genome analytics platform includes integrated storage technology from Western Digital, heavily optimized genomics software developed by imec and UGent, and works seamlessly with the BlueBee Genomics Cloud. Western Digital developed and optimized performance of its Unified Data Access interface to support the genome sequencing pipeline. Its advanced NVMe™ technology accelerates data analysis before enabling cost-effective and durable retention – distributing data over multiple clinical centers utilizing ActiveScale™, its scale-out object storage system.
BlueBee's intelligent software provides the ability to burst into a cloud-based sequencing service. This approach to sequencing enables the administrator to determine whether data is processed on-premise, in the cloud, or a combination of the two. Once in the cloud, the BlueBee platform will automatically provide the required hardware to execute the genomics workflows within the desired timeframe at a price per sample at any scale.
2. Whole genome mapping for each patient is an affordable reality
A key objective of the project was to process the full output of a Next Generation Sequencer (NGS), 48 human genomes, within 48 hours to ensure optimal levels of cluster utilisation and maximize the Return on Investment (ROI). The combination of Western Digital's innovative storage technologies enables full optimization of each sequencer run. Next to processing a steady data flow of 48 human genomes in 48 hours, BlueBee enables burst processing of 5000 samples linked to the Alissa OnePGT application in under 4 hours.
3. One workflow: from sequence data to therapeutics
Agilent has integrated the hybrid cloud platform into its Alissa OnePGT and Alissa Interpret solution, which is being used by the University Hospital of Leuven and the Human Genetics Group of KU Leuven to optimize patient diagnostic and screening.
The platform also encompasses the existing WiNGS platform from KU Leuven that compares data from patients from different hospitals without revealing the patient's identity. This is especially important to diagnose rare diseases.
Video
Download leaflet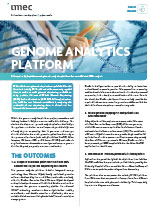 GAP
A European high-performance genome analytics platform for cost-effective DNA analysis.
GAP is een imec.icon onderzoeksproject gefinancierd door imec en Agentschap Innoveren & Ondernemen.
Het werd opgericht op 01.04.2017 en liep tot 30.03.2019.
Download as pdf
Project information
Industry
Agilent Technologies Belgium
Amplidata
Bluebee Belgium
Research
imec - ExaScience Life Lab
imec - IDLab - UGent
imec - STADIUS - KU Leuven
KU Leuven - Human Genetics
Contact
Project lead: Kurt Florus
Research lead: Yves Moreau
Innovation Manager: Dirk Hamelinck
Want to know more about imec.icon?