HDR (High Dynamic Range) video images offer a higher contrast and color depth than is possible in today's SDR (Standard Dynamic Range) video. The resulting images may feature areas that are both darker and brighter than conventional images and still have realistic detail. No wonder HDR is seen as the next step forward in video, one of the promising viewing modes that will offer viewers a better, more realistic experience.
The world over, movie production houses, TV broadcasters and A/V outlets are ready to jump on the HDR bandwagon. However, the equipment to produce and display HDR content is still largely lacking. Also, a move to HDR is not so obvious for cinemas, as higher brightness requires powerful and expensive laser sources. In addition, the perceived dynamic range of a projected image depends not only on the projector, but also e.g. on the interior design of the theatre.
"The main goal of the HD²R project was to study HDR and learn from its challenges and opportunities," says Peter Schelkens, research lead of HD²R and professor at ETRO, an imec research group at VUB. "This included looking at the shooting of HDR video, passing HDR through all steps of postproduction including e.g. color grading, testing user viewing experiences of HDR/SDR video, and creating guidelines for best HDR viewing in theatres."
The project consortium was made up of research groups with experience in A/V technology, image & video coding and user experience testing, and a number of industrial partners from the A/V value chain. "These companies are all looking to get involved in the global HDR landscape, so they saw the project as a unique learning and co-creation opportunity," says Dirk Maes, project lead and senior research engineer at Barco. "As a leader in digital cinema, Barco is studying how to best introduce HDR capabilities in its projectors, in a way that offers most advantages for the viewers. VRT, a public broadcast company, is looking how HDR can be introduced in the whole production chain, and how it can be mixed and matched with existing SDR video. Grass Valley is a camera producer ready to design HDR cameras. Grid and Limecraft are two companies that want to get involved in HDR postproduction. And last, Barco Silex is a subsidiary of Barco working on hardware cores for video compression and decompression."
Project outcomes
Production of a short movie in HDR
Development of algorithms to expand video to HDR
User perception tests
Download Leaflet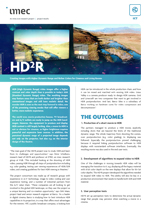 HD2R
Creating Images with Higher Dynamic Range and Richer Colors for Cinemas and Living Rooms.
HD²R is een imec.icon onderzoeksproject gefinancierd door imec en IWT.
Het werd opgericht op 01.10.2015 en liep tot 30.09.2017.
Download as pdf
Project informatie
Industry
Barco
Barco Silex
Grass Valley Nederland
Grid
Limecraft
TP Vision Belgium
VRT
Research
imec - ETRO-MMT - VUB
imec - IPI - UGent
imec - MICT - UGent
imec - MMLab - UGent
Contact
Project Lead: Dirk Maes
Research Lead: Peter Schelkens
Innovation Manager: Stefan Van Baelen