Door het gebrek aan oplossingen voor volumetrische kwaliteitscontroles wordt al te vaak een groot aantal producten uit de omloop gehaald, en bijgevolg verspild, in veel sectoren. Om een doeltreffende opsporing van productfouten mogelijk te maken op een tijd- en kostenbesparende manier en zonder de producten te beschadigen, wil iXCon een geavanceerde oplossing ontwikkelen die de kwaliteitscontrole van hoge productvolumes in verschillende sectoren mogelijk maakt. Het systeem zou door middel van 3D-technologie zorgen voor een snelle volumetrische evaluatie van elk product op de productieband. In drie praktijksituaties zal worden aangetoond dat de iXCon-methode nuttig is in zowel de landbouw als andere productiesectoren.
The outcomes
1. Robotized rooting of agricultural products that have irregular structures - Robovision
Thanks to the ability of verifying the internal structure and quality of flower bulbs, the efficiency of automated plating can be drastically increased, e.g. by eliminating dried-out bulbs and by planting the good seeds with the correct side upward.
2. Internal quality inspection of fresh fruit by 3D non-destructive imaging - MeBioS
Fast 3D volume inspection of whole fruits (pears in this use case) supports the automated sorting after harvesting, leading to more homogeneous batches ánd less waste.
3. Quality control of small medical devices - Terumo
For mass production of medical devices, the technology developed in the iXCon project has proven its capabilities to be used as fast and qualitative inline inspection system. The technology can now be further developed to be added to the various visual-camera inspection techniques already in place.
4. Enabling technologies
A flexible hardware platform speeds up industrial implementation: A dedicated hardware setup has been built which allows three degrees of freedom in the individual movement of source, detector and sample/stage. This is particularly useful in an R&D context or to test a myriad of configurations in the development of a dedicated industrial setup.
Self-learning software decreases ramp-up time: By feeding the software with existing knowledge of the inspected product (material properties, CAD information…), it can self-learn in an automated way and thereby decrease the time that is needed to set-up and validate the detection system for a given industrial application.
Image reconstruction with minimal amount of data allows for realtime in-line monitoring: Thanks to the smart interaction between hardware and software, the technology developed within iXCon allows to reduce the usual amount of up to 1500 scans needed for quality inspection with offline monitoring to only 50 scans or less. This efficiency gain now also allows for realtime in-line monitoring of products passing by on a conveyor belt.
Video
Download leaflet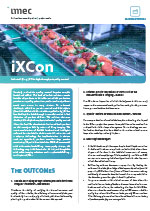 iXCon
Industrial (X-ray) CT for high-throughput quality control
iXCon is een imec.icon onderzoeksproject gefinancierd door imec en Agentschap Innoveren & Ondernemen.
Het werd opgericht op 01.10.2016 en liep tot 30.09.2018.
Download as pdf
Project informatie
Industry
X-Ray Engineering bvba
Robovision
Terumo Europe
Research
UGent - Radiation Physics
KU Leuven - MeBioS
imec - Vision Lab - UAntwerpen
Contact
Project Lead: Denis Van Loo
Research Lead: Jan De Beenhouwer
Innovation Manager: Dirk Hamelinck