Imec is developing an extremely efficient opto-mechanical photonic chip technology for application as ultrasound sensor to enable future photo-acoustic-imaging microsystems. The objective of this MSc thesis is to characterize the photonic devices and acoustical sensors of Imec's first opto-mechanical chip with this exciting new technology.
You will first study fundamentals of integrated photonics (waveguides, ring resonators, Mach-Zehnder interferometers, out-of-plane grating couplers) and ultrasonic (acoustical wave field theory, device specifications). Then you will measure the photonic characteristics of the devices by first selecting appropriate measurements, adjusting and programming the measurement setup, measuring many test devices, and then applying the studied theory to analyze the optical performance of these devices. Next to this, you will select most the most interesting ultrasound sensors on this chip, and characterize the ultrasound performance of different types of sensors. We are looking forward to this experimental demonstration of these novel opto-mechanical sensors.
After this MSc project, you will be knowledgeable about integrated photonics and ultrasound sensors. Moreover you will be experienced in an laboratory for (fiber-)optics and integrated photonic chips, and in a laboratory for ultrasound transducers.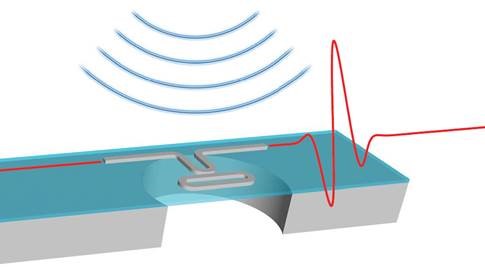 References:
Wang, L. V. and Yao, J. (2016) 'A practical guide to photoacoustic tomography in the life sciences', Nature Methods, 13(8), pp. 627–638.
Leinders, S. M. et al. (2015) 'A sensitive optical micro-machined ultrasound sensor (OMUS) based on a silicon photonic ring resonator on an acoustical membrane', Scientific Reports, 5(c), p. 1417744.
Westerveld and Urbach, Silicon Photonics: Electromagnetic Theory (IOP Publishing, 2017)
Type of project: Internship, Thesis
Duration: 6-12 months
Required degree: Master of Engineering Technology, Master of Science, Master of Engineering Science
Required background: Electromechanical engineering, Electrotechnics/Electrical Engineering, Mechanical Engineering, Nanoscience & Nanotechnology
Supervising scientist(s): For further information or for application, please contact: Wouter Westerveld (Wouter.Westerveld@imec.be) and Veronique Rochus (Veronique.Rochus@imec.be) and Hang Gao (Hang.Gao@imec.be)
Imec allowance will be provided for students studying at a non-Belgian university.