Topic title: organometallic photoresists for advanced Extreme Ultraviolet Lithography (EUVL)
Tagline: You will work together with a team of deposition and lithography specialists within an international environment in a modern 300 mm semiconductor cleanroom using advanced tools at the leading-edge technology. You will be trained in entrepreneurial skills necessary to bring such research from the laboratory to development phase.
Topic description: This PhD project aims to develop novel processes for organometallic photoresists through research of the underlying mechanisms and to consolidate their applications in the semiconductor manufacturing industry.
Electronics offer innovative ways to communication, work and live and integrated circuits (ICs) appear in various applications in our daily lives. Over the past five decades, the integrated circuits (ICs) have seen a continuous increase of computing power while at the same time increasing performance. To achieve this, the number of transistors on the ICs must increase per unit area. This trend, known as Moore's law, predicts that the number of transistors on an IC doubles every two years. The pattern dimensions (density and size) that can be obtained rely on the use of lithography which, among other parameters, depend on the light source. The extreme ultra-violet (EUV) lithography, at a wavelength of 13.5 nm is the leading-edge technology to pattern small features and recently it has been introduced for high-volume manufacturing (HVM) in the semiconductor industry for the 7 nm technology node (N7). However, to enable the future technology nodes (N5, N3 and beyond) further efforts are needed to extend EUVL usage. Importantly, the EUV development relies on the patterning capability of the photoresist. Such a material plays a key role in the lithography process by transferring the information present on the mask to the substrate when irradiated with light.
EUVL patterning on photoresist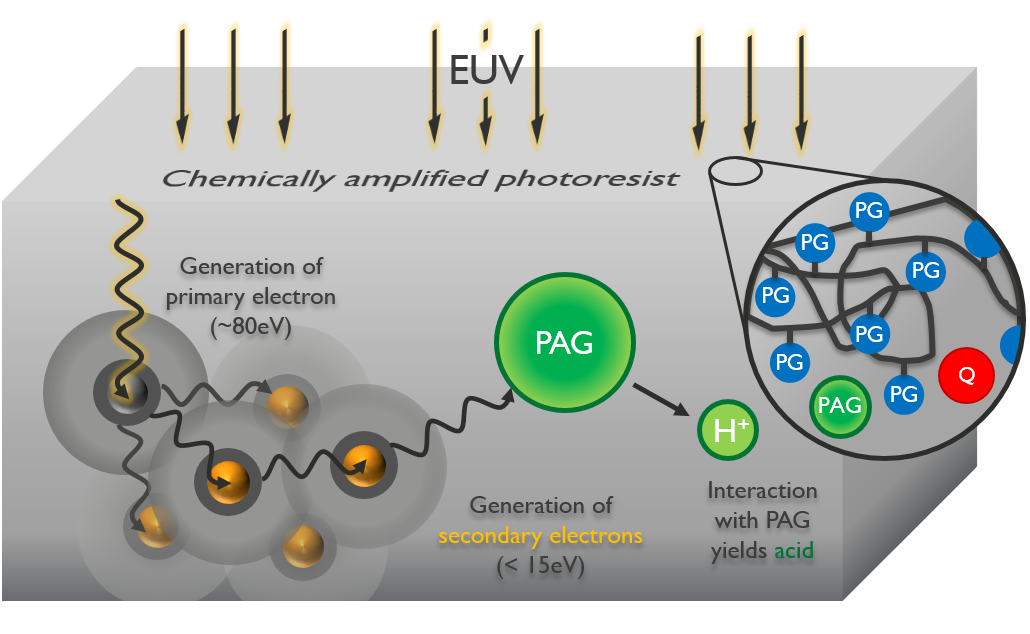 The EUV light interaction with a chemically amplified photoresist

Organic spin-on photoresists are the workhorse in EUV lithography. The chemically amplified resists (CARs) pattern through an acid diffusion process needed for the solubility switch of the polymer. The uncontrolled diffusion increases the LER and causes stochastic defects in the patterns. Further, the complex chemistry of CARs also plays an important role in the problems associated with this platform. In the recent years, novel spin-on materials such as metal oxide resist, nanoparticles, molecular resist (called non-CARs), have been introduced and investigated to overcome current patterning limits. They rely on a pattern solubility switch mechanism other than the acid diffusion and it is supposed to provide better control in pattern roughness and higher sensitivity since based on high absorbing EUV elements and lower chemical stochastics since single-component based. Yet, the detailed mechanisms are not studied yet.
Crucial to elucidate the mechanism is to generate a deeper insight into the light-matter interaction in the photoresist during EUVL. The high-energy EUV photons (92 eV) generate secondary electrons through interaction with the resist material trigger the desired reactions in the resist that needs to be developed afterwards. The efficiency with which the primary beam interacts with the resist film to produce secondary electrons depends on the capacity of the resist to absorb EUV radiation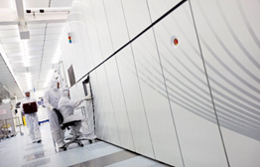 Imec 300mm cleanroom and ASML NXE3300 EUV exposure scanner tool

The aim of this PhD project is to understand and develop novel organometallic EUV photoresists. Starting from existing materials (e.g., metal-organic frameworks), novel materials sensitive to low-energy electrons will be developed for their characterization, functionalization and stability studies ultimately aiming to identify potential EUV photoresists that can address current EUV resist issues and can ultimately satisfy the needed requirement for future technology nodes.
We will leverage Imec's 200m and 300mm production line and advanced node technologies to gain access to patterned structures with dimensions down to tens of nanometers in order to combine fundamental studies with industrially relevant research.
Principle Duties and Responsibilities
The PhD candidate will · Acquire a broad knowledge of deposition processes for hybrid metal-organic materials, ranging from chemical vapor deposition to solution-based deposition, and the characterization/integration of these materials · Acquire a wide knowledge on Extreme Ultraviolet lithography, EUV resists and their characterization/integration relevant to the work program outlined above · Be able to identify key problems, generate novel solutions and reduce them to practice · Disseminate the results of such activities to internal colleagues/partners and capture relevant intellectual property via patent applications and/or publish results in high impact journals and conferences · Bring an energetic and enterprising approach to the execution of the research program · Potentiate inter-personal skills suitable for playing a role at the center of a complex multidisciplinary teams · Be alert to unexpected opportunities arising during the research · Assist with the training of graduated or undergraduate students working in the area of the project · Develop written and oral communication skills.
Required background: chemistry, chemical engineering, physics, material science. Knowledge of X-ray / soft-X ray spectroscopy and electron/light-matter interaction are an advantage.
Type of work: The main aspects of the described work are technology study combined with fundamental understanding of the formation reactions of crystalline and amorphous hybrid organometallic compounds, interface structure, nanoscale material engineering, light-matter interaction and low energy electron induced chemistry it is mainly experimental. Nevertheless, modeling opportunities via collaborations might also be part of the PhD work.
Promotors: Rob Ameloot (KU Leuven) & Stefan De Gendt
Daily advisor: Danilo De Simone
Required background: chemistry, chemical engineering, physics, material science. Knowledge of X-ray / soft-X ray spectroscopy and electron/light-matter interaction are an advantage
Type of work: 65% experimental, 25% data analysis, 10% literature
Supervisor: Stefan De Gendt
Daily advisor: Danilo De Simone
The reference code for this position is 2020-037. Mention this reference code on your application form.
Solliciteer