Ultrasound imaging is widely used as a diagnostic imaging technique. It is used to create an image of internal body structures such as tendons, muscles, joints, blood vessels, and internal organs. However, ultrasound waves have trouble penetrating bones. For example, ultrasound imaging of the adult brain is currently very limited.
The goal of this thesis is to perform a feasibility study of using ultrasound imaging
during hand surgery to image the exact position of surgical implants (like screws) in bones, instead of using X-ray after the surgery. In a first step, the ultrasound frequencies and source configurations will be investigated to maximize imaging resolution using finite element simulations. Then inverse problem resolution strategies will be studied and applied on realistic configuration.
This project is in collaboration ​with University of Liege.
​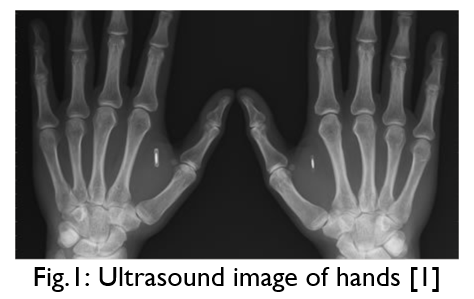 [1] Ultrasound Bone Imaging Scanner Market Size(Volume & Value), Growth and Development Trends by 2025, march 2018, rednewswire.com​
Type of project: Thesis
Duration: 6-12 months
Required degree: Master of Engineering Technology, Master of Engineering Science
Required background: Computer Science, Electromechanical engineering, Electrotechnics/Electrical Engineering, Mechanical Engineering, Nanoscience & Nanotechnology
Supervising scientist(s): For further information or for application, please contact: Veronique Rochus (Veronique.Rochus@imec.be)