The imec.istart business acceleration program supports entrepreneurs with the early development of their tech start-ups during minimum 12 months. During this period we want to assess the feasibility of a business proof-of-concept, prepare the (commercial) launch of the first product(s) and the establishment of a start-up to drive this commercialization.
What are the benefits for your startup?
The best applicants with highest innovation potential will get access to:
12 months of tailored and interactive coaching and workshops
50,000 EUR as pre-seed funding and financial road mapping
Access to imec technology, services and expertise
Feedbacks from mentors/advisors and potential investors
Support to find seed funding opportunities
Housing facilities in multiple cities (Ghent, Antwerp, Brussels, Hasselt, Leuven, Genk,...)
Community network of over 160 start-ups
....
Expected outcomes and impact
At the end of the 12 month during program, participating start-ups should have reached following milestones:
They should have found their product-market fit (ideally with first paying customers) and be ready to initiate their growth.
They should have made progress as a team and be ready as an organization to scale up.
They should be 'investor-ready', i.e. be able to attract additional funding on the private market to fuel their growth
"The final purpose of imec.istart is to help develop a business idea up to the point where it is ready to attract financial support in the market, and to continue developing independently." Sven De Cleyn - imec.istart Program Manager
Is your startup a good fit?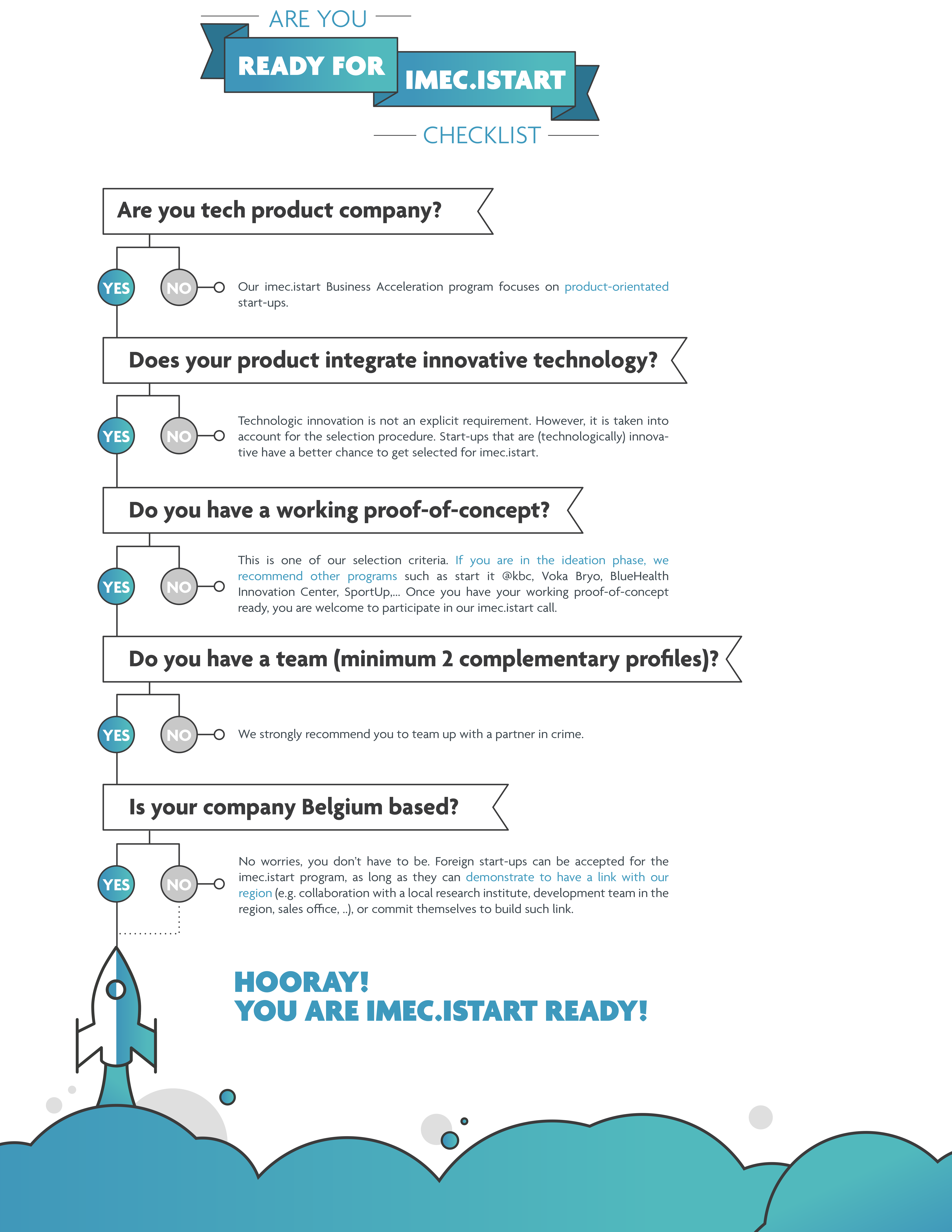 If you meet the above criteria, you are welcome to submit your application (deadline 1 February)
Need more details?
If you need more details about imec.istart & the application process, download the imec.istart manual here.
Get in touch with us
Are you interested in applying for imec.istart but still have some questions? Send an email to istart@imec.be and we will be happy to answers your questions and provide you all the required information.