About imec.istart
Does your tech start-up need support during its early development phase?
Imec.istart – imec's business accelerator – is there to help you launch your business idea successfully! The imec.istart program offers an initial financial injection (50,000 EUR pre-seed funding), professional coaching and mentoring, access to technology and working facilities, and access to a broad network of partners and investors.
Next to general support, you can also apply to a specific vertical, to benefit from the best market-specific coaching, and to receive additional investment.
Since its launch in 2011, imec.istart helped more than 150 tech start-ups in diverse fields – ranging from multimedia and logistics to the healthcare sector – to develop into sustainable ventures.
These successful results have not been overlooked by the international community: in 2018, imec.istart was granted first place in the European 'Top University Business Accelerators' ranking by UBI Global and was ranked fourth best in the world!
Has this triggered your interest? Find out more about the imec.istart program.
Facts & Figures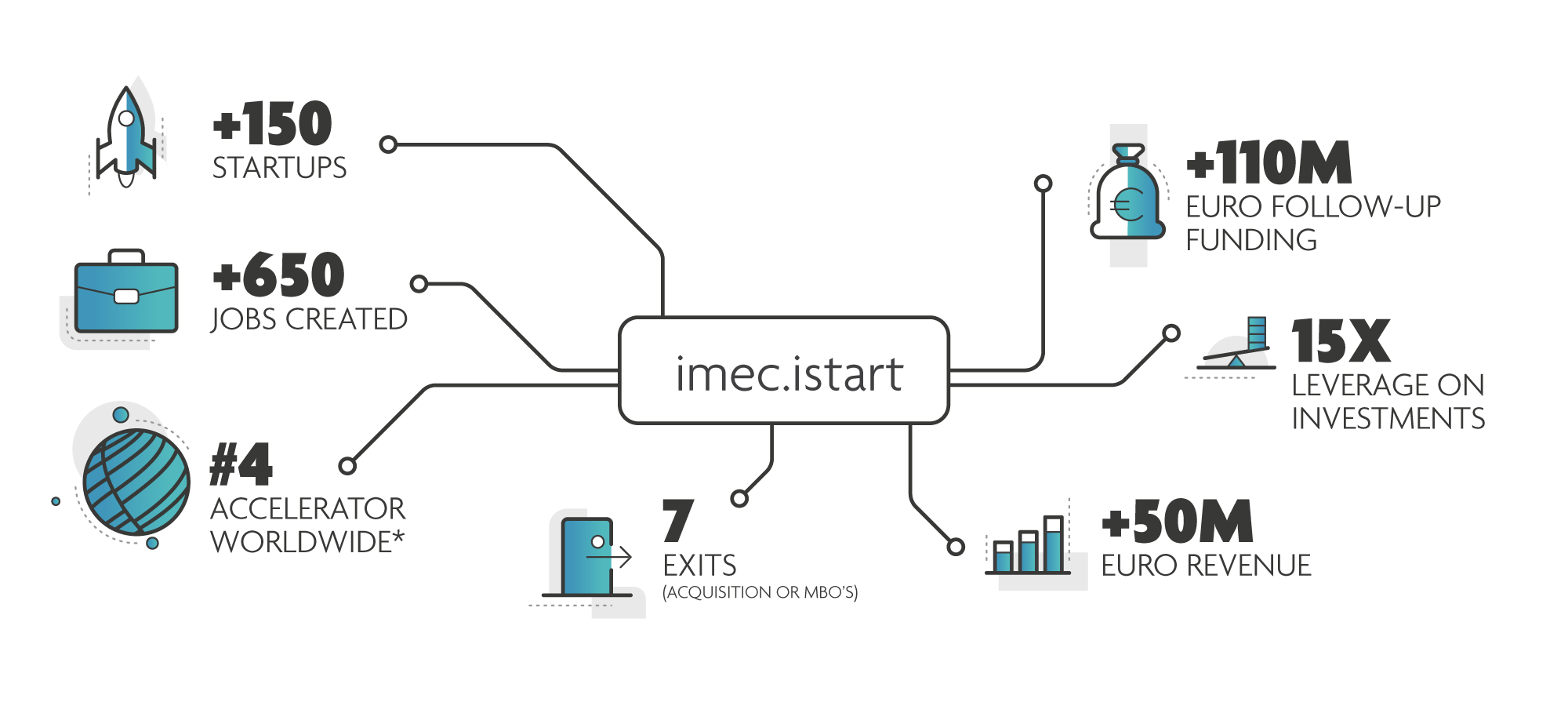 Need more details?
Download the complete imec.istart Manual (including all details on the program and evaluation criteria)
"As an entrepreneur you feel sometimes alone and want neutral but honest feedback that cannot damage your market position. imec.istart offers this trusted environment for knowledge sharing between peers and coaches."
Nico Wauters, T-Mining
"As a tech startup, you need to be in the imec.istart program! Aside from the pre-seed funding, the support from your personal coach and the access to an amazing network of people is invaluable and will help you not only during the duration of the platform, but even long beyond that!"
Thomas Vanhove, Tengu
Voor meer informatie over deze topic, contacteer imec.istart directeur Sven De Cleyn.
Want to know more about imec.istart?