Getting started
Getting a tech start-up off the ground requires skills, resources and the right technology. Turning it into a success is quite a challenge. Imec's imec.istart Business Acceleration Program offers you, as an entrepreneur, in-depth coaching, facilities and support, next to a safe and stimulating environment for you to develop and grow your business. Together with the imec.istart program partners, we provide a range of supporting services and deals to help you get your start-up project off the ground:
Pre-seed funding: when setting up a new business, finding sufficient resources to bridge the first months is a challenge. Imec helps in overcoming this issue by providing pre-seed funding of 50.000 EUR in return for equity (under certain conditions even extendable up to 150.000 EUR)
Expert coaching: hands-on workshops and one-on-one support by industry experts in your field
Support and counseling from experienced entrepreneurs through our Entrepreneur-in-Residence program
Access to imec's unique network of industry members and research community
Working facilities: access to imec's co-working spaces and acceleration centers in major cities in Flanders and Brussels through our own co-working space in the Start-up Garage, partner facilities elsewhere or separate office space in iCUBES
Support after the end of the program: as one of your first investors and future shareholders, imec helps your start-up company to acquire follow-up funding by third-party investors in Belgium and internationally.
Need more details?
Download the complete imec.istart Manual (including all details on the program and evaluation criteria)
International Recognition
With over 100 companies in its portfolio, imec is committed to helping young entrepreneurs get their idea off the ground. Our imec.istarters have already created more than 300 full-time jobs, with a total turnover of more than 16 million euro. Viewed by external investors as an attractive and secure asset, these start-ups have triumphed in securing follow-up financing: every euro invested by imec opens the door to 3.6 euro of external funding.
These successful results have not been overlooked by the international community: in 2015, imec.istart was granted second place in the European 'Top University Business Accelerators' ranking by UBI Global and was ranked fourth best in the world!
How can you join?
Imec.istart welcomes general ICT related business ideas, but also offers special tracks for projects in eHealth, Logistics & Mobility, Media, Telecom & Entertainment, and Space Technology.
Imec.istart typically has three open calls throughout the year: January, May and September. After the call closes, a team of imec and industry professionals screens the submitted start-up proposals and selects those that will move on to the next stage. These teams will be invited to a pitching session to defend their plans. The jury will then decide which ones will be accepted in the program.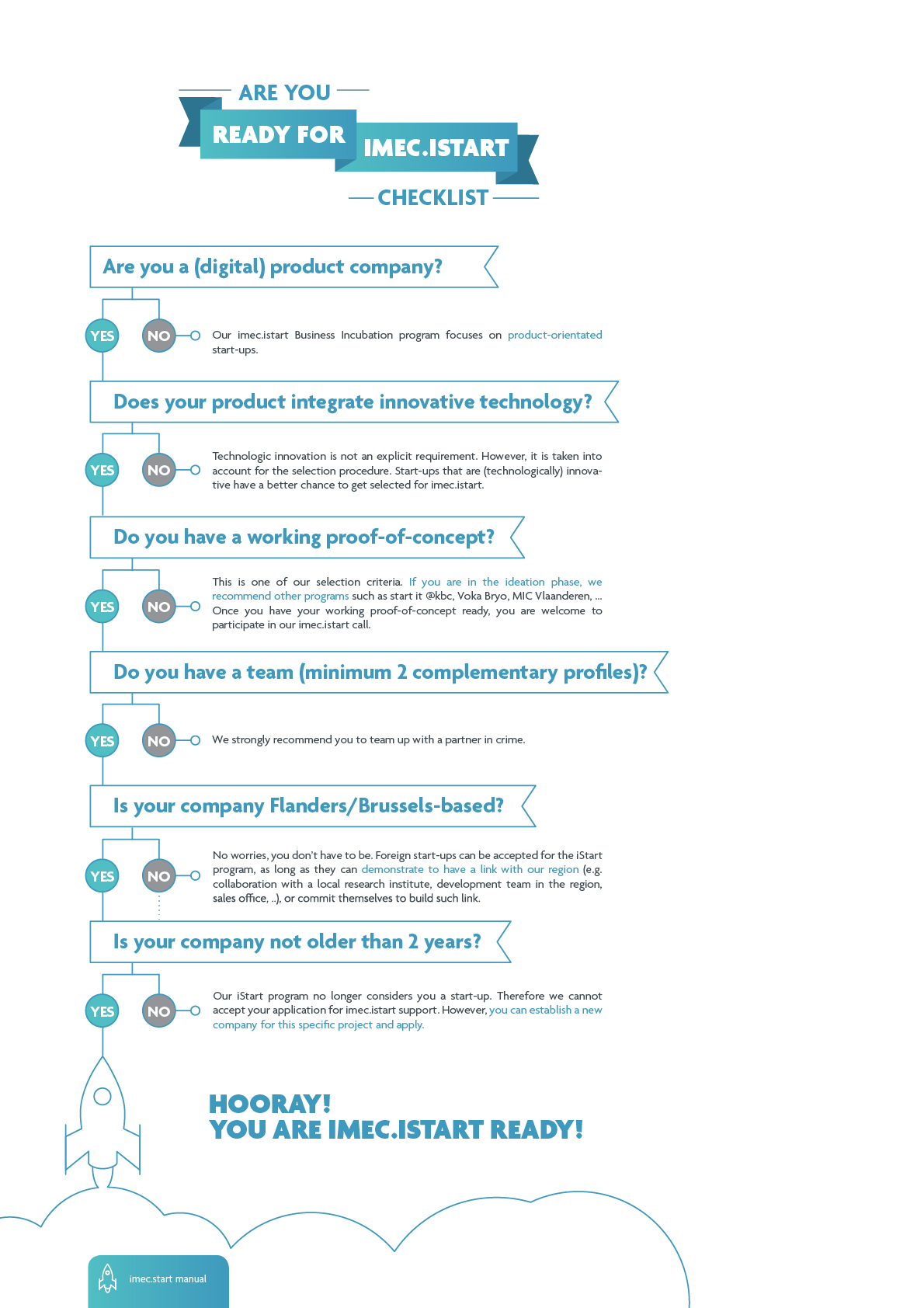 Video
Voor meer informatie over deze topic, contacteer imec.istart directeur Sven De Cleyn.
Want to know more about imec.istart?