International Recognition
With over 100 companies in its portfolio, imec is committed to helping young entrepreneurs get their idea off the ground. Our imec.istarters have already created more than 300 full-time jobs, with a total turnover of more than 16 million euro. Viewed by external investors as an attractive and secure asset, these start-ups have triumphed in securing follow-up financing: every euro invested by imec opens the door to 3.6 euro of external funding.
These successful results have not been overlooked by the international community: in 2018, imec.istart was granted first place in the European 'Top University Business Accelerators' ranking by UBI Global and was ranked fourth best in the world!
Why imec.istart?
Committed to supporting digital innovation and entrepreneurship in Flanders, the imec.istart business acceleration program supports entrepreneurs during the early development phase of their tech start-up. This incubation takes a minimum of 12 months and is meant to assess the feasibility of the business proof-of-concept, prepare the (commercial) launch of the first product(s) and establish the start-up to drive this commercialization together with the imec.istart corporate partners.
Facts & Figures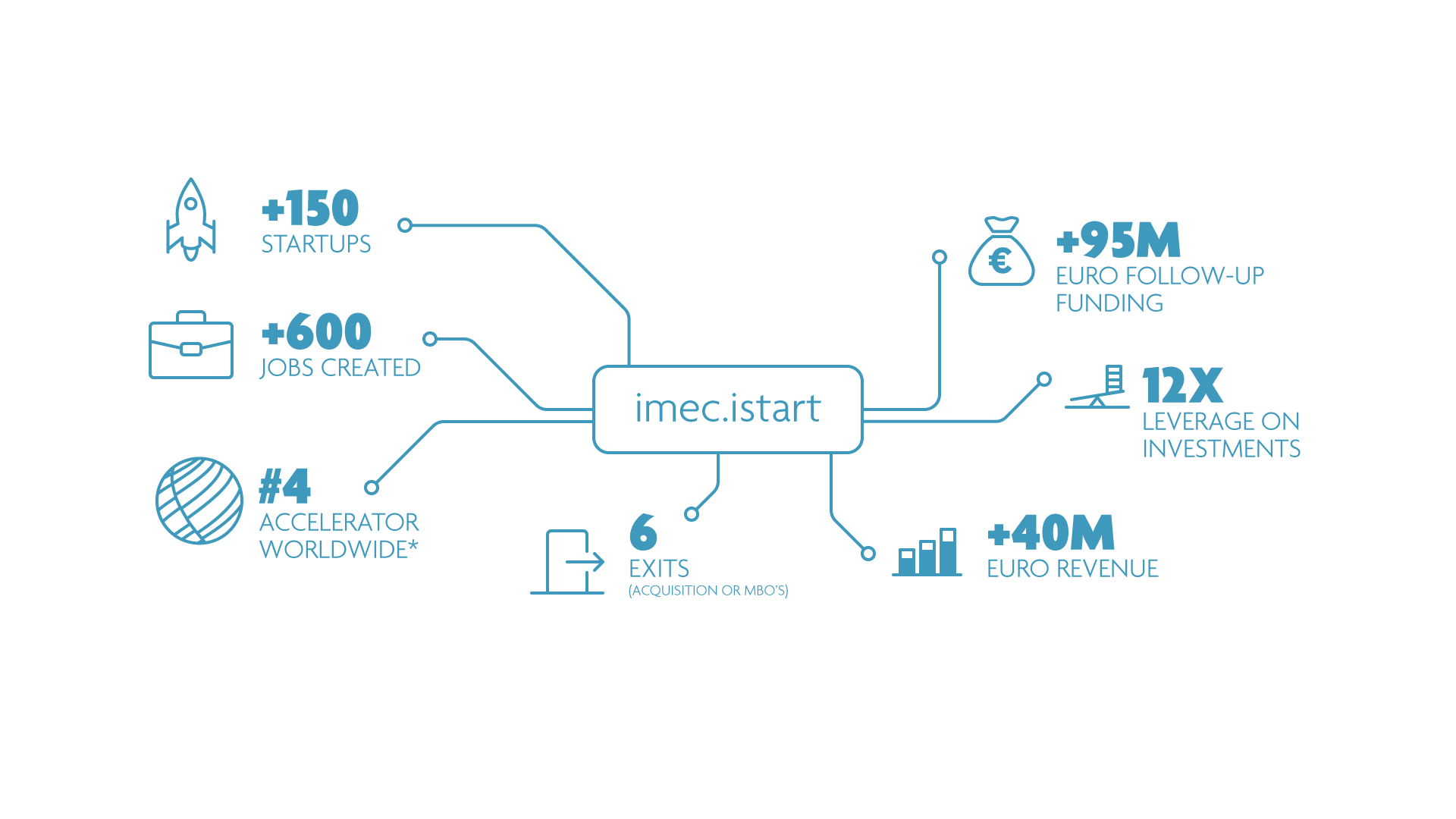 Need more details?
Download the complete imec.istart Manual (including all details on the program and evaluation criteria)
"Imec has an exceptional acceleration program. It performs really well on our global benchmark, especially on access to funds and post-incubation performance indicators. This signifies that imec clients have better access to funds and a higher survival and growth rate than the global average. Imec pays a lot of attention to its client companies and engages its ecosystem. It provides exceptional coaching and mentoring services to its clients in a supportive entrepreneurial environment."
Dhruv Bhatli, UBI Global
"Without the advice and the network of imec.istart, we could never have achieved the same results and first successes in this period of time.

You linked us up with trustworthy partners with whom we still cooperate until today and advised us in our journey towards a sustainable cooperation with Parkwind."
Thomas Van Hoestenberghe, Fluves
Voor meer informatie over deze topic, contacteer imec.istart directeur Sven De Cleyn.
Want to know more about imec.istart?