During corona times, you've certainly come across heart-warming videos such as this: people singing away the lockdown blues – each from their own home but coming together in perfect harmony.
Such physically distant choir sessions are even more impressive than you think. Because it's a hell of a job to combine those separate contributions into a pleasing whole.
Go ahead, record a singalong with your friend or colleague on Zoom or Microsoft Teams. You'll be painfully aware that such standard meeting software is not suited for remote, real-time music-making.
Challenges for remote and real-time singing
Why is a virtual chorus so much more challenging than a virtual meeting? For two reasons: poor sound quality and frequent delay.
You might be surprised that there is still a delay on modern-day conference hard- and software. That's because, when you talk to someone, you won't notice that he or she is easily 40 milliseconds or more behind you (and vice versa). But if you want to sing a song together, any delay of more than 10 to 20 milliseconds results in unbearable cacophony.
This means that, for choirs and musical ensembles, remote rehearsals are difficult to achieve. And remote concerts are out of the question. Unless technology can keep up with their demands. That's exactly what imec and the World Choir Games (WCG) are working on.
5G to the rescue?
For a while now, the WCG and imec, as their technology and innovation partner, have been exploring new ways of using technology to support rehearsals and performances for choirs.
Before the corona crisis, imec and the WCG came up with a solution to deploy a selection of state-of-the-art (biometric) sensors during performances. This gives a revolutionary insight into the experiences of choir singers, conductors and audience members.
Due to the impact of the corona virus on the organization of the World Choir Games, they were forced to re-imagine this concept. They are now bent on eliminating the two barriers for remote rehearsals and performances: quality and delay. And they want to do this by:
Developing the ChoirBox: an easy-to-use hardware component with a good microphone and/or audio input, a minicomputer, quality sound card, 5G modem and other connectivity options. Such a ChoirBox could be developed today at a relatively low cost, making its purchase a viable investment for choirs.
Exploring the potential of the super-fast mobile 5G network to enable an unprecedentedly low delay.
A first desk study confirms that, provided good coverage of the 5G network in the vicinity of the ChoirBox, a delay of around 10 to 20 milliseconds should be possible.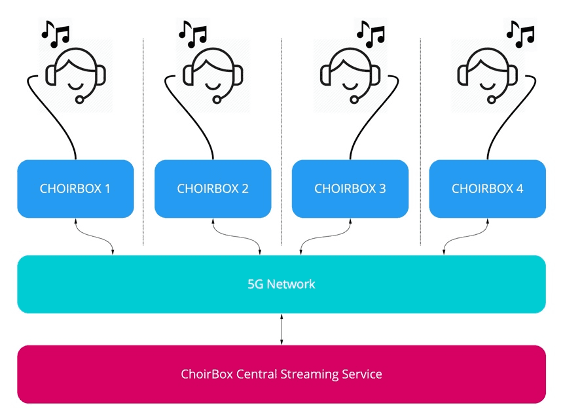 ChoirBox project approach
Imec proposes a plan of action in two phases:
In a proof-of-concept, we prove the feasibility by developing at least four ChoirBoxes, that enable four choir members to sing together with a quality and delay that's acceptable for a smooth rehearsal. We also gain more insight into the technological requirements and the expectations of the users.
In a second phase, we move to a larger scale: a full choir of 30-60 members should be able to sing together. And we explore whether the solution could also be used for remote performances.
If all goes according to plan, a large-scale deployment will be considered. The imec team involved has therefore committed to sharing the insights, hardware designs and software generated in this project – in open-source formats. This will increase this project's impact and allow other parties to continue the work beyond these first phases.
We all know how music has the power to bring people together. Thanks to the ChoirBox project, that power could even overcome physical distance.
Published on:
1 September 2020