Right now, there's a smartphone in everyone's pocket. Soon, there will be augmented reality (AR) glasses on everyone's nose. That's what the consumer electronics industry expects, and what technology companies are striving to enable.
One of those companies is MICLEDI Microdisplays, an imec spin-off that develops a microLED display that can transform the AR device from something that looks like bulky sunspecs into lightweight and fashionable glasses.
They launched in 2019 and in March 2022 signed an agreement wit GlobalFoundries to move from pilot-line manufacturing to mass production. An already impressive trajectory in which, according to co-founder Soeren Steudel, imec's support has been vital.
MICLEDI Microdisplays' differentiator: complete 300mm process flow
"Just about everyone agrees that microLED displays are ideal for AR glasses," says Soeren. "They produce enough brightness to outshine the sunlight. And an LED emitter array – integrated with CMOS – is compact and energy-efficient enough to be incorporated in the frame of a pair of smart glasses. The big challenge is to manufacture such microLED displays cost-effectively in high volumes. That's where we believe we have a unique approach."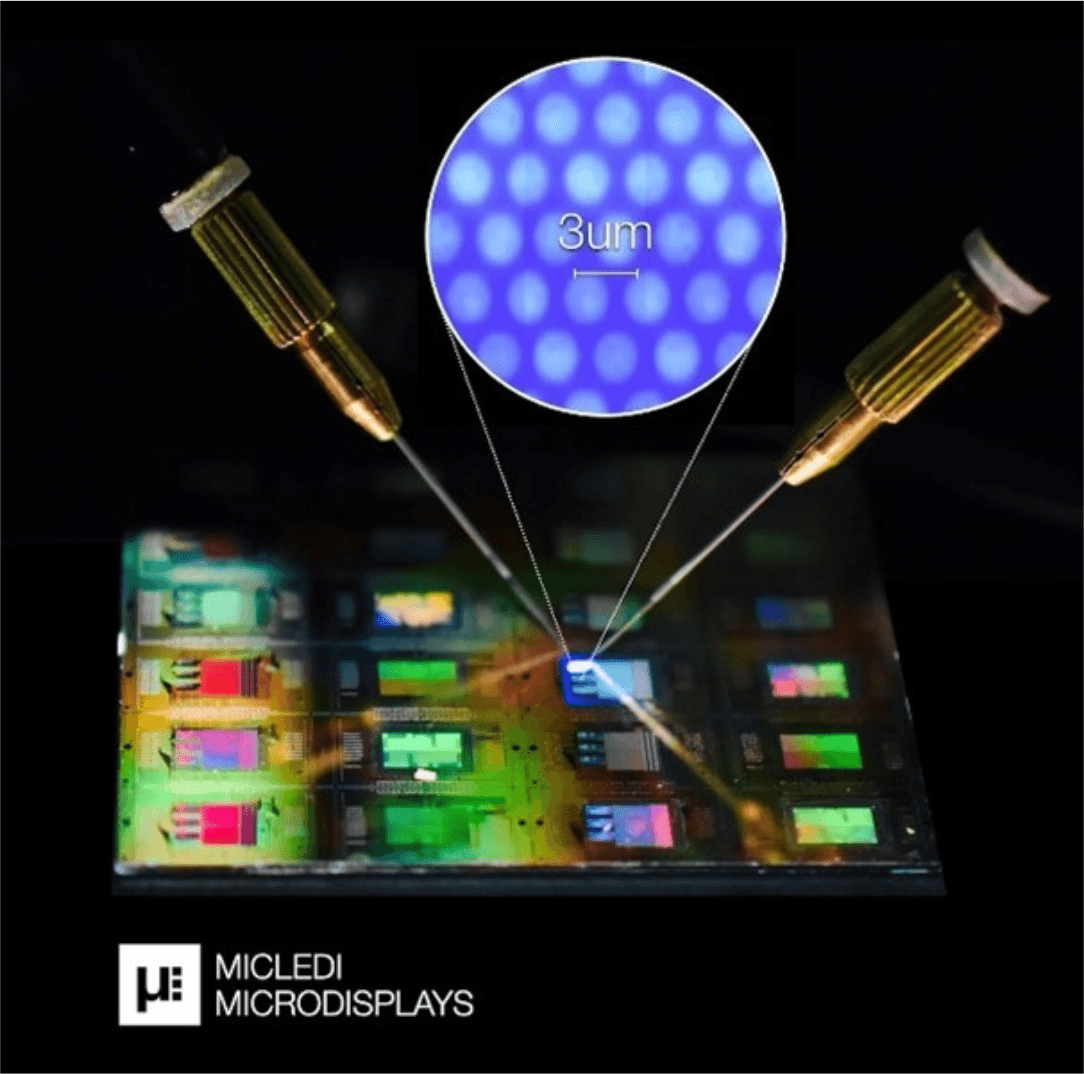 The core of the problem is that the CMOS driving the display needs to be very advanced – the kind you only find in a 300mm platform. Which means that, to cost-effectively manufacture the device, you need to keep everything within a 300mm process flow. And that, says Soeren, is a big challenge: "Basically, we're developing a process that involves the integration of III-V materials, but remains fully compatible with existing tools in a CMOS foundry. Once we accomplish that, the road is open to mass manufacturing. But it's the step from concept to manufacturable prototype that requires a lot of talent, infrastructure and funding."
Access to a fully equipped 300mm pilot line
MICLEDI's story illustrates what deep-tech venturing is all about: launching unprecedented innovations by tackling substantial engineering challenges. Soeren and current business director, Alexander Mityashin, started their company after their careers as researchers at imec. Which means they're well aware of the unique benefits of having access to imec's research infrastructure. Soeren: "Imec is one of the few places in the world with a 300mm pilot line that includes everything from front-end to back-end and packaging – on full-automatic process tools. That's essential to figure out a complete process flow. Once you have that – including the credibility of the imec name attached to it – you can confidently approach one of the big foundries for scaling up."
It's not only a question of infrastructure, but also of talent. While MICLEDI has a small team of 12 people, up to 50 imec experts participate in the project. "Some of them work full time, some only a few hours a week," says Soeren. "By flexibly tapping into their multidisciplinary expertise, we're able to move along our project at the speed we need to stay on track towards our technological and business goals."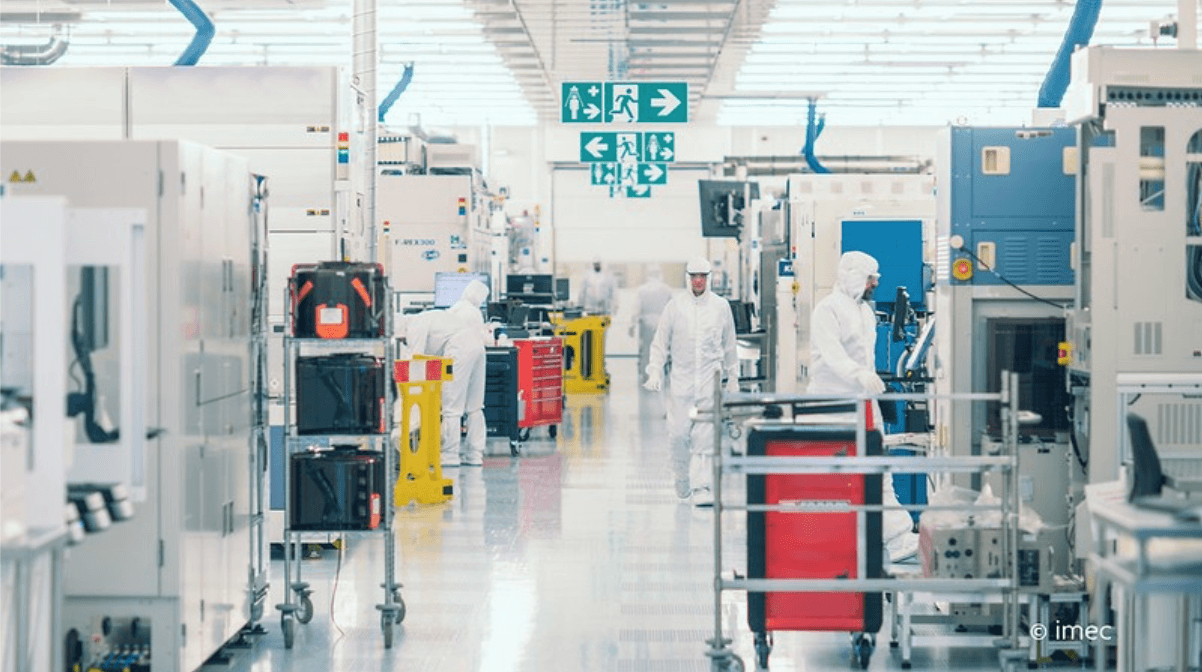 Access to funding
This reliance on advanced infrastructure and exceptional talent is one of the things that distinguishes deep tech from innovations that only rely on software or even hardware design. Therefore it's not surprising that these types of startups require substantially more funding. "For a deep-tech start-up, even seemingly trivial things cost a dazzling amount of money," says Soeren. "A million euro buys you no more than a paper study. Without at least 3 million in seed capital, you're pretty much dead in the water. Such an amount might be considered pocket money in places such as Silicon Valley, but especially in Europe, it's hard to come by."
To get the ball rolling, MICLEDI Microdisplays raised 4.5 million euro for their seed round led by imec.xpand, with participation of PMV and FIDIMEC. But Soeren stresses that the importance of that contribution exceeds its nominal value. For MICLEDI, it helped to open the doors to other funds, allowing them to secure an additional investment of 7 million euro from SFPI/FPIM and KBC Focus Fund.
Business support
Inside the story of many deep-tech start-ups, there's a personal tale of a researcher leaving her or his comfort zone to venture into unknown territory. "I didn't have a clue about how to create a start-up," admits Soeren. "And no matter how excited I was about the technology, I wouldn't have taken this leap if the hurdles were too high. Beyond the financial support, that's how imec's venturing team supports your journey: by clearing away those hurdles one by one. They help you with drawing up your business plan and securing IP, point you to the right people to help you with accounting and legal services, and help you attract talent to lead the business side of things."
"In all these ways, imec smooths out the seemingly insurmountable hill that lies between an innovative idea and a successful business."
MICLEDI Microsystem's CEO Sean Lord will be one of the speakers during imec's Deep Tech Dive conference in Antwerp on May 18. Click for more info.
Published on:
13 April 2022