You are what you eat
'You are what you eat' is a well-known adage and refers to the idea that food influences a person's health. Aside from genetic predisposition, nutritional choices are a major contributor to gastrointestinal (GI) disorders and metabolic syndrome (MS), a condition of low-grade inflammation linked to chronic disorders such as hypertension, cardio-vascular problems and type 2 diabetes. Therefore, our eating habits and nutritional choices are essential for maintaining health and crucial for patients with metabolic disorders.
The domain of GI disorders and MS is vast and complex. Even though GI disorders (such as inflammatory bowel disease (IBD) and Crohn's disease) affect more than 20% of the global population, their progression is not always fully understood. Moreover, complaints are often very generic and difficult to distinguish. To capture disease progression, there is a growing demand for biomarkers in the gut. Biomarkers are objective, measurable indicators of a disease or biological process. There are biomarkers identified for measuring in feces, blood and saliva, but directly measuring them in the gut is new and would provide local data. Early detection and personalized dietary interventions could reduce incidence, morbidity and health costs, and improve people's quality of life, but then we need the right tools. Chris Van Hoof, vice-president at imec, describes the technological innovations that will contribute to better gut health and ultimately to a healthier life.
A pill for gut health
The most efficient way to obtain data from your GI tract is to follow the same path as your food. Current camera solutions like endoscopy cannot reveal functional disorders such as irritable bowel syndrome (IBS) and motility syndromes, which require chemical biomarkers. Likewise, a person's individual microbiome is still largely unexplored territory. The microbiome consists of trillions of bacteria that live in the gut and impact health and digestion. Its composition is different for everyone, and what we eat also affects the microbiome in different ways. Even food with similar nutritional values can boost or reduce particular bacterial strains in the gut, depending on who's consuming it.
Imec is developing ingestible technology to measure mechanical, chemical and electrical processes in the gut as an answer to these challenges. Ingestibles are small sensors that you swallow and that come in two flavors: sensing or sampling. The choice depends on the application.
Sensing ingestibles aim to gather information as they travel throughout the digestive system and send this information to a receiver outside the body. They could be used preventively and for disease interception, for example, by finding and tracking markers related to metabolic health and associated problems. They could also provide information about nutrition, digestive processes and a person's metabolism by monitoring levels of certain analytes such as short-chain fatty acids (SCFA) or dietary minerals (e.g., sodium, potassium, calcium). The goal is then not related directly to disease detection, but to capture imbalances (so-called dysbiosis if it is related to the microbiome) or nutritional deficits which in the long run could lead to a chronic illness.
Some metabolites require large, specialized equipment for analysis like a chromatography setup. These tools are not readily miniaturizable, nor is there a need for miniaturizing since it usually involves single measurements or spot checks. In those cases, sampling pills could provide an alternative, taking samples, and measuring markers from the desired location. They could also be used to obtain different measuring points from different locations. These sampling pills need to be collected for lab analysis, for example, to study the microbiome composition.
Smart pills packed with smart technology
Developing smart pills for sensing and sampling in the gut is challenging. First, the ingestible needs to be very small from a comfort and safety point of view. The proposed array of sensing possibilities in the gut in such a form factor has not yet been achieved. Moreover, the gut and especially the stomach are a harsh environment that might affect any sensor as it travels through the GI tract. Furthermore, localizing the sensor in such a complex organ is not trivial - because we have neither a 'map' of a person's GI tract nor a 'GPS'. Finally, retrieving it (if needed) still requires an elegant solution.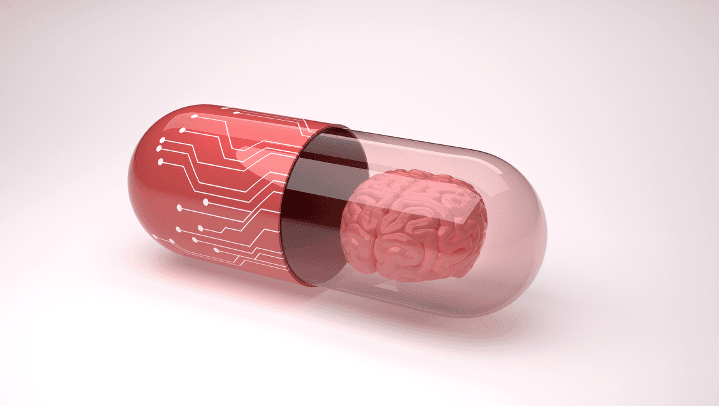 Imec is building the ingredients for these ingestibles. On the sensor level, researchers want to be able to study mechanical movements of the GI tract, together with electrical stimuli that govern muscle contractions and chemical processes (involving hormones and enzymes) that break down food. Hence, multimodal sensors combining electro-chemical, and wave-based sensing are needed. Furthermore, the physical constraints put a squeeze on battery capacity, especially for multi-sensor devices and sampling pills where most of the volume is devoted to that functionality. That is why ultra-low-power miniature interfaces are crucial for this application. Additionally, the data could already be (partly) processed using algorithms and signal processing electronics in the device itself to reduce the amount of raw data which has to be transmitted wirelessly to a wearable or other mobile device. For wireless communication, ultra-low-power radio transceivers are specifically targeting emerging power-limited and volume-constrained applications, such as ingestibles.
Today, imec has already designed multiple building blocks and integrated them in capsule-size. The device has a +6 day battery life when measuring and transmitting data every 3 sec wirelessly.
Locate and retrieve
The resulting pill requires a protective cover to survive e.g. stomach acids and arrive and operate in the region of interest. An added difficulty is that this cover needs to be 'released' at the target location in the gut so that the ingestible can perform its sensing or sampling function. In the end, when the ingestible leaves the body, the sampling pills need to be collected to obtain the samples for analysis. Although collecting is not strictly necessary for sensing pills since they have already sent their data, recycling for safety and environmental reasons may be preferred or needed.
Finally, a major challenge in developing ingestibles is locating the pill as it makes its way through the digestive system. The GI tract is a long and complex tube with bowels that are intricately folded and bent, differing from one person to another. For many applications, positioning is a crucial functionality as it helps in a treatment strategy. For example, in Crohn's disease it not only helps to locate the inflammation but also to measure the extent of it. One of the strategies to achieve localization in the gut involves pH measurements, since there are significant pH changes in the GI tract from stomach to colon. More fine-grained localization techniques are under investigation.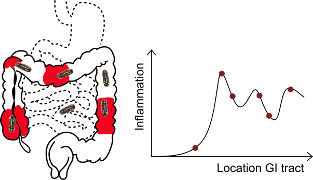 Imec and its OnePlanet R&D partner Wageningen University & Research are currently testing a prototype device in an artificial gut system that simulates the intestinal environment. The goal of the tests in this in-vitro model is to assess the sensitivity of the sensor in a harsh environment, to evaluate the stability of the sensor over time, to assess its specificity, and to check safety features.
The bathroom for health
Ingestibles are ideally suited for short-term, even real-time, measurements that help with a diagnosis or an assessment for an intervention. Imec and its OnePlanet research partners also envision easy tools that enable long-term, frequent monitoring for long-term prevention. They did not choose wearable technology because the user still has the responsibility to wear it and because it still poses a hurdle for certain people. On the other hand, everybody uses the toilet.
The 'smart toilet' is part of a project to develop a 'bathroom for health' with built-in sensor technology. It is a research platform to measure health parameters in the comfort of your own home. The vision is that the bathroom, a place you visit every day, performs daily check-ups. Measurements can be done unobtrusively via a smart toilet or other bathroom accessories, while personal feedback can be provided on the spot, based on instantaneous measurements or evolving trends over time.
In the first version, the smart toilet integrates sensors to measure cardiovascular function such as ECG (electrocardiogram) and PPG (photopletysmography). In the next generation, technology for urine and stool analysis will be added to study markers for dehydration or constipation.
A state-of-the-art smart toilet
In parallel with a scalable 'everyday toilet' imec is also working on an 'ultimate toilet', a test vehicle with top-of-the-bill analytic equipment. It is targeted at more in-depth measurements and aims to explore a toilet's limits as a vehicle for metabolic and nutritional research.

At the same time, the toilet pushes technological developments forward by drafting specifications. These gold standard measurements enable to determine the minimal viable specs that the sensor technology should achieve. This type of benchmarking maximizes the chances for the tech development of the sensors.
Food for thought
Having an ingestible sensor and a smart bathroom, does not mean the work is complete. The added value of the proposed sensor technology lies in resulted insights, trends and models you could build based on the data that are generated by the sensors. Ingestibles are research vehicles that enable large-scale, longitudinal studies at the population level, which is sought after in medical, nutritional and pharmaceutical research. The smart toilet serves as a research tool in OnePlanet's research activities, enabling researchers to periodically follow people's metabolic health and nutrition-related ailments at home.
OnePlanet Research Center is planning an extensive study about food and eating habits, leveraging imec's ingestibles and smart bathroom sensing technologies. OnePlanet is an innovation center for food, health, and agricultural technology, and it features a collaboration between imec and the Dutch universities Radboud University, Wageningen University & Research (WUR), and the academic hospital Radboudumc. The results of the study will be an anchoring point to provide feedback about health and, ultimately, to stimulate behavioral changes.
This is a big challenge. Just as wearing a Fitbit doesn't make you more fit, having a smart toilet will not automatically make you change your eating habits. Together with behavioral scientists and nutrition experts, OnePlanet explores ways to provide personalized advice to people. Everyone knows that healthy food means eating fibers and drinking enough water. However, the negative consequences of a bad diet may be personal. Individual measurements make it easier to provide individual feedback that will stick better than generic advice.
Your personal digital twin
The sensor data from ingestibles and smart bathrooms, combined with the right contextual data (e.g. what are subjects doing at a given time?) but also mental wellbeing, sleeping pattern or pain levels, provide a rich dataset from which current and future health status for one particular person can be derived. The 'digital twin' of someone can predict the personal effects of dietary and lifestyle changes or can help with the early detection of diseases. The twin not only assists the user to receive feedback on his health, but also assists the professional care providers in helping formulate personalized advice.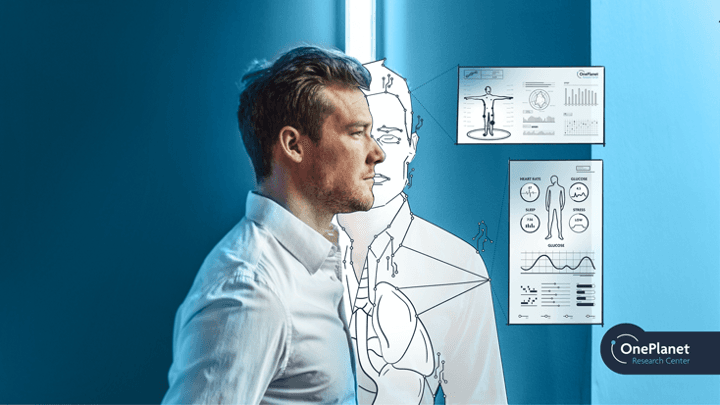 Because it is still a challenge to twin an entire human, researchers divide the body into systems or organs. Building a more accurate twin requires population-wide longitudinal measurement data on physiology, behavior, microbiome, and genomics. From this comparison between people, individuals and subgroups that express similar behaviors or physiology can then be typified. Still, getting from data to wisdom requires a substantial effort, for example, by building unsupervised and automatic processing pipelines that target useful data and remove artifacts. Imec has already made a start with this digital platform.
Tools such as the ingestibles and smart bathroom are critical in developing the twin, because of the personalized effects of nutrition and gut health on your general health. The twin will make the future of nutrition truly personalized.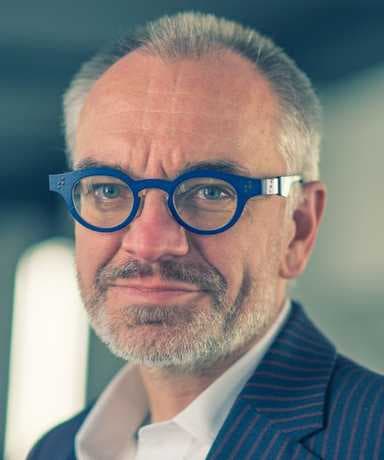 Chris Van Hoof is General Manager of the OnePlanet Research Center in Gelderland. He is also Vice President R&D at imec. Chris believes preventive health, personalised nutrition, sustainable food production and reduced waste are essential enablers of improving our world for the generations to come. And he is convinced that technology (hardware and AI) are key tools to make that happen. After receiving a PhD in Electrical Engineering from the University of Leuven in 1992, Chris has held positions as manager and director at imec in highly diverse fields spanning technology, circuits, systems, data and applications. Apart from delivering industry-relevant innovative solutions to customers, his work also resulted in five startups (four in the healthcare domain). He is also full professor at the University of Leuven and imec Fellow. Although OnePlanet Research Center started just over 3 years ago, it has already built up a team of 100 scientists and engineers, who create innovations in close collaboration with teams from the founding organizations imec, Radboud University and Medical Center and Wageningen University and Research.
Published on:
1 December 2020