Ilkka Kosunen has been a data scientist at imec at Holst Centre since 2019. He chose the research world of imec over the purely academic one. "I want to work on prototypes that will actually mean something to society." He calls himself a typical absent-minded scientist, who thinks of a thousand things at the same time. Amongst other things, he started a community for 'data researchers' because for him data science is a team ef-fort. "I am very grateful to imec for giving me the freedom to choose my own path. " As of 1 January 2022 he works at imec at OnePlanet Research Center.
"I have a long background in computer science. It all began in 1999 at the University of Hel-sinki, where I got my master's and Ph.D. Along the way I became an expert in psychophysio-logical computing. That roughly means developing systems that adapt to your physiological signals such as heart rate, brainwaves and pupil-size in real-time."
Interaction
"After 'playing around' in academia for fifteen years - sometimes we really made 'unrealistic' prototypes - the question of what to do next came up. Most of the prototypes never meet the real world. And I wanted to make a social impact and finish a product. In addition, imec pro-vided the opportunity to concentrate fully on research without the responsibility of lecturing classes and other university duties."
"Imec brought everything together. I already noticed it during my job interview. There were so many different projects I could choose from. I immediately felt that this was an environment for me, where I could grow organically. It turned out that way, too. "
Huge laboratory
"From the beginning, I was set free to find my own path. That's really unique. Imec has the re-sources and there is so much knowledge from other researchers. There are many different people working here - in total about 5000, from 95 countries - from different backgrounds. From biological engineers to electrical engineers. You can combine all those areas of exper-tise. It's a fantastic environment to try out all kinds of ideas. For me, imec really is like a huge laboratory full of fantastic scientists and engineers. I've been able to start collaborating with them very fluidly, resulting in some ideas of my own."
"All these collaborations also called for modern data technologies and for the latest ap-proaches in machine learning and artificial intelligence. This often involved deep learning and large data sets for which your basic laptop was no longer sufficient. That's why I started to spearhead a movement towards adoption of modern cloud-based technologies. At the time nobody around me at imec had the expertise to do this. So, I started to educate myself. I made myself an expert in that very complex field. And, I wanted to share that knowledge with oth-ers."
Bringing the data revolution to imec
"There is often only one data scientist within a project. That can be very stressful. That's why I asked my teamleader if I could make my 'cloud' competencies available to everyone within imec. That way I could connect with others who work with data and also learn from them. I be-lieve that data science is a team effort. My management supported me in this. It started small. But it became a real community. Now, about a hundred people across imec are participating. Last December, the whole community received the imec Connected Mind Award. I hope to-gether we can revolutionize how we praktice data science, both by changing the working par-adigm from single data unicorns into agile data science teams, and by employing the state-of-the-art Mlops and cloud technologies."
To keep his analytical thinking skills in balance with his creative side, Ilkka spends his free time in a more artistic way: he has been playing classical guitar since he was seven, he writes and reads, and he knits. "My work also requires creative solutions. I am eighty percent technical there and eighty percent artistic in my free time. I think we should all be proud of our small quirks and peculiarities. One of mine is that I really like to knit when planning, it really helps my mind to concentrate. Instead of being ashamed of this hobby, I have decided to em-brace it and brand myself as the Data Knitter!"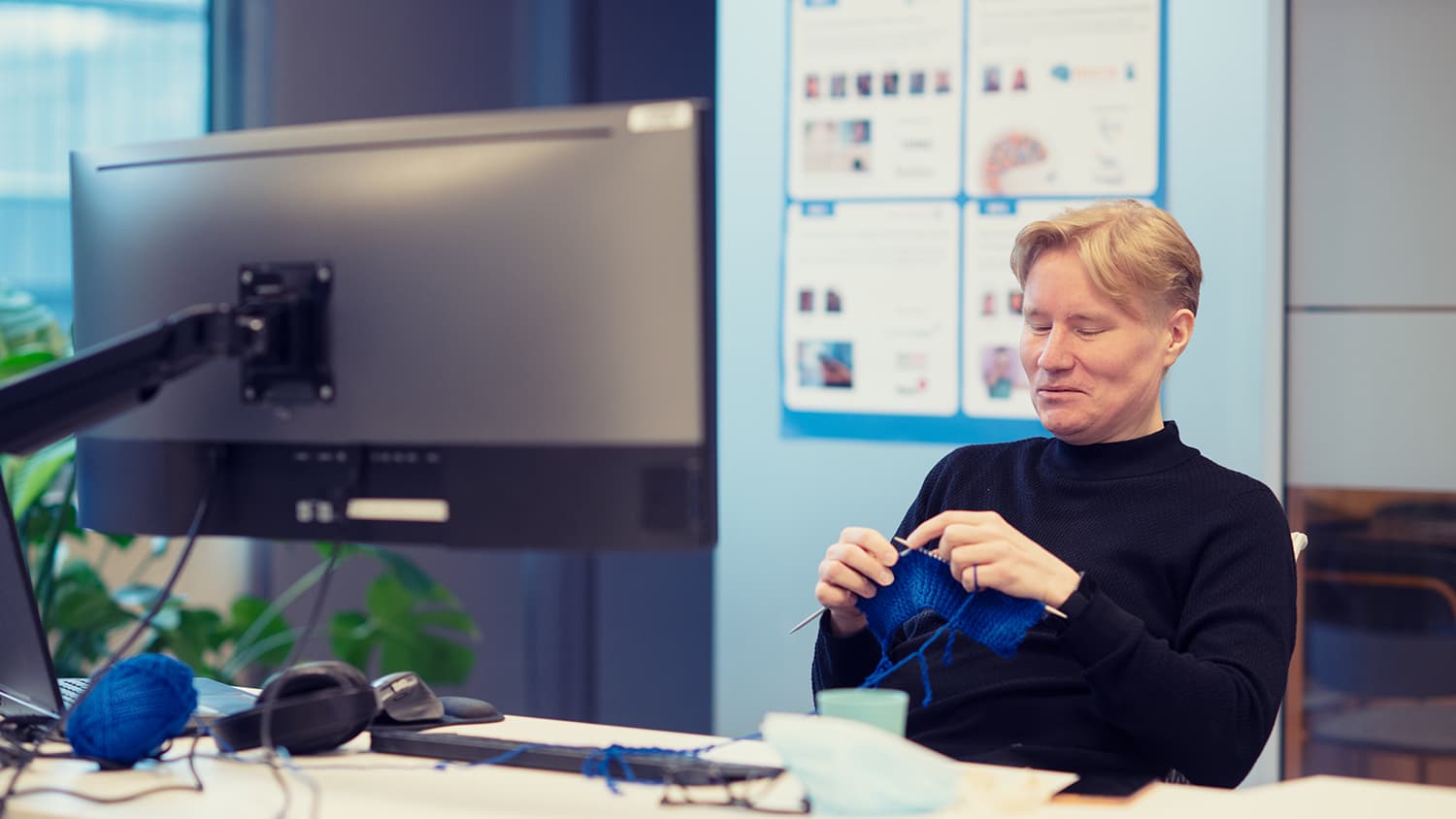 Data science is een team sport
Ilkka Kosunen is sinds 2019 data scientist bij imec bij Holst Centre. Hij verkoos de on-derzoekswereld van imec boven de puur academische. "Ik wil werken aan prototypes die daadwerkelijk iets zullen betekenen voor de maatschappij." Hij noemt zichzelf een typische verstrooide wetenschapper, die aan duizend dingen tegelijk denkt. Hij startte onder meer een community voor 'data researchers', omdat data science voor hem een teamprestatie is. "Ik ben imec erg dankbaar dat ze me de vrijheid hebben gegeven om mijn eigen pad te kiezen. " Vanaf 1 januari 2022 werkt hij bij imec bij OnePlanet Re-search Center
"Ik heb een ruime achtergrond in computerwetenschappen. Het begon allemaal in 1999 aan de Universiteit van Helsinki, waar ik mijn master en Ph.D. haalde. Dat komt grofweg neer op het ontwikkelen van systemen die zich in real-time aanpassen aan je fysiologische signalen zoals hartslag, hersengolven en pupilgrootte."
Interactie
"Na vijftien jaar in de academische wereld te hebben 'gespeeld' - soms maakten we echt 'on-realistische' prototypes' - kwam de vraag wat nu te doen. De meeste prototypes zien nooit de echte wereld. En ik wilde maatschappelijke impact maken en een product afmaken. Boven-dien bood imec de kans om me volledig op het onderzoek te concentreren zonder de verant-woordelijkheid van colleges geven en andere universitaire taken."
"Imec bracht alles samen. Dat merkte ik al tijdens mijn sollicitatiegesprek. Er waren zoveel verschillende projecten waaruit ik kon kiezen. Ik voelde meteen dat dit een omgeving voor mij was, waar ik organisch kon groeien. Dat is ook zo gebleken."
Enorm laboratorium
"Vanaf het begin werd ik vrijgelaten om mijn eigen weg te vinden. Dat is echt uniek. Imec heeft de middelen en er is zoveel kennis van andere onderzoekers. Er werken hier veel verschil-lende mensen - in totaal zo'n 5000, uit 95 landen - met verschillende achtergronden. Van bio-logische ingenieurs tot elektrotechnici. Je kunt al die vakgebieden combineren. Het is een fantastische omgeving om allerlei ideeën uit te proberen. Voor mij is imec echt als een groot laboratorium vol fantastische wetenschappers en ingenieurs. Ik kan heel vlot met hen sa-menwerken, wat ook resulteerde in eigen ideeën."
"Al deze samenwerkingsverbanden vroegen ook om moderne datatechnologieën en om de nieuwste benaderingen op het gebied van machine learning en kunstmatige intelligentie. Daarbij ging het vaak om deep learning en grote datasets waarvoor je basislaptop niet meer toereikend was. Daarom ben ik begonnen met een beweging om moderne cloud-gebaseerde technologieën te gaan gebruiken. Toen ik daarmee begon, had niemand om mij heen bij imec de expertise om dit te doen. Dus heb ik mezelf bijgeschoold tot een expert in dat zeer com-plexe domein. En die kennis wilde ik delen met anderen. "
De datarevolutie naar imec brengen
"Er is vaak maar één data scientist binnen een project. Dat kan heel stressvol zijn. Daarom vroeg ik aan mijn teamleader of ik mijn 'cloud'-competenties beschikbaar mocht maken voor iedereen binnen imec. Op die manier kon ik in contact komen met anderen die met data wer-ken en ook van hen leren. Ik geloof dat data science een teamspor is. Mijn management steunde me daarin. Het begon klein, maar het werd een echte community. Nu doen er zo'n honderd mensen over heel imec aan mee. Afgelopen december kreeg de hele gemeenschap de imec Connected Minds Award. Ik hoop dat we samen een revolutie kunnen ontketenen in hoe we data science beoefenen, zowel door het werkparadigma te veranderen van single da-ta unicorns in agile data science teams, als door de state-of-the-art Mlops en cloud technolo-gieën in te zetten."
Om zijn analytisch denkvermogen in evenwicht te houden met zijn creatieve kant, besteedt Ilkka zijn vrije tijd op een meer artistieke manier: hij speelt de klassieke gitaar al sinds zijn ze-vende, hij schrijft en leest, en hij breit. "Mijn werk vereist ook creatieve oplossingen. Ik ben daar voor tachtig procent technisch en in mijn vrije tijd voor tachtig procent artistiek. Ik vind dat we allemaal trots moeten zijn op onze kleine eigenaardigheden. Een van mijn kleine eigen-aardigheden is dat ik graag brei als ik plan maak. Het helpt mijn geest echt om zich te concen-treren. In plaats van me te schamen voor deze hobby, heb ik besloten het te omarmen en mezelf Data Knitter te noemen!"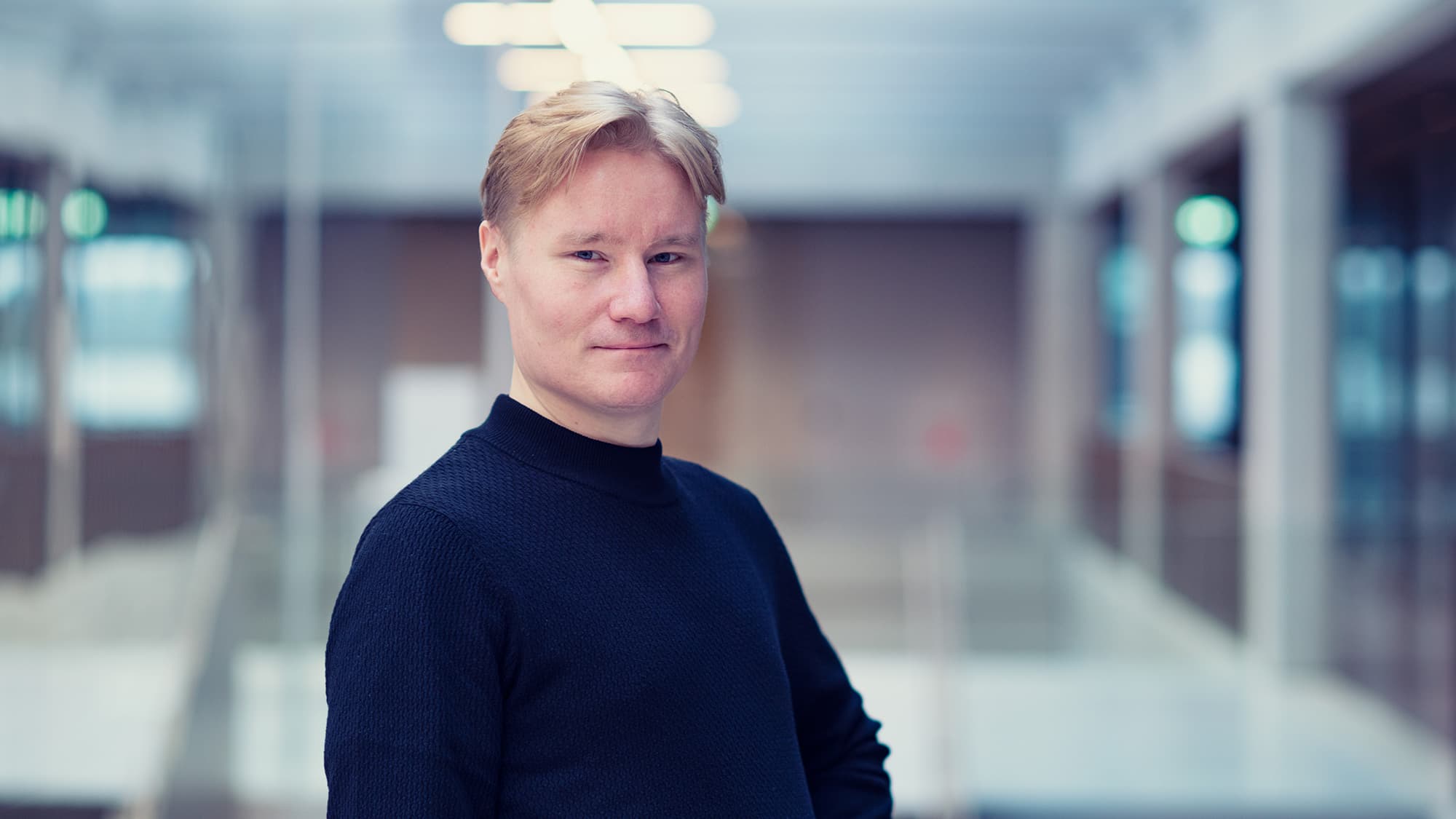 Ilkka Kosunen has been working with physiological computing for over a decade at the University of Helsinki and Aalto University in Finland, as well as Tallinn University in Estonia. During this time he participated in multiple EU-projects, developed dozens of prototypes and demos using physiological signals in real-time adaptive systems as well as published more than 30 journal and conference papers on the topic. He received his Ph.D. degree in 2018 at University of Helsinki and joined imec in 2019.
Data scientist - September 2019 - januari 2022: Holst Centre, 2022 OnePlanet
Published on:
21 February 2022