Drunen (The Netherlands) and Leuven (Belgium)—January 3, 2017—Today, the world-leading research and innovation hub in nano-electronics, energy and digital technology imec (partner in EnergyVille) and BE Semiconductor Industries N.V. (Besi), a leading manufacturer of assembly equipment for the semiconductor industry, announced that they have demonstrated long-term reliability in five full size 60-cells Nickel/Copper/Silver (Ni/Cu/Ag) plated solar cell modules, confirming the industrial value of this metallization technology.
The modules consist of 60 front side laser ablated and Ni-Cu-Ag plated p-type Cz-Si cells. The plating was performed with Meco's Direct Plating Line, an industrial plating tool, followed by annealing in an inline belt furnace. Cells were interconnected using standard soldering and lamination processes. Two of the five modules were subjected to 600 thermal cycles (-40°C to +85°C) and they passed this three times IEC61215 specification with overall power losses of only 1.5 percent and 1.8 percent, one of the modules was subjected to a 1000h damp-heat test (85°C, 85 percent RH) with no power loss (0.1 percent gain), and two of the five modules were submitted to a serial testing of 15 kWh UV-conditioning followed by 50 cycles temperature cycling followed by 10 cycles humidity-freeze-test, after which they showed overall power losses of only 0.5 and 3.0 percent.
These test results prove the long-term reliability potential of imec's and Besi's Cu-plated cells and modules, as they have now outperformed the industrial standard for reliability, which requires less than 5.0 percent loss relative to initial power.
"We are very pleased with this result", stated Richard Russell, principal engineer at imec. "It demonstrates our industrial leading knowledge on how to make reliable Ni/Cu/Ag plated solar cells and modules with a low cost industrial manufacturing process."
"After the excellent result of the 600 thermal cycle test earlier this year on one module, we are delighted to confirm that these results can be repeated on a larger set of 5 modules" stated Martijn Zwegers, product manager solar at Besi. "Furthermore it indicates that modules with Cu plated cells lead to industry standard reliability, paving the way for Ni/Cu/Ag plated cells as a viable, low-cost alternative to front side screen printing of Ag pastes.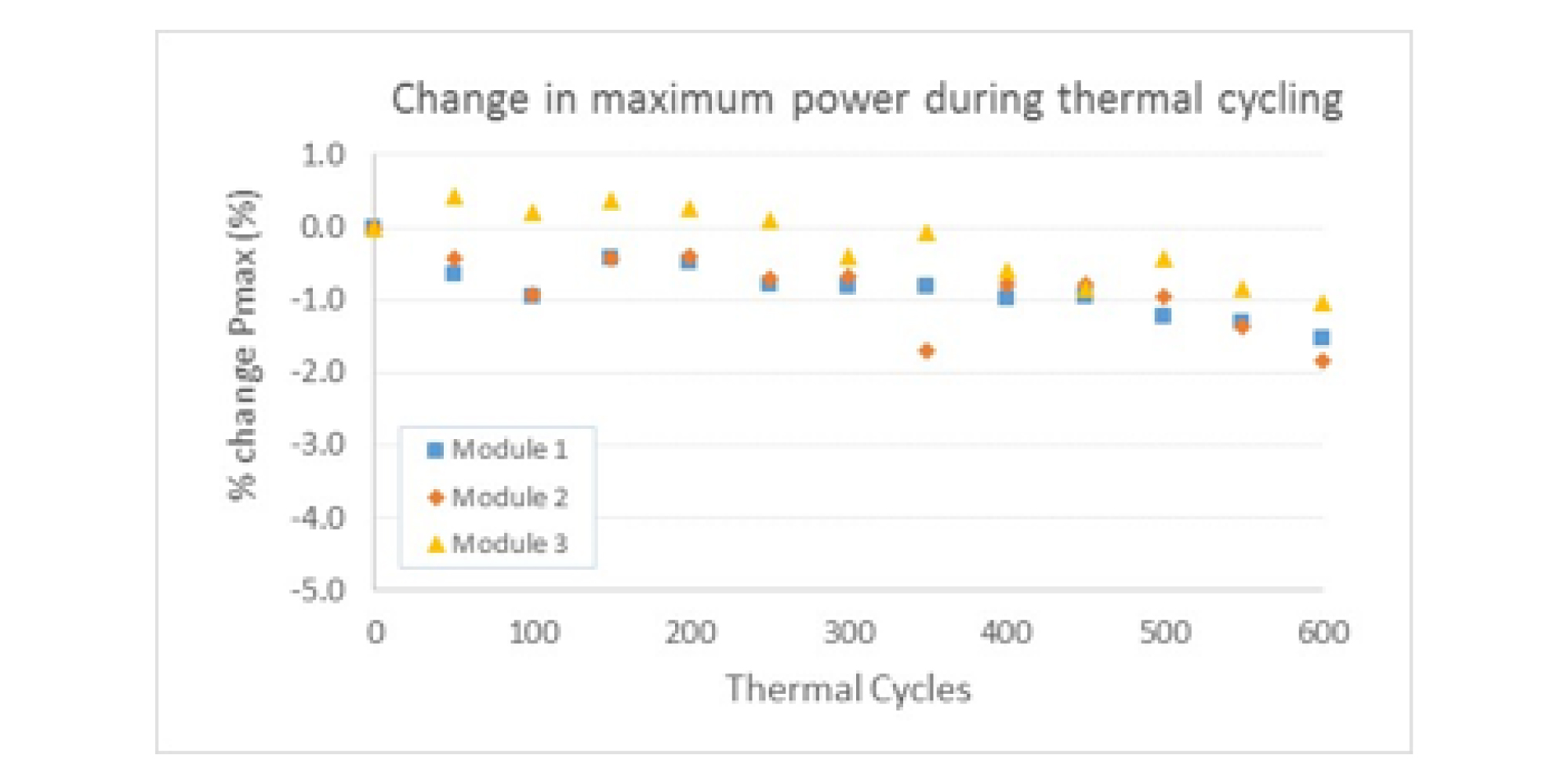 Figure: Change in maximum power output for three modules during thermal cycling (-40°C to +85°C).
About Besi
Besi is a leading supplier of semiconductor assembly equipment for the global semiconductor and electronics industries offering high levels of accuracy, productivity and reliability at a low cost of ownership. Besi develops leading edge assembly processes and equipment for leadframe, substrate and wafer level packaging applications in a wide range of end-user markets including electronics, mobile internet, computer, automotive, industrial, LED and solar energy. Customers are primarily leading semiconductor manufacturers, assembly subcontractors and electronics and industrial companies. Besi's ordinary shares are listed on Euronext Amsterdam (symbol: BESI), its Level 1 ADRs participate in the Nasdaq International program (OTC: BESIY) and its headquarters are located in Duiven, the Netherlands. For more information, please visit our website at www.besi.com.
Meco Equipment Engineers (a wholly owned subsidiary of Besi) is a world-leading supplier of plating equipment (with an installed base of more than 800 systems in 34 countries) for the semiconductor, solar, connector and film & foil industry. Over the years, these systems have established an international reputation for high performance, outstanding reliability, top quality and the best cost-of-ownership.