LEUVEN (Belgium), June 7, 2018 —Imec, the world-leading research and innovation hub in nanoelectronics and digital technologies, today announced at the International Microwave Symposium (IMS, Philadelphia, USA), the world's first CMOS 140GHz radar-on-chip system with integrated antennas in standard 28nm technology. The achievement is an important step in the development of radar-based sensors for a myriad of smart intuitive applications, such as building security, remote health monitoring of car drivers, breathing and heart rate of patients, and gesture recognition for man-machine interaction.
Radars are extremely promising as sensors for contactless, non-intrusive interaction in internet-of-things applications such as people detection & classification, vital signs monitoring and gesture interfacing. A wide adoption will only be possible if radars achieve a higher resolution, become much smaller, more power-efficient to run, and cheaper to produce and to buy. This is what imec's research on 140GHz radar technology targets.
This low-power 140GHz radar solution comprises an imec proprietary two antenna SISO (Single Input Single Output) radar transceiver chip and a frequency modulated continuous wave phase-locked loop (FMCW PLL), off-the shelf ADCs and FPGA and a Matlab chain. The transceiver features on-chip antennas achieving a gain close to 3dBi. The excellent radar link budgets are supported thanks to the transmitter Effective Isotropic Radiated Power (EIRP) that exceeds 9dBm and a receiver noise figure below 6.4dB. The total power consumption for transmitter and receiver remains below 500mW, which can be further reduced by duty cycling. The FMCW PLL enables fast slopes up to 500MHz/ms over a 10GHz bandwidth around 140GHz with a slope linearity error below 0.5% and has a power consumption below 50mW. The FPGA contains real-time implementation of basic radar processing functions such as FFTs (Fast Fourier Transforms) and filters, and is complemented by a Matlab chain for detections, CFAR (Constant False Alarm Rate), direction-of-arrival estimation and other advanced radar processing.
"With our prototype radar, we have demonstrated all critical specs for radar technology in 28nm standard CMOS technology," said Wim Van Thillo from imec. "We are well advanced in incorporating multiple antenna paths in our most recent generation solution, which will enable a fine angular resolution of 1.5cm in a complete MIMO radar form factor of only a few square centimeters. We expect this prototype in the lab by the end of 2018, at which point our partners can start building their application demonstrators. First applications are expected to be person detection and classification for smart buildings, remote car driver vital signs monitoring (as cars evolve towards self-driving vehicles), and gesture recognition for intuitive man-machine interactions. Plenty more innovations will be enabled by this technology, once app developers start working with it."
This imec 140GHz radar open innovation R&D collaborative program has been endorsed by Panasonic, and imec invites potential interested parties to join.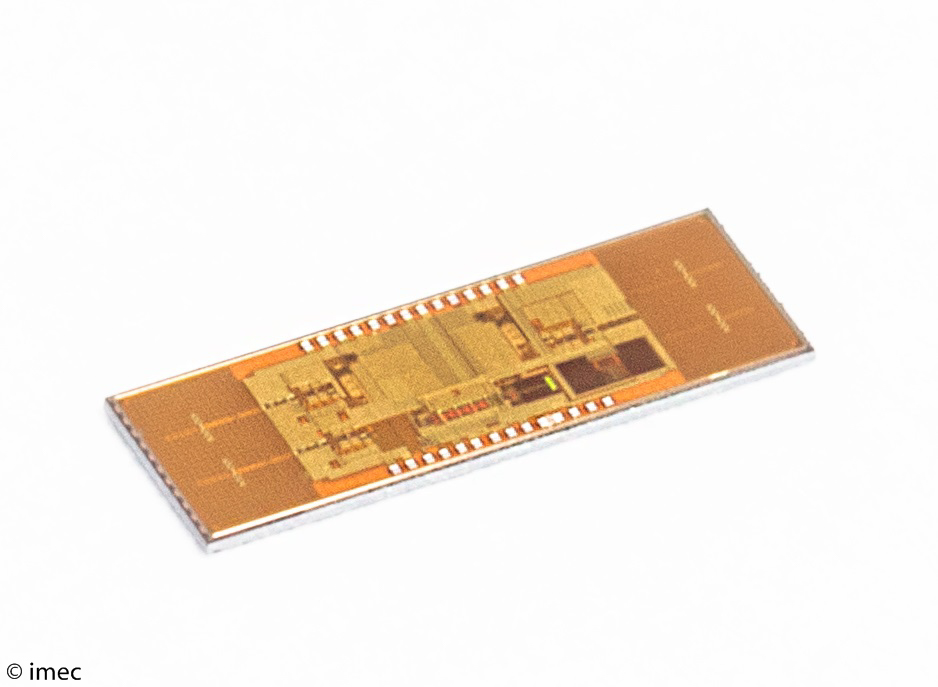 About imec
Imec is the world-leading research and innovation hub in nanoelectronics and digital technologies. The combination of our widely acclaimed leadership in microchip technology and profound software and ICT expertise is what makes us unique. By leveraging our world-class infrastructure and local and global ecosystem of partners across a multitude of industries, we create groundbreaking innovation in application domains such as healthcare, smart cities and mobility, logistics and manufacturing, energy and education.
As a trusted partner for companies, start-ups and universities we bring together more thant 4,000 brilliant minds from over 85 nationalities. Imec is headquartered in Leuven, Belgium and has distributed R&D groups at a number of Flemish universities, in the Netherlands, Taiwan, USA, China, and offices in India and Japan. In 2017, imec's revenue (P&L) totaled 546 million euro. Further information on imec can be found at www.imec-int.com.
Imec is a registered trademark for the activities of IMEC International (a legal entity set up under Belgian law as a "stichting van openbaar nut"), imec Belgium (IMEC vzw supported by the Flemish Government), imec the Netherlands (Stichting IMEC Nederland, part of Holst Centre which is supported by the Dutch Government), imec Taiwan (IMEC Taiwan Co.) and imec China (IMEC Microelectronics (Shanghai) Co. Ltd.) and imec India (Imec India Private Limited), imec Florida (IMEC USA nanoelectronics design center).
Contact

Hanne Degans, Press Communications Manager, +32 16 28 17 69 // +32 486 06 51 75 // Hanne.Degans@imec.be