San Francisco (US) — Feb.8, 2017 — At the 2017 International Solid-State Circuits Conference in San Francisco (US), imec, the world-leading research and innovation hub in nanoelectronics and digital technologies, Holst Centre (set up by imec and TNO) and ROHM today presented an all-digital phase-locked loop (ADPLL) for Internet-of-Things (IoT) radio transceivers. Whereas a PLL is traditionally one of the major power consumers in a radio and can take up to 30% of the radio area, this new ADPLL features a small area (0.18mm² in 40nm CMOS), low power consumption (0.67mW) and excellent performance. With all spurs lower than -56dBc and jitter below 2ps, which is beyond state-of-the-art digital PLLs, the new ADPLL shows an excellent robustness.
The intuitive IoT relies on tiny sensor nodes, invisibly embedded in our environment and wirelessly connected to the internet. As billions of IoT devices are set to be deployed, battery replacement becomes impossible and therefore, power consumption reduction, especially in wireless connectivity, is one of the leading concerns and challenges on low power radio design to address.
The PLL is the radio component for frequency synthesis and has traditionally been an analog component, although the research community has been working on digital alternatives. All-digital PLLs enable a smaller footprint, better control and testability, and improved scaling to advanced CMOS nodes. However, to-date, they have lagged behind in terms of performance, compared to analog solutions.
Imec and ROHM's all-digital PLL is an industry-first, combining record-low power consumption of only 0.67mW, with state-of-the-art performance. It supports all specifications of Bluetooth Low Energy (BLE) radios while significantly reducing cost and power consumption below any of today's solutions. This divider less fractional-N digital PLL features a power-efficient spur-mitigation technique and a digital phase unwrap technique. Both approaches contribute to its excellent performance.
"We are pleased of our collaboration with ROHM to solve yet another challenge and deliver an ADPLL that adds to imec's world-class record low power radio design portfolio. With this performance, this all-digital PLL has become a mature and superior alternative to the widespread analog PLLs," commented Kathleen Philips, Program Director at imec/Holst Centre for Perceptive Systems for an Intuitive IoT. "The ADPLL is ready for industrial mass production and is currently being transferred to our industrial partners for product integration."
At ISSCC2017, imec presents four papers addressing key building blocks for ultra-low power connectivity. The innovations serve power reduction in active, standby, sleep and transient operation of standard radios like Bluetooth, or newcomers in the sub-GHz communication space.
"We are proud that we have developed the world-class low power ADPLL with imec. We develop the RF transceiver with this ADPLL and integrate ROHM's ultra-low power sensors and micro controllers into the "sensor edge" module. We hope they will be leaders of IoT market." commented Isao Matsumoto, Director LSI Production Headquarters/LSI Product Development Headquarters at ROHM.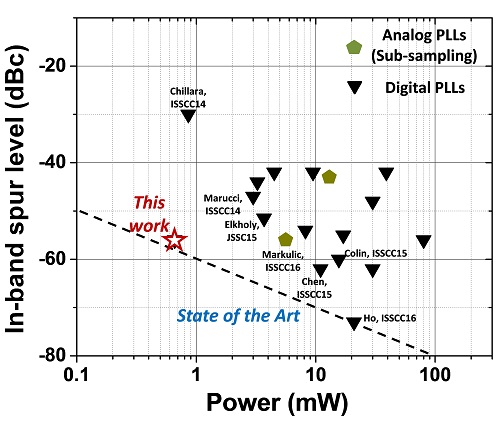 All-Digital PLL with low power consumption (0.67mW) and excellent performance with all spurs <-56dBc
About imec
Imec is the world-leading research and innovation hub in nano-electronics and digital technologies. The combination of our widely acclaimed leadership in microchip technology and profound software and ICT expertise is what makes us unique. By leveraging our world-class infrastructure and local and global ecosystem of partners across a multitude of industries, we create groundbreaking innovation in application domains such as healthcare, smart cities and mobility, logistics and manufacturing, and energy.
As a trusted partner for companies, start-ups and universities we bring together close to 3,500 brilliant minds from over 70 nationalities. Imec is headquartered in Leuven, Belgium and also has distributed R&D groups at a number of Flemish universities, in the Netherlands, Taiwan, USA, China, and offices in India and Japan. In 2015, imec's revenue (P&L) totaled 415 million euro and of iMinds which is integrated in imec as of September 21, 2016 52 million euro. Further information on imec can be found at www.imec-int.com
Imec is a registered trademark for the activities of IMEC International (a legal entity set up under Belgian law as a "stichting van openbaar nut"), imec Belgium (IMEC vzw supported by the Flemish Government), imec the Netherlands (Stichting IMEC Nederland, part of Holst Centre which is supported by the Dutch Government), imec Taiwan (IMEC Taiwan Co.) and imec China (IMEC Microelectronics (Shanghai) Co. Ltd.) and imec India (Imec India Private Limited), imec Florida (IMEC USA nanoelectronics design center).
About ROHM
ROHM Semiconductor is an industry leader in system LSI, discrete components and module products, utilizing the latest in semiconductor technology. ROHM's proprietary production system, which includes some of the most advanced automation technology, is a major factor in keeping it at the forefront of the electronic component manufacturing industry. In addition to its development of electronic components, ROHM has also developed its own production system so that it can focus on specific aspects of customized product development. ROHM employs highly skilled engineers with expertise in all aspects of design, development and production. This allows ROHM the flexibility to take on a wide range of applications and projects and the capability to serve valuable clients in the automotive, telecommunication and computer sectors, as well as consumer OEMs.

Contact:
Imec: Hanne Degans, press officer and communications specialist; Tel: +32 16 28 17 69; email: hanne.degans@imec.be
ROHM: PR Group, Media Division, Corporate Communication Headquarters; email: press@rohm.co.jp