SAN FRANCISCO (USA)– Jan. 23st, 2017 – At next week's SPIE Photonics West in San Francisco, imec, the world-leading research and innovation hub in nano-electronics and digital technologies, will introduce a new image sensor with integrated color (Red Green Blue, RGB) and narrow-band near-infrared (NIR) filters. This breakthrough optical filter integration platform will enable many different application fields from medical, industrial, security surveillance, automotive to virtual and augmented reality, where near-infrared signals need to be extracted and overlaid on top of color images.
Imec's RGB-NIR multispectral platform demonstrates for the very first time the possibility to integrate together standard RGB color filters, NIR-cut filter, NIR narrow band-pass filters and on-chip microlenses technology, down to small pixels as small as 5µm today. The NIR band-pass filter and design pattern implementation can be tuned to match requirements of a specific application case, e.g. the wavelength of a particular laser or LED light.
"An affordable, high resolution and high speed solution for integrating true RGB color combined with narrow-band NIR detection was essential to develop for future applications that need to detect or track near infra-red signals that should not be visible to human eyes" explains Andy Lambrechts, program manager for imec's integrated imaging activities. "This capability to integrate a color view with one or several near-infrared narrow bands will be a key enabler for next-generation 3D, virtual reality (VR) & augmented reality (AR) imaging platforms. As well as in machine vision, medical, automotive and security surveillance applications."
Leveraging imec's background in CMOS scaling, its semiconductor fab, equipment and process technology, imec designs and manufactures interference based optical filters at wafer level, deposited and patterned directly on top of the CMOS image sensor pixels. Imec's unique infrastructure provides very integrated, clean (class 1 – particle free) and high yield optical filter integration with strong potential for scalability in high-volume.
The first image sensor and camera prototypes will be demonstrated at SPIE Photonics West in San-Francisco on booth 4333 (North Hall of Moscone center). They are already available for early sampling and evaluation by strategic partners.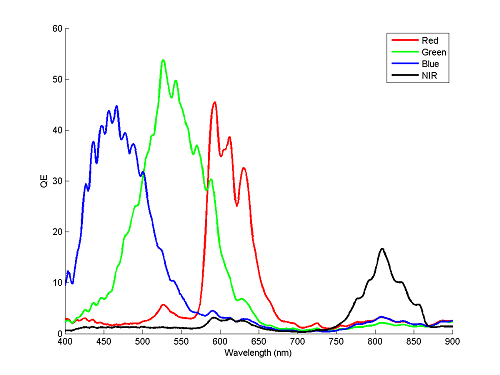 Measured QE responses of RGB+NIR spectral channels (microlenses array post-processed on top of each filter)
About imec
Imec is the world-leading research and innovation hub in nano-electronics and digital technologies. The combination of our widely acclaimed leadership in microchip technology and profound software and ICT expertise is what makes us unique. By leveraging our world-class infrastructure and local and global ecosystem of partners across a multitude of industries, we create groundbreaking innovation in application domains such as healthcare, smart cities and mobility, logistics and manufacturing, and energy.
As a trusted partner for companies, start-ups and universities we bring together close to 3,500 brilliant minds from over 70 nationalities. Imec is headquartered in Leuven, Belgium and also has distributed R&D groups at a number of Flemish universities, in the Netherlands, Taiwan, USA, China, and offices in India and Japan. In 2015, imec's revenue (P&L) totaled 415 million euro and of iMinds which is integrated in imec as of September 21, 2016 52 million euro. Further information on imec can be found at www.imec.be.
Imec is a registered trademark for the activities of IMEC International (a legal entity set up under Belgian law as a "stichting van openbaar nut"), imec Belgium (IMEC vzw supported by the Flemish Government), imec the Netherlands (Stichting IMEC Nederland, part of Holst Centre which is supported by the Dutch Government), imec Taiwan (IMEC Taiwan Co.) and imec China (IMEC Microelectronics (Shanghai) Co. Ltd.) and imec India (Imec India Private Limited), imec Florida (IMEC USA nanoelectronics design center).
Contact
Hanne Degans, Press officer and communications specialist, T: +32 16 28 17 69, Mobile : +32 486 06 51 75, Hanne.Degans@imec.be