LEUVEN, Belgium - Aug. 8, 2017– Imec, the world-leading research and innovation hub in nanoelectronics, energy and digital technology, and partner in Solliance and EnergyVille, today announced an improvement of its 4cm2 perovskite/silicon tandem photovoltaic module achieving a power conversion efficiency of 23.9 percent. Reaching this level, imec is the first to achieve a module-on-cell stack that outperforms the standalone silicon solar cell.
Perovskite solar cells have many desirable properties, as they can achieve a high power conversion efficiency, are inexpensive to produce, and have a high absorption efficiency in sunlight. The material can be engineered to result in various optical and electronic properties. Additionally, perovskite solar cells or modules may also be used to boost standard silicon (Si) solar technology when engineered to absorb a spectral range that is complementary to the optical range of silicon cells. By stacking the perovskite solar cells or modules on top of Si solar cells, power conversion efficiencies above 30 percent can potentially be achieved, thereby surpassing the efficiencies of the best single junction Si solar cells.
In 2016, imec presented for the first time a semi-transparent perovskite module, developed in collaboration with Solliance, stacked on top of an interdigitated back-contact (IBC) crystalline silicon solar cell in a four-terminal tandem configuration, thereby achieving an overall power conversion efficiency of 20.2 percent on an aperture area of 4cm2. Imec now reports a significant improvement of this technology resulting in a record high power conversion efficiency of 23.9 percent for the module-on-cell stack of this size.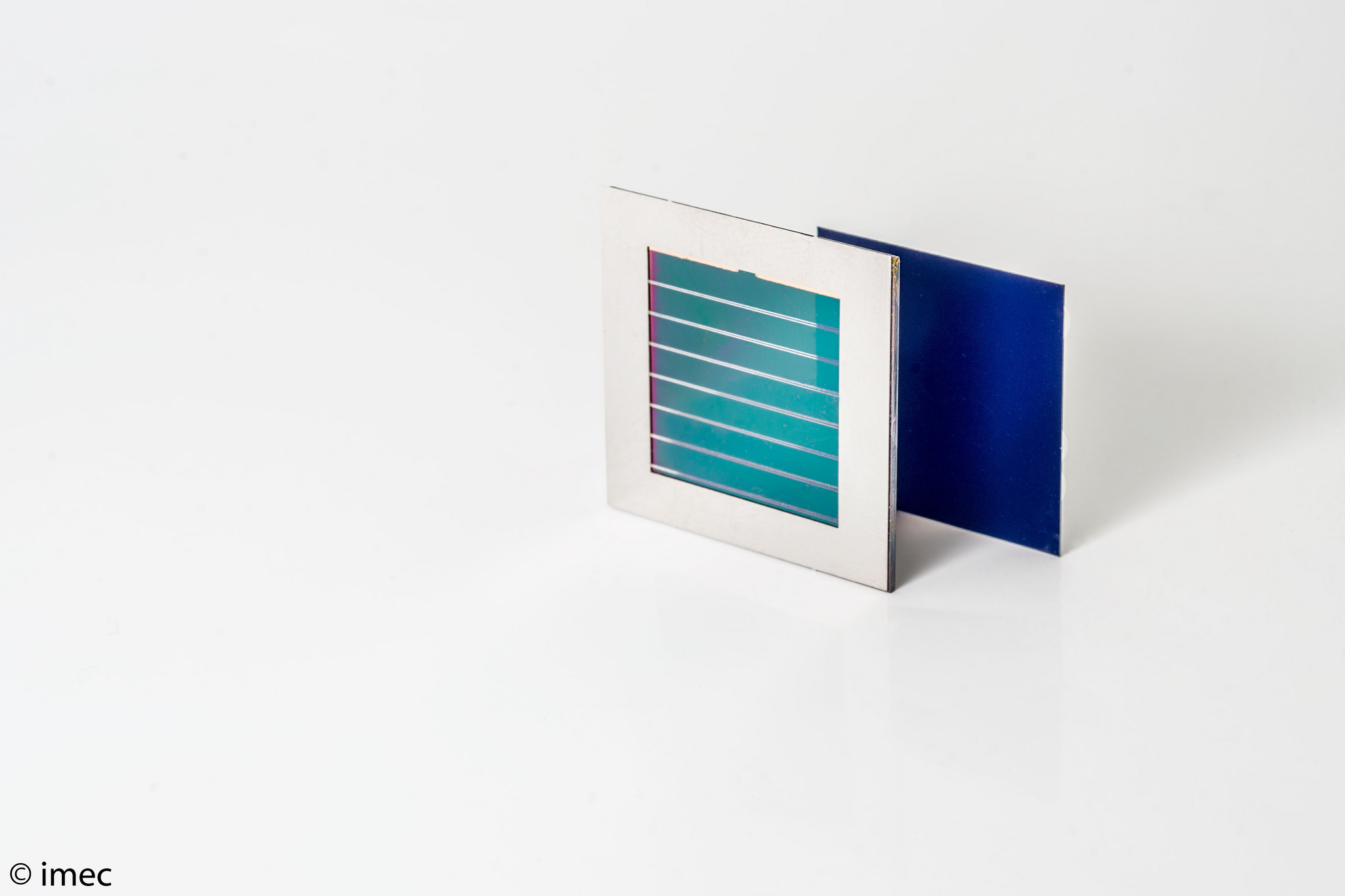 4cm2 Perovskite/Silicon Solar Module with Record Conversion Efficiency of 23.9 Percent

"Two innovations are key to this achievement," explained Tom Aernouts, group leader for thin-film photovoltaics at imec and perovskite PV program manager at Solliance. "First, a different perovskite material (CsFAPbIBr) was used, largely improving the stability and conversion efficiency of the 4cm² semi-transparent perovskite module to 15.3 percent. Second, the architecture of the stack was optimized for minimal optical losses by adding an anti-reflection texture on top of the module and a refractive index matching liquid between the perovskite module and the Si solar cell."
The perovskite/silicon four-terminal tandem was realized with matched aperture areas as large as 4cm2 for the perovskite module and the Si solar cell.
"Having matched areas of this size makes the fabrication technology more attractive to the solar cell industry," commented Aernouts. "For reference, we have also fabricated a stack of a small perovskite cell (0.13cm2) on top of an IBC c-Si cell (4cm2). In this configuration, the power conversion efficiency of the small semi-transparent perovskite cell is 16.7 percent, outperforming the larger 4cm2 perovskite module due to better perovskite layer properties. Although less attractive from an industrial point of view, the overall power conversion efficiency of this cell-on-cell stack is as high as 25.3 percent."
About imec
Imec is the world-leading research and innovation hub in nanoelectronics, energy, and digital technologies. The combination of our widely acclaimed leadership in microchip technology and profound software and ICT expertise is what makes us unique. By leveraging our world-class infrastructure and local and global ecosystem of partners across a multitude of industries, we create groundbreaking innovation in application domains such as healthcare, smart cities and mobility, logistics and manufacturing, energy and education.
Imec is a partner in Solliance (www.solliance.eu), a partnership of R&D organizations from the Netherlands, Belgium and Germany working in thin film photovoltaic solar energy and in EnergyVille (www.energyville.be), an association of the Flemish research centers KU Leuven, VITO, imec and UHasselt in the field of sustainable energy and intelligent energy systems.
As a trusted partner for companies, start-ups and universities we bring together close to 3,500 brilliant minds from over 70 nationalities. Imec is headquartered in Leuven, Belgium and has distributed R&D groups at a number of Flemish universities, in the Netherlands, Taiwan, USA, China, and offices in India and Japan. In 2016, imec's revenue (P&L) totaled 496 million euro. Further information on imec can be found at www.imec-int.com.
Imec is a registered trademark for the activities of IMEC International (a legal entity set up under Belgian law as a "stichting van openbaar nut"), imec Belgium (IMEC vzw supported by the Flemish Government), imec the Netherlands (Stichting IMEC Nederland, part of Holst Centre which is supported by the Dutch Government), imec Taiwan (IMEC Taiwan Co.) and imec China (IMEC Microelectronics (Shanghai) Co. Ltd.) and imec India (Imec India Private Limited), imec Florida (IMEC USA nanoelectronics design center).
About Solliance
Solliance is a partnership of R&D organizations from the Netherlands, Belgium and Germany working in thin film photovoltaic solar energy (TFPV). In order to strengthen the region's position as a world player in PV, Solliance is creating the required synergy by consolidating and coordinating the activities of 250 researchers in industry, at research institutes and universities.
Various state-of-the-art laboratories and pilot production lines are jointly used for dedicated research programs which are executed in close cooperation with the solar business community.
Solliance partners are: ECN, imec, TNO, Holst Centre, TU/e, Forschungszentrum Jülich, University Hasselt and Delft University of Technology.
Solliance offers participation in its research programs and opens up its lab facilities to new entrants, either from industry or in research. On the basis of clear Intellectual Property (IP) agreements, each industrial partner can participate in this research effort, or alternatively, hire equipment and experts to further develop its own technology.
Contact
Hanne Degans, Press communication manager, +32 16 28 17 69 // +32 486 06 51 75 // Hanne.Degans@imec.be