GENK, 29 August 2019 – Electricity networks have been widely equipped with alternating current technology at 50 or 60 Hz for over century. However, DC technology provides clear technical advantages in a world that will be dominated by energy storage systems, photovoltaic modules, digital equipment and energy efficient HVAC systems. Introducing DC technology will increase conversion efficiency and power transfer capability while at the same time reducing costs. This is why the four partners ABB, Imtech, Th!nk E and EnergyVille (VITO/KU Leuven) join forces in the Flux50 ICON BIDC project. The fact that a system integrator and a power component manufacturer jointly take action, supported with academic evidence and technical background from the research partners, opens up perspectives to overcome the current AC lock-in and introduce DC technology in tomorrow's power system.
Our electricity network is currently equipped with AC technology but most of our appliances and loads, such as laptops, smartphones, LED lighting, solar panels or wind turbines, work on direct current. Therefore adapters and inverters are needed to transform the generated direct current into alternating current. Introducing direct current into our electricity networks eliminates the need for complex adapters and power converters. This compatibility advantage means less components, lower costs, higher reliability and less energy losses. Another advantage is that more power can be transported with the same cables, i.e. more power with less (expensive) conductor materials (copper). And finally, DC technology enables local building-level nanogrids without the need for synchronizing on-site PV, wind and storage with the 50 Hz or 60 Hz grid voltage.
There is a major potential for bipolar DC nanogrids. They can be used in a broad spectrum of applications, such as datacenters, mobile applications and commercial buildings. In addition, DC solar home kits can be rolled out in regions with no or limited access to the electricity grid. Direct current is already often used in smart buildings, for example for the interaction between solar panels and batteries, and for charging electric vehicles. Recently a representative building-level bipolar DC nanogrid was set up in one of the labs of EnergyVille in order to further investigate and test this technology.
The advantages in efficiency, capability and cost have convinced the four partners to deploy low-voltage DC nanogrids in Flanders in the upcoming years. But in order to enable DC electric installations, some important technical and regulatory challenges still have to be tackled. Voltage stability has to be guaranteed, as well as safety for both users and appliances. In the ICON BIDC projects, the partners will work together on hardware and software components as well as an overall system protection strategy and a grid code to realize the low voltage DC nanogrids needed in the future energy landscape.
This project is one-of-a-kind because for the first time, a major building and industry system integrator (Imtech) and world-renowned component manufacturer (ABB) conduct a joint effort to enable an entire ecosystem for LVDC nanogrids, exemplary for the EU. In the project Th!nk E will support the setup of the pilots. EnergyVille (KU Leuven & VITO) as a research partner is the neutral partner governing the grid code and secures its role as a DC centre of competence. The project call was launched by Flux50, the Flemish energy cluster, since LVDC is a core element in their roadmaps.
About the project
The ICON BIDC project aims at realizing the essential hardware, software and grid code for enabling a stable and safe bipolar DC power and data backbone for commercial and residential districts. The project was launched in January 2019 and will run for 36 months. The consortium of partners consists of ABB, Imtech, ThinkE and EnergyVille (KU Leuven/VITO).
About EnergyVille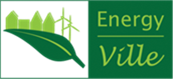 EnergyVille is a collaboration between the Flemish research partners KU Leuven, VITO, imec and UHasselt for research into sustainable energy and intelligent energy systems. Our researchers provide expertise to industry and governments in the field of intelligent energy systems for a sustainable urban environment - such as smart grids and advanced heat networks.
EnergyVille brings together research, development, training and industrial innovation under one name, in close collaboration with local, regional and international partners. From the outset, the partnership was embedded in major national and international networks with the aim of becoming the expert and thought leader for sustainable energy in the built-up environment, both within and outside Europe. Our activities must further anchor our position at the top of Europe in the field of innovative energy research.
EnergyVille wants to be the centre of an ecosystem for research, business development and jobs in the Thor Park in Genk. In Thor Park, we are a magnet for energy companies, creating entrepreneurship, innovation, a new economic fabric and, ultimately, a new market for sustainable energy.

Published on:
29 August 2019