When, in 2005, Philips decided to open up its research facilities in Eindhoven and turn it into an area for open innovation called the High Tech Campus, they felt that external research labs were indispensable for the success of the campus. Philips contacted the R&D centres of imec in Leuven and TNO in the Netherlands, in the expectation that a partnership with these two leading R&D centres would bring the outside-in synergy they were looking for. Research activities were to take place within a new entity: Holst Centre.
Now 15 years later, Holst Centre boasts over 180 employees from 28 nations who, together with 56 industrial partners innovate and connect, to develop breakthrough technology solutions. Franklin Schuling – Innovation Program Manager Connected Care at Philips – reflects on how Holst Centre has helped Philips develop transformational, connected healthcare technologies in response to current and future healthcare needs.
Towards open innovation
Schuling: 'Before 2005, research at Philips in the Netherlands was primarily done in what was known as 'NatLab'. Philips' famous and prime centre with a long-standing track record of long-term and breakthrough innovations. Here, bright minds developed new-to-the-world innovations and technologies. From idea right through to the final product. From device to embedded and application software and services: the entire vertical stack.'
'Our CTO Rick Harwig, together with Henk van Houten, then program manager for our Healthcare Research, had the visionary insight that research could thrive even more if we were to pull down the walls that we had built around our research facilities.'
'It had become clear that the solutions required to meet societal challenges – in our case solution-based healthcare – were requiring increasingly complex and diverse technologies, unobtrusively integrated into best-of-class solutions. But, this was something that was impossible to do all on our own: we needed the competencies of expert partners.'
'Collaboration with partners is best done in an open environment, where research takes place as a shared effort. Such open collaboration – within a vibrant eco-system – would enable us to get a full understanding of market demands and possible solutions. Van Houten believed that as Philips was moving its focus to becoming a HealthTech company, such open collaboration was the only way to ensure the 'best-of-class' results we always aim for.'
'So, right from the outset, the open campus was intended to allow other bright minds and companies to help us develop and fulfill our technology roadmaps. Added benefit of such open innovation is that it would give our own research organization the flexibility to move along with any important trends. After all, not having to do everything ourselves, meant we would be able to leverage our own competencies, know-how and IP. At the same time, we would also be able to build on the expertise of others, like Holst Centre.'
The choice for imec and TNO
'We had already worked closely with imec in developing semiconductor and multimedia technologies, and we also had working relationships with TNO. Of course, we could have invited them individually, but that wouldn't have fit our idea of open innovation. We were convinced that by combining the strengths of these two players in one research center we would create a winning team. After all, it would create the opportunity to combine and leverage their individual strengths. In imec's case, nanoelectronics, their digital technologies, and their proven engagement model with best-in-class companies worldwide. Whereas TNO could contribute their systems-in-foil (Sif) technology and their long track record of applied research and experience in working with small and medium sized companies.'
'Whereas previously, we did the research and exploratory efforts that are required for creating new device technologies, now with Holst Centre in place, we could leave part of that work to them, focusing ourselves on developing the application. It enabled us to become what we call an innovation orchestration lab, where we bring together innovation and technology and turn these into viable products. It has enabled us to move up the value stack. At the same time, it's essential that we also still have access to the latest device technologies. This makes partners such as Holst Centre so very important to us.'
Open innovation
'Truth be said, it took some time for our own organization to embrace the concept of open innovation. We were hesitant to share our ideas and know-how. For instance, we didn't involve Holst Centre to participate in our validation studies in hospitals. And we didn't share any of our IP with them. Also, some of our researchers found it difficult to have to rely on inventions developed by others.'
'Over time, we realized that a mindset shift was needed in our own organization to be able to optimally benefit from our relationship with Holst Centre. While we foster the open innovation setting in which they operate, we have re-defined our engagement model. This means that for some technologies we are comfortable with the open innovation setting, where knowledge is shared with other companies. However, there are also certain technologies that are strategically important to us. These we choose to develop in a one-on-one relationship with Holst Centre.'
From open innovation to technology and IP exchange
'Our main goal as innovation orchestration and integration lab is to enable our businesses: with fitting, innovative solutions in answer to market demand. To this end, our relationship with Holst Centre has moved on: they are now licensee to some of our IP. In this way Holst Centre can help us leverage such important concepts. In this way, we have in fact created a perfect balance: we build on each other's IP.'
'And moving even further, our collaboration with Holst Centre recently was expanded. We're looking at venturing initiatives such as imec.xpand – which builds on promising technology and IP from imec – to see how we can add value with some of our own technology.'
Innovation – building on each other's know-how
'Our long-term and structural relationship with Holst Centre is based on technology roadmaps that make it easy to build on each other's know how.'
'For instance, we partner with Holst Centre to explore and develop measurement technology concepts suitable for wearables. Our goal here is to ensure that health measurements can be done at home. Wearables can play an important role in monitoring patient wellbeing from a distance. An excellent example of such a wearable is our recently launched Healthdot.'
'It's not unthinkable that in the not-too-distant future, patients will get a pre-operative plaster that measures important parameters such as heartrate, blood pressure and more. The doctor can see from a distance how fit a patient is before the operation. Similarly post-operative wearables can re-assure a patient that his recovery is going as planned.'
'It's here that Holst Centre is very important to us: in making measurement technology 100% full proof and making monitoring at a distance smarter. The quality and safety requirements for such devices are extremely high. Besides our own highly qualified researchers, we need excellent partners as Holst Centre who fully understand the complexity of accurately measuring and collecting body parameters. Within this collaboration, the more knowledgeable they become, the better we can fulfil our ambitions.'
'Our ambition is to become the reliable partner of hospitals, helping to make decisions based on highest quality data. At Philips we are currently investing much in the data platform that will support wearables, and in the AI that can be used to create actionable insights for patient and clinical staff.'
Roadmaps – not all roads lead to Rome
'At the same time, not all innovative technologies developed by Holst Centre fit our roadmap. Similarly, they have their own roadmaps, which do not necessarily have to fit ours.'
'As in any relationship, you need to give each other the freedom to develop one's own ideas. Working closely with each other ensures things go smoothly: that you fully understand the other. But it can result in tunnel vision. You need to stay sharp and critical enough to be able to say: I like it, but it's not for us.'
Creating and strengthening the value chain
'Holst Centre has always been good at creating extremely innovative technological concepts, but at a certain point they were lacking in having producers in their value chain who could make products out of their ideas. We helped Holst Centre create a network of partners who can make their ideas production ready.'
'Such a collaborative value chain is important for speeding up innovation and making solutions that matter, as in the case of our own Healthdot. Holst Centre developed the basic device technology, we added our algorithms and carried out a validation study with over 350 patients (the largest of its kind ever done) as part of e/MTIC. We also developed the HealthSuite digital platform that the application runs on, and we developed the use case and customer value proposition.'
'Another type of value chain is manifest in a recent acquisition that we made. We bought a company which makes wearables for heart monitoring. The sensor they use in these wearables is in fact based on technology developed by Holst Centre. And now we're looking how we can take this technology to the next level.'
Future technology roadmaps
'Together with Holst Centre, we've created significant successes, of which the Healthdot is the most prominent one. What the future will bring is difficult to say. Their sensor technology is top of the bill, but more will be needed to meet expected future demands in healthcare.'
'There are many questions that need to be answered and hurdles that need to be taken. To name but a few: smartness needs to be added to sensors or wearables. Will that be in-sensor or in-the-cloud? Certain applications require multiple sensors. Will further miniaturization result in all sensors being placed in just one wearable or plaster? The downside is that if you don't use half of the sensors most of the time, it's likely to be too expensive a solution. And what about privacy and security? You don't want somebody hacking a sensor. Above all, in healthcare, a product needs to be 100% secure. A sensor must function to its fullest capacity at all times, and be able to do so within a larger system. The safety of the patient is paramount!'
'We are committed to bringing solution-driven, highest quality healthcare solutions. Our discussions and partnership in the field of sensor technology are ongoing and profound. At the same time, we foster an open relationship such as we have with Holst Centre. They should be free to make the strategic choices they see fit. It has everything to do with the balancing act, for us and also for them. Above all, to this day, this unique collaboration brings us many, many benefits.'
Dutch version
Samen met Philips innoveren voor een gezondere wereld
Holst Centre – 15 years of open innovation
Toen Philips in 2005 besloot de deuren van zijn onderzoekslaboratoria in Eindhoven open te zetten en er een centrum voor open innovatie van te maken, de High Tech Campus genaamd, zag het bedrijf externe onderzoekslabs als onontbeerlijk voor het succes van de campus. Philips nam contact op met imec in Leuven en TNO in Nederland, in de verwachting dat een samenwerking met deze twee toonaangevende R&D-centra de outside-in synergie zou opleveren die ze zochten. De onderzoeksactiviteiten moesten gaan plaatsvinden binnen een nieuwe entiteit: Holst Centre.
Nu, 15 jaar later, telt Holst Centre meer dan 180 medewerkers uit 28 landen, die samen met 56 industriële partners innoveren en contacten onderhouden om baanbrekende technologische oplossingen te ontwikkelen. Franklin Schuling – Innovation Program Manager Connected Care bij Philips – vertelt hoe Holst Centre Philips heeft geholpen bij het ontwikkelen van transformationele, connected technologieën die voorzien in huidige en toekomstige behoeften in de gezondheidszorg.
Op weg naar open innovatie
Schuling: 'Vóór 2005 werd bij Philips in Nederland vooral onderzoek gedaan in wat bekendstond als het 'NatLab'. Dit was Philips' beroemde en vooraanstaande researchcentrum met een indrukwekkende staat van dienst op het gebied van lange-termijn en baanbrekende innovaties. Hier ontwikkelden knappe koppen innovaties en technologieën die voor de hele wereld nieuw waren. Van idee tot en met eindproduct. Van device tot embedded en applicatie-software en services: de complete verticale keten.'
'Onze CTO Rick Harwig had, samen met Henk van Houten, de toenmalige programmamanager voor ons Healthcare-onderzoek, het visionaire inzicht dat onderzoek nog veel effectiever zou kunnen zijn, als we de muren zouden neerhalen die we rond onze onderzoeksfaciliteiten hadden opgetrokken.'
'Het was inmiddels duidelijk dat oplossingen die nodig zijn om maatschappelijke uitdagingen op te pakken – in ons geval oplossingsgerichte gezondheidszorg – steeds complexere en meer diverse technologieën vereisten. Dergelijke onopvallend geïntegreerde, best-of-class oplossingen waren onmogelijk alleen te realiseren. We hadden de competenties van gespecialiseerde partners nodig.'
'Samenwerken met partners kan het beste in een open omgeving, waarin onderzoek plaatsvindt als gezamenlijke inspanning. Een dergelijke open samenwerking – binnen een levendig ecosysteem – zou ons in staat stellen de marktvragen en mogelijke oplossingen volledig te begrijpen. Van Houten geloofde dat, bij het verleggen van de focus om een HealthTech bedrijf te worden, een dergelijke open samenwerking de enige manier was om de 'best-of-class' resultaten te garanderen waar we altijd naar streven.'
'Dus meteen vanaf het begin was de open campus bedoeld om andere knappe koppen en bedrijven toe te laten om ons te helpen bij het ontwikkelen en uitvoeren van onze technologie routekaarten. Bijkomend voordeel van dit soort open innovatie is dat het onze eigen onderzoeksorganisatie de flexibiliteit zou geven om mee te bewegen met alle belangrijke trends. Niet alles zelf hoeven doen, betekende immers dat we onze eigen competenties, knowhow en IP optimaal zouden kunnen benutten. Tegelijkertijd zouden we ook kunnen voortbouwen op de expertise van anderen, zoals Holst Centre.'
De keuze voor imec en TNO
'We hadden al nauw samengewerkt met imec voor de ontwikkeling van halfgeleider- en multimediatechnologieën, en we hadden ook al werkrelaties met TNO. We hadden ze uiteraard ook individueel kunnen uitnodigen, maar dat zou niet passen bij ons idee van open innovatie. We waren ervan overtuigd dat we, door de sterkten van deze twee spelers te combineren in één onderzoekscentrum, een winnend team zouden creëren. Dit gaf immers de mogelijkheid hun individuele sterkten te combineren en optimaal te benutten. In het geval van imec nano-elektronica, hun digitale technologieën en hun bewezen engagementmodel met best-in-class bedrijven wereldwijd. Terwijl TNO zijn systems-in-foil (Sif) technologie kon inbrengen. Daarnaast hadden zij een lange staat van dienst op het gebied van toegepast onderzoek en ervaring in het werken met kleine en middelgrote bedrijven.'
'Waar we voorheen zelf het onderzoek en de verkennende werkzaamheden uitvoerden die nodig zijn om technologieën voor nieuwe producten te creëren, konden we nu, met Holst Centre, een deel van dat werk aan hen overlaten. Wij konden ons volledig gaan richten op het ontwikkelen van het product of de applicatie. Hierdoor zijn we uitgegroeid tot wat wij een 'innovatieorkestratie lab' noemen. Daarbinnen brengen we innovatie en technologie bij elkaar brengen om ze om te zetten in levensvatbare producten. Zo konden we opklimmen in de waardeketen. Tegelijk is het essentieel dat we ook nog steeds toegang hebben tot de nieuwste device-technologieën. Dat maakt partners zoals Holst Centre zo ontzettend belangrijk voor ons.'
Open innovatie
'De eerlijkheid gebiedt te zeggen dat het even heeft geduurd voordat onze eigen organisatie het concept van open innovatie heeft omarmd. We waren huiverig onze ideeën en knowhow te delen. Zo lieten we Holst Centre bijvoorbeeld niet deelnemen aan onze validatieonderzoeken in ziekenhuizen. En we deelden niets van onze IP met hen. Ook vonden sommige van onze onderzoekers het lastig om te moeten vertrouwen op uitvindingen die door anderen ontwikkeld waren.'
'Mettertijd realiseerden we ons dat in onze eigen organisatie een andere mindset nodig was om optimaal te kunnen profiteren van onze relatie met Holst Centre. Hoewel we de open innovatie-setting waarbinnen ze opereren koesteren, hebben we ons eigen engagementmodel opnieuw gedefinieerd. Dit betekent dat we ons voor sommige technologieën comfortabel voelen bij de open innovatie-setting, waarin kennis wordt gedeeld met andere bedrijven. Er zijn echter ook bepaalde technologieën die strategisch belangrijk voor ons zijn. Voor de ontwikkeling daarvan kiezen we voor een één-op-één relatie met Holst Centre.'
Van open innovatie naar technologie en IP-uitwisseling
'Ons belangrijkste doel als innovatieorkestratie- en integratielab is het activeren en ondersteunen van onze businesses: met passende, innovatieve oplossingen in antwoord op de marktvraag. Om die reden gaat onze relatie met Holst Centre nu een stap verder: ze zijn tegenwoordig licentiehouder van een deel van onze IE. Op die manier kan Holst Centre ons helpen dit soort belangrijke concepten optimaal te benutten. Zo hebben we eigenlijk een perfecte balans gecreëerd: we bouwen voort op elkaars IP.'
'En onze samenwerking met Holst Centre is onlangs nóg een stap verder uitgebreid. We kijken naar venturing initiatieven zoals imec.xpand – dat voortbouwt op veelbelovende technologie en IP van imec – om te zien hoe we waarde kunnen toevoegen met een deel van onze eigen technologie.'
Innovatie – voortbouwen op elkaars knowhow
'Onze lange-termijn en structurele relatie met Holst Centre is gebaseerd op technologie routekaarten die het gemakkelijk maken om op elkaars knowhow voort te bouwen.'
'We werken bijvoorbeeld samen met Holst Centre om meettechnologieconcepten die geschikt zijn voor wearables te onderzoeken en ontwikkelen. Ons doel hierbij is te zorgen dat gezondheidsmetingen thuis kunnen worden gedaan. Wearables kunnen een belangrijke rol spelen in het op afstand monitoren van het welzijn van patiënten. Een uitstekend voorbeeld van zo'n wearable is de Healthdot die we onlangs hebben gelanceerd.'
'Het is niet ondenkbaar dat patiënten in de niet al te verre toekomst een preoperatieve pleister krijgen die belangrijke parameters meet, zoals hartslag, bloeddruk en dergelijke. De arts kan dan voorafgaand aan de operatie op afstand zien hoe fit een patiënt is. Zo ook kunnen postoperatieve wearables een patiënt geruststellen dat zijn herstel volgens plan verloopt.
'Juist hierin is Holst Centre heel belangrijk voor ons: in het perfectioneren van meettechnologie en het smarter maken van monitoring op afstand. De kwaliteits- en veiligheidseisen voor dergelijke devices zijn extreem hoog. Naast onze eigen hooggekwalificeerde onderzoekers hebben we excellente partners als Holst Centre nodig, die de complexiteit van het accuraat meten en verzamelen van lichaamsparameters volledig begrijpen. En hoe meer kennis zij opdoen binnen deze samenwerking, des te beter kunnen wij onze ambities verwezenlijken.'
'Onze ambitie is de betrouwbare partner van ziekenhuizen te worden en te helpen beslissingen te nemen op basis van data van de hoogste kwaliteit. Bij Philips investeren we momenteel veel in het dataplatform dat wearables gaat ondersteunen en in de Artificial Intelligence die kan worden gebruikt om voor patiënten en klinisch personeel inzichten te creëren waarop ze actie kunnen ondernemen.'
Routekaarten – niet alle wegen leiden naar Rome
'Tegelijkertijd passen niet alle innovatieve technologieën die Holst Centre ontwikkelt bij onze routekaart. Omgekeerd hebben zij hun eigen routekaarten die niet noodzakelijkerwijs bij de onze hoeven te passen.'
'Zoals in elke relatie moet je elkaar de vrijheid geven om de eigen ideeën te ontwikkelen. Nauw met elkaar samenwerken zorgt dat alles soepel verloopt: dat je de ander volledig begrijpt. Maar het kan leiden tot tunnelvisie. Je moet scherp en kritisch genoeg blijven om te kunnen zeggen: ik vind het mooi, maar het is niks voor ons.'
De waardeketen creëren en versterken
'Holst Centre is altijd goed geweest in het creëren van extreem innovatieve technologische concepten, maar op enig moment ontbrak het ze aan producenten in hun waardeketen die van hun ideeën producten konden maken. We hebben Holst Centre geholpen een netwerk op te bouwen van partners die hun ideeën productierijp kunnen maken.'
'Zo'n samenwerkende waardeketen is belangrijk om innovatie te versnellen en oplossingen te creëren die relevant zijn, zoals in het geval van onze eigen Healthdot. Holst Centre heeft de basale device-technologie ontwikkeld, wij hebben onze algoritmen toegevoegd en een validatiestudie uitgevoerd met meer dan 350 patiënten – de grootste in zijn soort ooit – als onderdeel van e/MTIC. We hebben ook het HealthSuite digitale platform ontwikkeld waar de applicatie op draait, evenals de use case en de klantwaardepropositie.'
'Een ander soort waardeketen is terug te vinden in een recente overname die we hebben gedaan. We hebben een bedrijf gekocht dat wearables voor hartmonitoring maakt. De sensor die zij gebruiken in deze wearables is feitelijk gebaseerd op technologie die is ontwikkeld door Holst Centre. En nu zijn we aan het kijken hoe we deze technologie naar een hoger niveau kunnen brengen.'
Toekomstige technologie routekaarten
'Samen met Holst Centre hebben we belangrijke successen geboekt, waarvan de Healthdot het meest uitspringt. Wat de toekomst zal brengen is lastig te zeggen. Hun sensortechnologie is top of the bill, maar er is meer nodig om te voldoen aan de verwachte toekomstige eisen in de gezondheidszorg.'
'Er zijn nog veel vragen die beantwoord moeten worden en hordes die moeten worden genomen. Om er maar een paar te noemen: 'smart' moet worden toegevoegd aan de sensoren in wearables. Gaat dat in-sensor of in-the-cloud gebeuren? Bepaalde applicaties vereisen meerdere sensoren. Gaat verdere miniaturisatie ertoe leiden dat alle sensoren worden geplaatst in slechts één wearable of pleister? De keerzijde is dat als je de helft van de sensoren het grootste deel van de tijd niet gebruikt, dit waarschijnlijk een te dure oplossing is. En hoe zit het met privacy en veiligheid? Je wilt niet dat iemand een sensor hackt. En bovenal, in de gezondheidszorg moet een product 100% veilig zijn. Een sensor moet op elk moment op volledige capaciteit functioneren, en dat binnen een groter systeem. De veiligheid van de patiënt is het allerbelangrijkste!'
'We werken met grote toewijding aan oplossing-gedreven, topkwaliteit gezondheidszorgoplossingen. We blijven diepgaande discussies voeren en partnerschappen aangaan op het gebied van sensortechnologie. Tegelijkertijd koesteren we een open relatie zoals we die met Holst Centre hebben. Zij moeten vrij zijn om de strategische keuzes te maken die zij nodig achten. Het heeft alles te maken met de balans vinden, voor ons en ook voor hen. Maar bovenal biedt deze unieke samenwerking ons, tot op de dag van vandaag, heel veel voordelen.'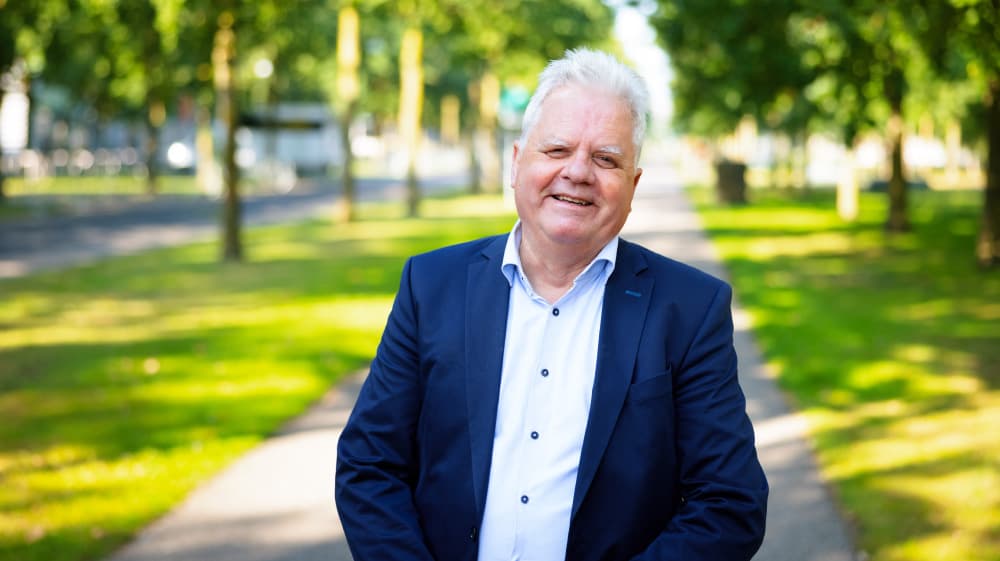 Over Franklin Schuling
Schuling is Innovation Program Manager Connected Care bij Philips Research en lid van de raad van toezicht van e/MTIC. Hij is verantwoordelijk voor de meerjarenplanning van innovaties op het gebied van Connected Care oplossingen. Hij heeft een zeer duidelijke visie op hoe de toekomst van innovatie in de gezondheidszorg eruitziet: innoveren in partnerschappen, met open data.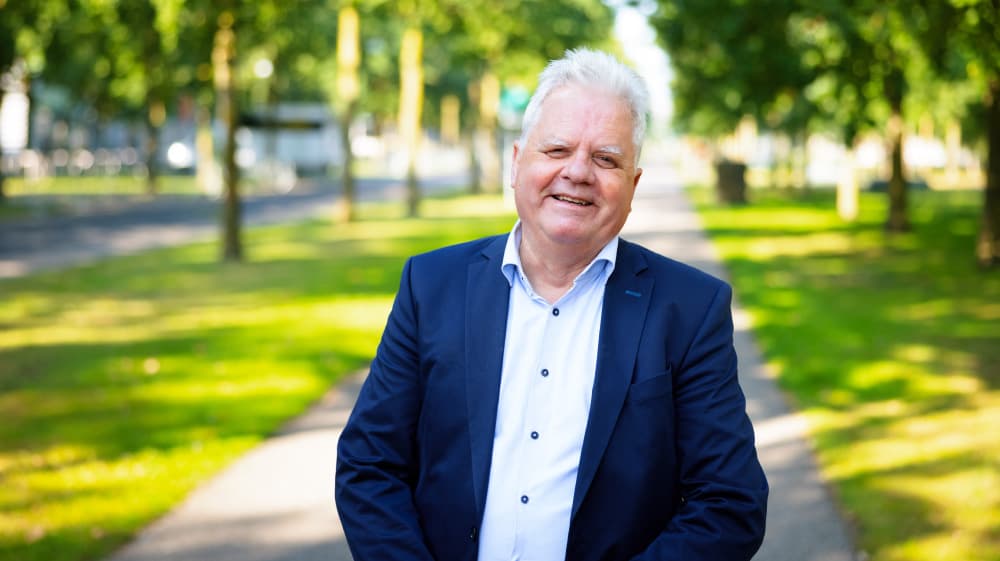 Schuling is Innovation Program Manager Connected Care at Philips Research and member of the supervisory board of e/MTIC and. He is responsible for the multi-year planning of innovations in the field of Connected Care solutions. He has a very clear vision of what the future of innovation in healthcare looks like: in partnerships, with open data.
Published on:
4 January 2022