At imec we have extensive experience in developing sensor-based technology to monitor cardiorespiratory diseases and support patient wellbeing. Moving forward, we recently have been looking into applying wearable sensor technology for so-called motion analysis, specifically in the case of post-operative knee rehabilitation. Working in close collaboration with orthopaedic specialists from TopSupport Sports Medical Centre*, we have now successfully taken our wearable sensor technology to a next level: providing orthopaedic surgeons and physiotherapists the tools to acquire measurable insights into rehabilitation outcomes.
The potential for applying sensor technology in rehabilitation is huge. All surgery or injuries require rehabilitation to a smaller or larger extent. Increasingly, improving health care means ensuring patients get the best care, not only in the sense of successful operations, but as in improving his or her quality of life. This also includes outcomes of operations and patients' well-being in the long term.
Wearable devices that enable long-term monitoring
'At imec we already have a wealth of experience in using sensor technology for cardiorespiratory diseases. What we observe, is that early identification of problems or close follow up during rehabilitation helps to prevent diseases or enhance recovery of the patient. As such, remote monitoring potentially also reduces the cost of care and helps address the shortage of healthcare providers. Our focus at imec is on developing sensor technology for patient-friendly and wearable smart devices, to monitor health over a longer period of time, in real-life conditions.,' explains Heleen Boers, Biomedical R&D Engineer at imec.
'So, it's a logical step to apply our knowledge in the field of rehabilitation. We found an ideal partner in the orthopaedic department of the St Anna Hospital, with its specialist physiotherapy centre: TopSupport Medical Sports Centre. They are the go-to experts for research and treatment of post-operative orthopaedic rehabilitation and sports-related injuries. They had, for some time already, been looking into the possibilities of wearable sensors for data collection, to support their physiotherapists in their work.'
Turning data into actionable insights
'Of course, collecting reliable data using connected health solutions is a first step to improving health outcomes. But, once you've captured your data, how do you turn it into actionable insights? You can have piles of data, but that is only of value if you have algorithms in place that can perform different data processing steps and mine the data. Without such algorithms, data is simply a pile of data. That's where we come in. And it's also where we came in to support researchers and specialists at TopSupport Sports Medical Centre.'
'For motion analysis, we were able to relate the output of body movement sensors to the progress in a patient's individual rehabilitation. Importantly, the sensors help us identify the quality of the patient's movement. For instance, to what extent is someone able to bend his knee when carrying out daily activities?'
Monitoring patient wellbeing
Orthopaedic surgeon Rob Bogie at St. Anna Hospital Geldrop and its orthopaedic and sports centre TopSupport in Eindhoven explains: 'We had been busy with sensor technology, to see how such tech could possibly support our therapies. We wanted to use wearable sensor technology to create a more patient-friendly and smarter monitoring solution for use during rehabilitation. This could provide us with real, measured rehabilitation progress before and after knee surgery. And do so over a longer period of time and in everyday situations.'
'Our enthusiasm was soon curtailed by our success. We were getting loads of potentially valuable data. The only downside was that we didn't have the know-how to access and manage it all.'
'So, we were extremely happy when the opportunity arose to do further research in collaboration with imec. They provided the insights and know-how that we were lacking. Conversely, we provided the opportunity for them to validate their sensor technology.'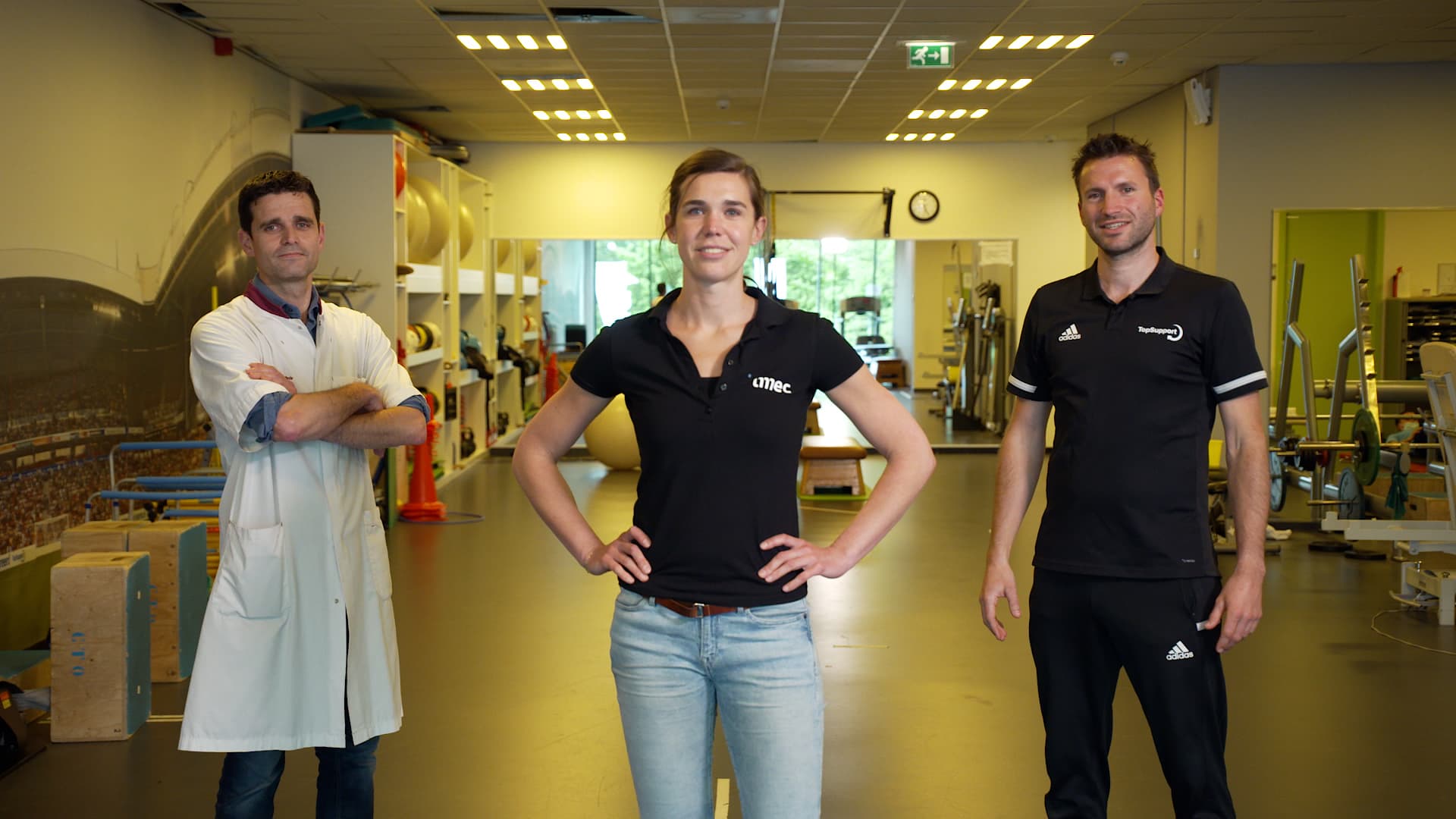 What imec did
Imec developed and validated algorithms using data from wearable motion sensors. These motion sensors measure the movement of several body segments (e.g. lower leg, upper leg, pelvis). The output of these sensors and algorithms can help to monitor physical function and progress of total knee replacement patients during daily activities in natural surroundings, such as: strolling through the supermarket, walking up and down stairs, getting out of bed or standing up from a chair.
'Our algorithms now accurately characterize the collected mass of raw data. They carry out different data processing steps, from filtering to feature extraction. Once you have such filtered and reliable data sets, they can be mined for actionable insights,' Heleen Boers explains.
Bogie on current rehabilitation: 'Basically, we tell patients to do a set of exercises. Of course, they also get extensive support from our physiotherapists. But every patient and every knee is different. The use of sensor technology will enable us to move away from a one-size-fits-all recovery plan to made-to-measure therapy that – based on sensor data – can be constantly adjusted as needs be. Data that we gather during therapy sessions and during normal everyday situations will provide value-adding insights. Without doubt, all these advancements will mean an enormous boost in positive outcomes and, by extension, patient wellbeing.'
Helping improve quality of life
'What we see is that the outcome of so-called Patient Reported Outcome Measures (PROMs) questionnaires is increasingly important. The PROMs are standardized questionnaires about the effect of the pathology on quality of life. We use them to monitor outcomes and also to reach out to patients with a below average score,' Bogie points out.
'The thing is, though, that data acquired by PROMs regards aspects of health that are not 'objectively' perceptible. For example, symptoms and complaints such as pain or anxiety, how one functions at work, during sports activities or at home are very subjective. Such aspects of health are often described as 'quality of life'. But how do you monitor and measure something that is inherently subjective; a patient's quality of life?'
'Solutions with wearable sensors will enable us to derive the quality of movement, which is related to the quality of life. What are the measurable improvements and progress? For example, does the patient's knee flex sufficiently to be able to get into the car. Once we can measure this, everybody concerned in the rehabilitation trajectory stands to benefit: surgeons, physiotherapists, above all, the patient. Not only will we be able to improve our healthcare based on measurable outcomes, such information will also become invaluable in maintaining an affordable and effective health service.' Bogie concludes.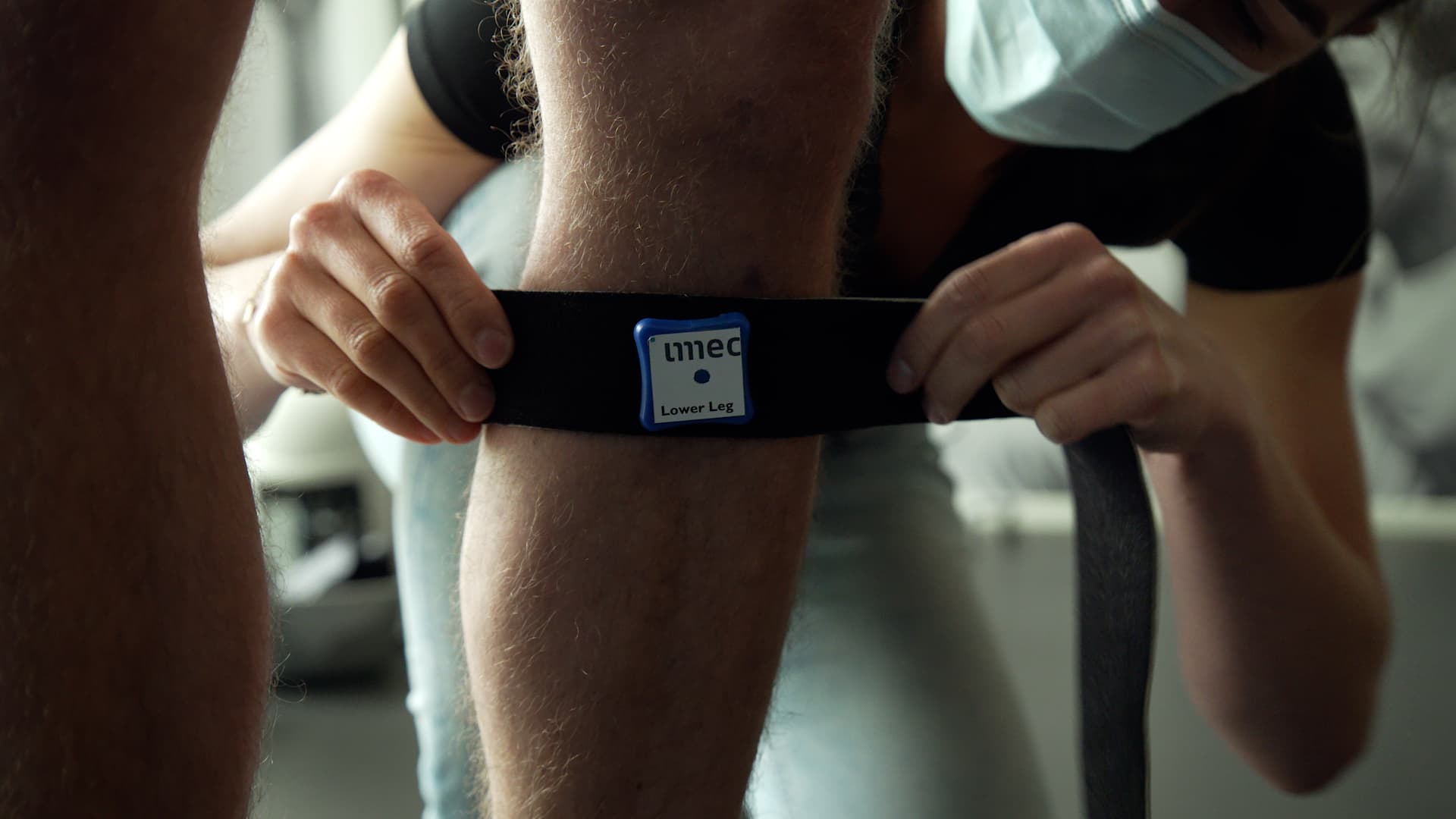 Smart brace
'We're now also looking into applying this technology for ankle rehabilitation,' Eva Wentink Principal Scientist and Bio-Medical Engineer at imec points out. 'We're developing sensors with multiple parameters to integrate into a brace. In first instance, such a brace will be used for knees or ankles, but there is a huge potential for other body parts as well.'
'Parameters like temperature, swelling and range of motion give insight into the healing status of an injury or post-surgery rehabilitation. In fact, parameters measured could provide valuable insights and direct, real-time feedback to the patient on what activities can be performed and when to stop. There is no doubt that such immediate feedback can boost rehabilitation and, by extension, patient wellbeing,' Eva concludes.
* TopSupport Sports Medical Centre is located in Eindhoven. This expert centre is part of St. Anna Hospital in Geldrop.
Bij imec in Holst Centre hebben we ruime ervaring in het ontwikkelen van draagbare sensortechnologie voor het monitoren van cardiorespiratoire aandoeningen en het ondersteunen van patiënten in hun welzijn. Recent hebben we ons verdiept in het toepassen van draagbare sensortechnologie voor zogeheten bewegingsanalyse, specifiek in het geval van postoperatieve revalidatie na een knieoperatie. In nauwe samenwerking met orthopedische specialisten van TopSupport Medisch Sportcentrum* hebben we deze draagbare sensortechnologie nu met succes naar een volgend niveau getild: we bieden orthopedische chirurgen en fysiotherapeuten de instrumenten om revalidatieresultaten meetbaar te maken.
De potentiële mogelijkheden voor het toepassen van sensortechnologie bij postoperatieve revalidatie zijn enorm. Immers, alle operaties of blessures vereisen in meer of mindere mate revalidatie. Daarbij komt dat verbeteringen in de gezondheidszorg niet alleen worden bepaald op basis van geslaagde operaties, maar ook op basis van het verbeteren van de kwaliteit van leven van de patiënt. Daarbij wordt gekeken naar de uitkomst van operaties en het welzijn van patiënten op de lange termijn.
Draagbare sensoren die monitoring op lange termijn mogelijk maken
'Bij imec hebben we al heel wat ervaring met het gebruik van sensortechnologie voor cardiorespiratoire aandoeningen. Wat we zien, is dat een vroege identificatie van problemen of een nauwgezette opvolging tijdens de revalidatie helpt om ziekten te voorkomen of het herstel van de patiënt te bevorderen. Daarbij komt dat door monitoring op afstand de zorgkosten lager worden. Onze focus bij imec ligt op het ontwikkelen van sensortechnologie voor patiëntvriendelijke en draagbare smart devices. Daarmee kunnen wij patiënten over een langere tijdsperiode, in real-life omstandigheden volgen', legt Heleen Boers, Biomedical R&D Engineer bij imec in Holst Centre, uit.
'Het is dus een logische stap om onze kennis ook in het revalidatietraject toe te passen. We vonden een ideale partner in de orthopedische afdeling van het St. Anna Ziekenhuis, met zijn gespecialiseerd fysiotherapiecentrum: TopSupport Medisch Sportcentrum. Zij zijn bij uitstek de experts op het gebied van onderzoek en behandeling van postoperatieve orthopedische revalidatie en sportgerelateerde blessures. Bovendien waren zij al enige tijd bezig met het onderzoeken van de mogelijkheden van dataverzameling met behulp van draagbare sensoren. Zulke data zouden kunnen worden gebruikt om fysiotherapeuten beter te ondersteunen in hun werk.'
Data omzetten in bruikbare inzichten
'Natuurlijk is het verzamelen van betrouwbare gegevens met behulp van connected health-oplossingen een eerste stap om uitkomsten te verbeteren. Maar, als je eenmaal je data hebt vastgelegd, hoe zet je die dan om in bruikbare inzichten?' aldus Boers.
'Data zijn alleen van waarde als je de mogelijkheden hebt om ze te verwerken. Dat kan met behulp van algoritmes. Zonder dergelijke algoritmes zijn data gewoon een stapel gegevens. Dat is waar wij om de hoek komen kijken. En het is ook waar wij binnenkwamen om onderzoekers en specialisten van TopSupport Medisch Sportcentrum te ondersteunen.'
'Voor de bewegingsanalyse konden we de output van bewegingssensoren op het lichaam relateren aan de individuele voortgang in de revalidatie van patiënten. Belangrijk is dat de sensoren ons helpen de kwaliteit van het bewegen van de patiënt vast te stellen. Bijvoorbeeld, in hoeverre is iemand in staat zijn knie te buigen bij het uitvoeren van dagelijkse activiteiten?'
Monitoren van het welzijn van de patiënt
Orthopedisch chirurg Rob Bogie in het St. Anna Ziekenhuis Geldrop en TopSupport in Eindhoven legt uit: 'We waren al langer bezig met sensortechnologie, om te kijken hoe dergelijke geavanceerde oplossingen onze therapieën mogelijk konden ondersteunen. We wilden draagbare sensortechnologie inzetten als patiëntvriendelijkere en slimmere monitoringoplossing tijdens de revalidatie. Bovendien konden we hiermee daadwerkelijke vorderingen in de revalidatie voor en na een knieoperatie meten. En dat over een langere periode en in alledaagse situaties.'
'Ons enthousiasme werd al snel ingehaald door ons succes. We kregen massa's potentieel waardevolle data. Het enige nadeel was dat we niet de knowhow hadden om die allemaal te verwerken en toe te passen.'
'We waren dan ook ontzettend blij toen de kans zich voordeed om verder onderzoek te doen in samenwerking met imec. Zij zorgden voor de inzichten en knowhow die wij misten. Omgekeerd boden wij de onderzoekers van imec de kans om hun sensortechnologie te valideren.'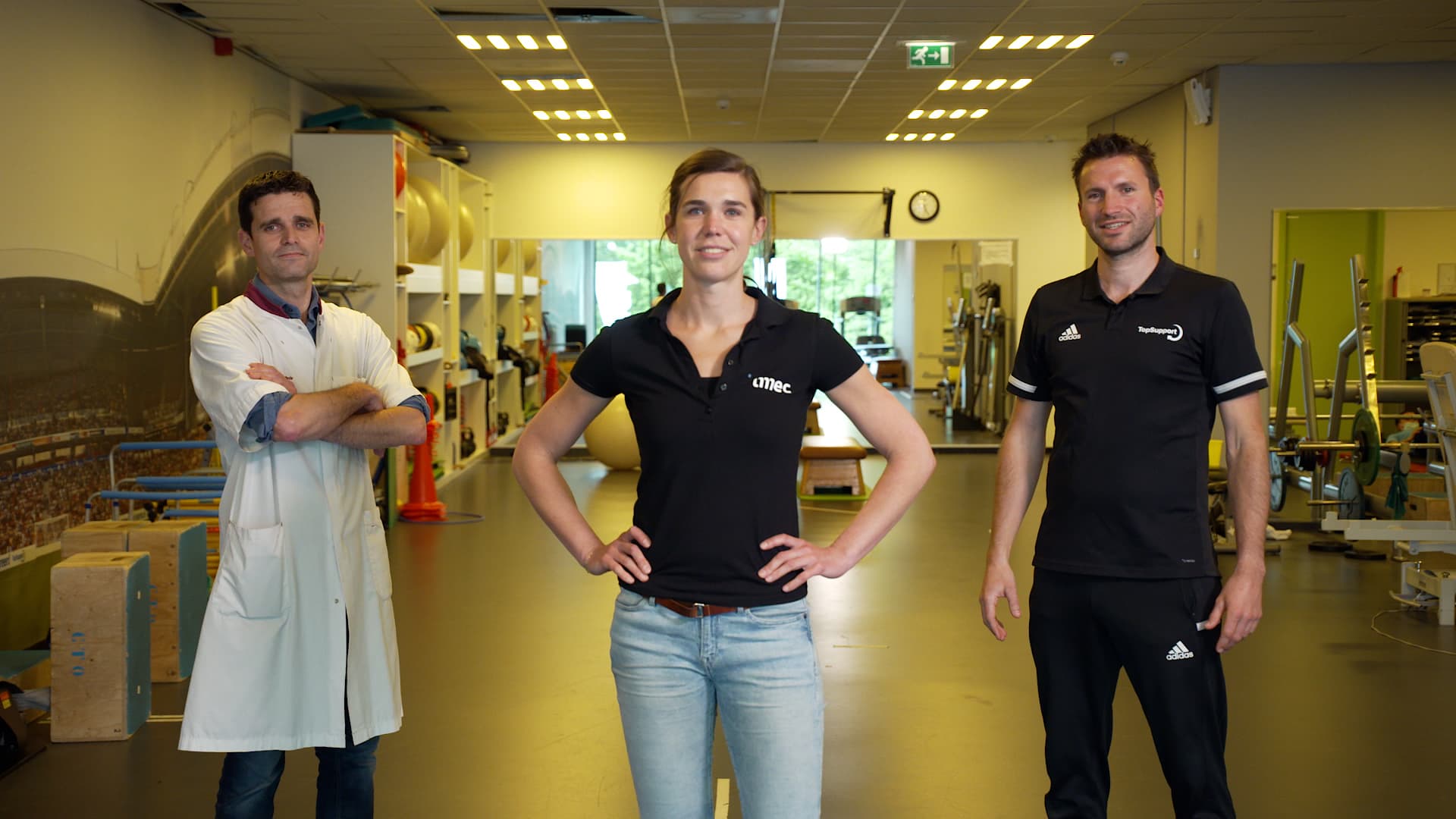 De rol van imec
Imec ontwikkelde en valideerde algoritmes aan de hand van gegevens van draagbare bewegingssensoren. Deze sensoren meten de beweging van verschillende lichaamsonderdelen (bv. onderbeen, bovenbeen, bekken). De output van deze sensoren en onze algoritmes geven inzicht in de voortgang van de revalidatie na een knieoperatie in alledaagse situaties van de patiënt: slenteren door de supermarkt, traplopen, uit bed stappen of opstaan uit een stoel.
'Onze algoritmes verwerken de verzamelde ruwe data tot een bruikbare dataset. Als je eenmaal zulke gefilterde en betrouwbare datasets hebt, zijn ze een bron van waardevolle en direct bruikbare inzichten', legt Boers uit.
Bogie over de huidige revalidatie: 'In principe vertellen we patiënten dat ze een aantal oefeningen moeten doen. Natuurlijk krijgen ze ook uitgebreide begeleiding van onze fysiotherapeuten. Maar elke patiënt en elke knie is anders. Het gebruik van sensortechnologie stelt ons in staat om over te stappen van een one-size-fits-all herstelplan naar een therapie op maat die – op basis van sensorgegevens – voortdurend kan worden aangepast waar dat nodig is.'
'Gegevens die we tijdens fysiotherapie-sessies en in normale dagelijkse situaties verzamelen, zullen inzichten opleveren die weer waarde toevoegen. Dit alles zal de postoperatieve resultaten enorm kunnen verbeteren en, in het verlengde daarvan, ook het welzijn van de patiënt.'
Kwaliteit van leven verbeteren
'Wat we zien is dat de uitkomst van zogenaamde Patient Reported Outcome Measures (PROMs)-vragenlijsten steeds belangrijker wordt. De PROMs zijn gestandaardiseerde vragenlijsten over het effect van de pathologie op de kwaliteit van leven. We gebruiken ze om de uitkomsten te monitoren en ook om patiënten met een beneden-gemiddelde score te bereiken,' legt Bogie uit.
'Het punt is echter dat de gegevens die met PROMs worden verkregen betrekking hebben op aspecten van de gezondheid die niet 'objectief' waarneembaar zijn. Bijvoorbeeld symptomen en klachten zoals pijn of angst, hoe men functioneert op het werk, tijdens sportactiviteiten of thuis: ze zijn allemaal zeer subjectief. Dergelijke gezondheidsaspecten worden vaak omschreven als 'kwaliteit van leven'. Maar hoe monitor en meet je iets dat subjectief is?'
'Oplossingen met draagbare sensoren zullen ons in staat stellen om de kwaliteit van bewegen, die gerelateerd is aan de kwaliteit van leven, af te leiden. Wat is de meetbare verbetering en vooruitgang? Bijvoorbeeld, buigt de knie van de patiënt voldoende om in de auto te kunnen stappen? Als we dit kunnen meten, heeft iedereen die bij het revalidatietraject betrokken is daar baat bij: chirurgen, fysiotherapeuten, maar vooral de patiënt. Niet alleen kunnen we dan onze gezondheidszorg verbeteren op basis van meetbare uitkomsten, dergelijke informatie wordt ook van onschatbare waarde voor het in stand houden van een betaalbare en doelmatige gezondheidszorg!' aldus Bogie.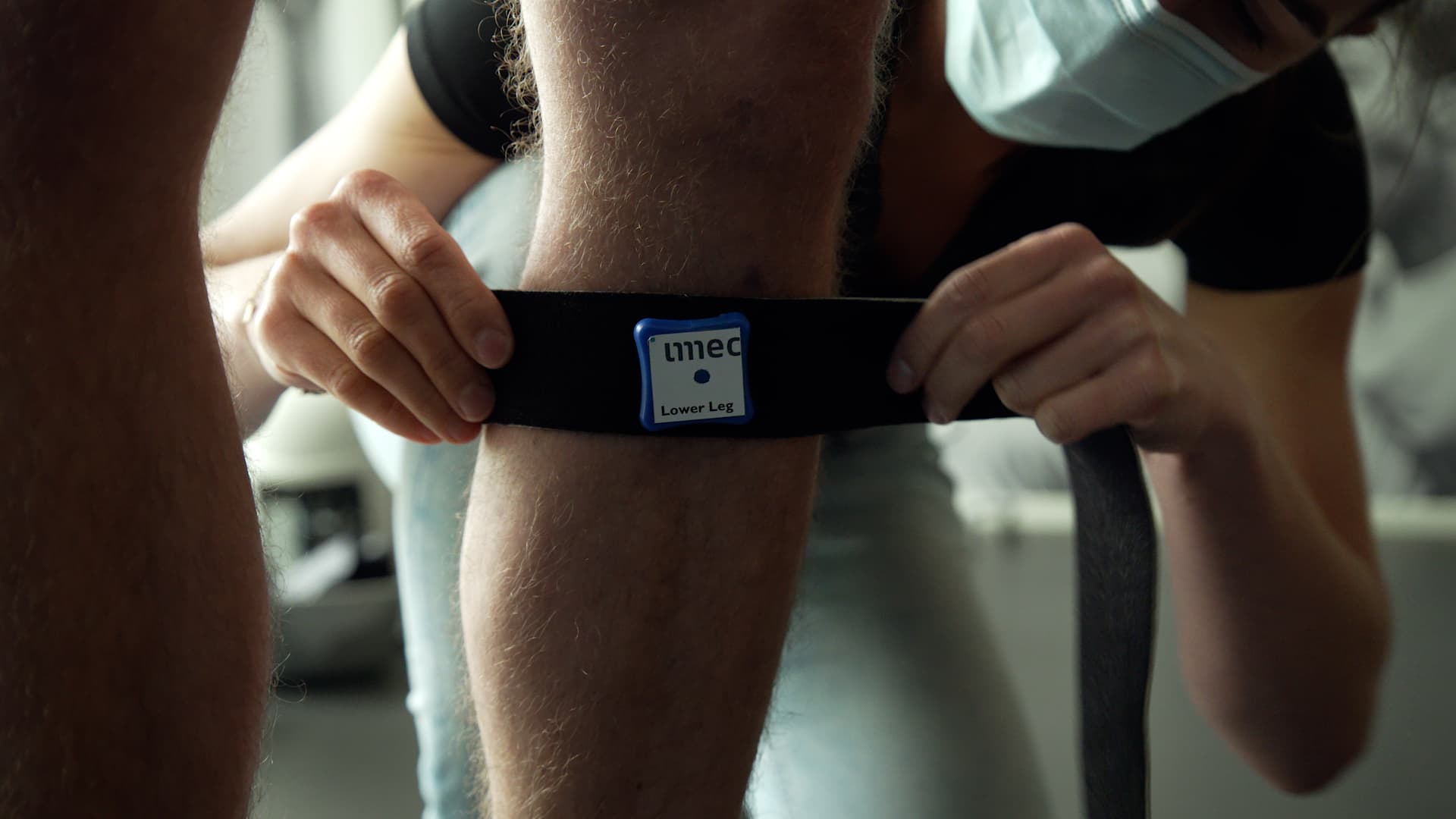 Slimme brace
'We kijken nu ook naar het toepassen van deze technologie voor enkelrevalidatie', vult Eva Wentink, Principal Scientist en Bio-Medical Engineer bij imec in Holst Centre aan. 'We ontwikkelen sensoren met meerdere parameters om te integreren in een brace. In eerste instantie zal zo'n brace gebruikt worden voor knieën of enkels. Maar er zijn nog veel meer mogelijke interessante toepassingen.'
'Parameters als temperatuur, zwelling en 'range of motion' geven inzicht in postoperatieve genezing en revalidatie. De gemeten parameters zullen waardevolle inzichten en directe, realtime feedback aan de patiënt kunnen geven. Zo weet de patient meteen welke activiteiten hij wel of beter niet kan uitvoeren. Dergelijke directe feedback zal de revalidatie en het welzijn van de patiënt zeker kunnen bevorderen', concludeert Wentink.
* TopSupport Sports Medical Centre bevindt zich in Eindhoven. Dit expertisecentrum is onderdeel van St. Anna Zorggroep in Geldrop.