English version
Research into the brain is mostly carried out in white, clinical lab spaces, where the brain activity of humans and animals is measured via sensors and wired connections. Yao-Hong Liu, Scientific Director at imec at Holst Centre in the Netherlands, is leading the Intranet of Neurons project. Here, he works on the development of an efficient, wireless method to conduct research on the brain in a more natural setting to detect diseases. "We want to help patients who have had a stroke eventually regain control over their limbs."
In a lab environment, neurosensors and wired connections enable accurate measurement of the brain activity of animals. However, the interfaces (which are implanted in the brain) are connected to the computer with wires, which is inconvenient as well as unpleasant for humans and animals. Freedom of movement is severely restricted. Whereas there is a great need in neuroscience to measure brain activity of humans and animals in natural situations using an objective measuring instrument for scientific purposes and in order to detect diseases in the brain – and eventually even stimulate brain areas to remedy disorders.
Yao-Hong Liu, as part of imec at the Holst Centre, was awarded two million euros in 2020 from the European Research Council (ERC) for his Intranet of Neurons (IoN). The goal of the project is to take neuroscience a step forward by making wireless, efficient transmission of neurosensor information possible at very high data rates. The device is comparable to a cochlear implant: a hearing prosthesis implanted in the inner ear. "It is a very small device that is put into a casing in the brain and can transmit signals," Liu says. "We are busy developing the prototype."
From hundreds to thousands
One of the major advantages of Liu's device is the far greater number of neurons that can be measured. This allows for more extensive research into the brain. Neuroscientists have been working hard on techniques to measure brain activity since the 1960s. Ever since the number of neurons we can register through a wired connection has been doubling every six years. Up to one million neurons can be measured by this method. However, the presently available wireless Brain-Computer Interfaces (BCIs) are only capable of registering less than a hundred neurons. To make them usable on a wider scale, and eventually even restore movement and thereby help paralyzed patients, a solution is needed that can register more than ten thousand neurons at a time.
"With the help of the new device, it is now possible to capture data from more than a hundred times more neurons compared to existing technologies. Moreover, we can collect information from neurons spread across several areas of the human brain. This gives us a better picture of how patients are doing," Liu explains.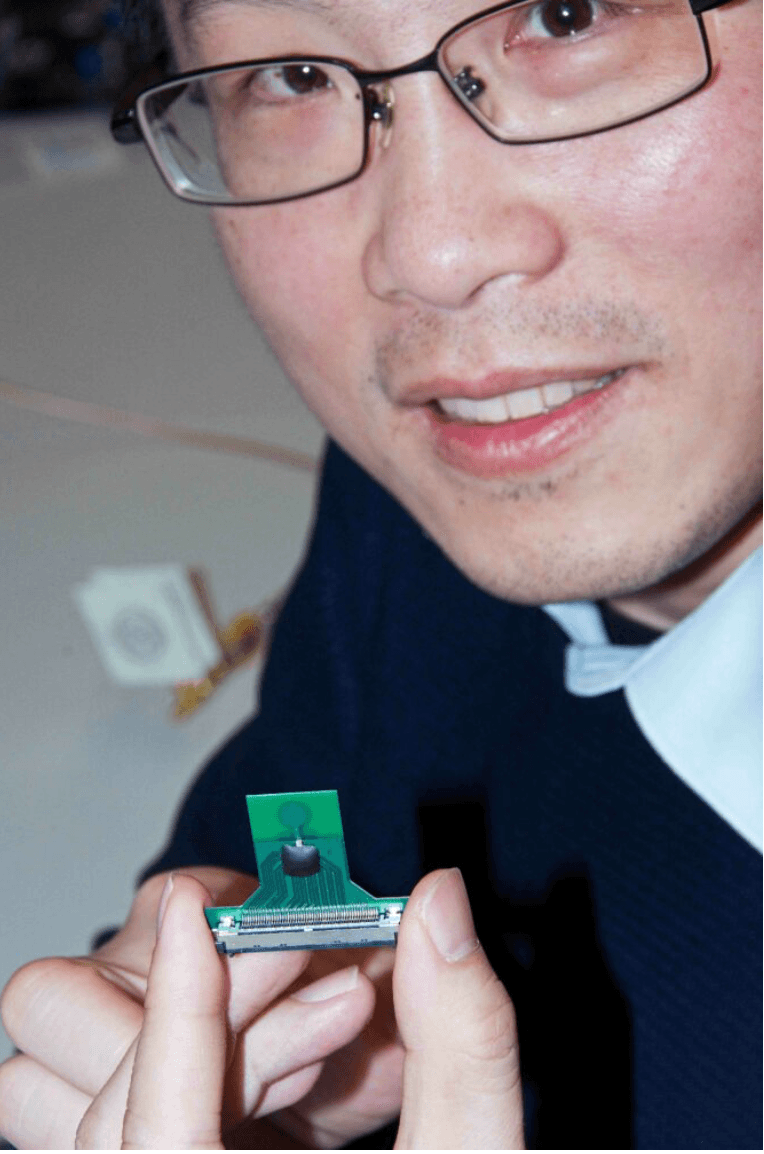 Less invasive
Measuring brain activity through this new connection offers even more advantages. The wireless interfaces currently available are large modules that need to be applied, with the risk of accidents and surgical complications. "With this wireless implant, only a small hole needs to be drilled into the skull, rather than having to open it up completely. This significantly reduces the risk of infection."
Multidisciplinary cooperation
Yet before the wireless device can be used on humans, some obstacles still need to be overcome. One of the biggest challenges in the project is cooperation among multidisciplinary teams, Liu believes. "I focus on the wireless connection of the instrument, but another team at imec is working on the casing, while yet another team is working on decoding the data. It's an interesting challenge coordinating the cooperation between all these groups of experts."
Gains in the field of technology
There are also gains to be made in the field of technology. "How do we make sure that the instrument does not cause any problems in the brain? The ultimate aim is to be able to take measurements for a long period of months, even years. So, the implant has to be properly encased and made resistant to body fluids and suchlike. Over the next few years we will continue to improve the instrument in this particular area."
Giving back control
Currently, the prototype can only measure brain activity. Liu predicts that within ten or twenty years it will be possible to actually stimulate the brain via the wireless connection. "In the future, we could help patients this way, who are suffering from the consequences of a stroke or other illness, by giving them back control of their limbs."
Just the ability to wirelessly record neural activity in different brain regions is a major step for science. "There is currently no objective assessment tool to detect a disorder in the brain. With this tool, I'm hoping that we can tell patients much more about how their disease is progressing at an early stage."
Draadloze brein-computer interface van imec: 'Op den duur kunnen we stoornissen herstellen'
Onderzoek naar het brein wordt veelal uitgevoerd in witte, klinische labruimtes, waarbij de breinactiviteit van mensen en dieren via sensoren en bedrade verbindingen gemeten wordt. Yao-Hong Liu, Scientific Director bij imec in Holst Centre, werkt met zijn project Intranet of Neurons aan een efficiënte, draadloze methode om in een meer natuurlijke setting onderzoek naar het brein te doen en zo ziektes op te sporen. "We willen patiënten die een beroerte hebben gehad op den duur helpen hun controle over ledematen terug te krijgen."
In een labomgeving kan via neurosensoren en bedrade verbindingen de hersenactiviteit van dieren accuraat worden gemeten. De interfaces, die in de hersenen geïmplanteerd worden, zijn echter met draden aan de computer gekoppeld, wat onhandig, en bovendien onprettig is voor mens en dier. De bewegingsvrijheid wordt immers enorm beperkt. Dat terwijl er veel behoefte is in de neurowetenschap om met een objectieve maatstaf breinactiviteit te meten van mensen en dieren in natuurlijke situaties, voor wetenschapsdoeleinden, om ziektes in het brein op te sporen en op den duur zelfs hersengebieden te stimuleren om stoornissen te verhelpen.
Yao-Hong Liu van imec in Holst Centre ontving in 2020 twee miljoen euro van de Europese Onderzoeksraad (ERC) voor zijn Intranet of Neurons (IoN). Doel van het project is om de neurowetenschap een stap vooruit te helpen, door een draadloze, efficiënte overdracht van neuro sensorinformatie mogelijk te maken met een hoge datasnelheid. Het device is te vergelijken met een cochleair implantaat: een gehoorprothese die geïmplanteerd wordt in het binnenoor. "Het gaat om een heel klein apparaatje dat in een bepakking in het brein wordt gezet en signalen kan uitzenden", zegt Liu. "We zijn druk bezig met de ontwikkeling van het prototype."
Van honderden naar duizenden
Een van de grote voordelen van Liu's device is het vele malen grotere aantal neuronen dat gemeten kan worden, waardoor uitgebreider onderzoek naar het brein mogelijk wordt. Al sinds de jaren zestig werken neurowetenschappers hard aan technieken om breinactiviteit te meten. Sindsdien wordt het aantal neuronen dat we door middel van een bedrade verbinding kunnen registeren per zes jaar verdubbeld. Tot wel een miljoen neuronen kunnen op deze manier gemeten worden. De momenteel beschikbare draadloze Brein-Computer Interfaces (BCI's) kunnen echter slechts minder dan honderd neuronen registreren. Om ze op grote schaal toepasbaar te maken, en uiteindelijk zelfs bewegingen te herstellen en daarmee verlamde patiënten te helpen, is er een oplossing nodig die meer dan tienduizend neuronen tegelijk kan registreren.
"Met behulp van het nieuwe device is het mogelijk gegevens van meer dan honderd keer het aantal neuronen vast te leggen in vergelijking met bestaande technologieën. Bovendien kunnen we informatie verzamelen van neuronen verspreid over meerdere gebieden van de menselijke hersenen. Daardoor krijgen we een beter beeld van hoe het ervoor staat met de patiënten", aldus Liu.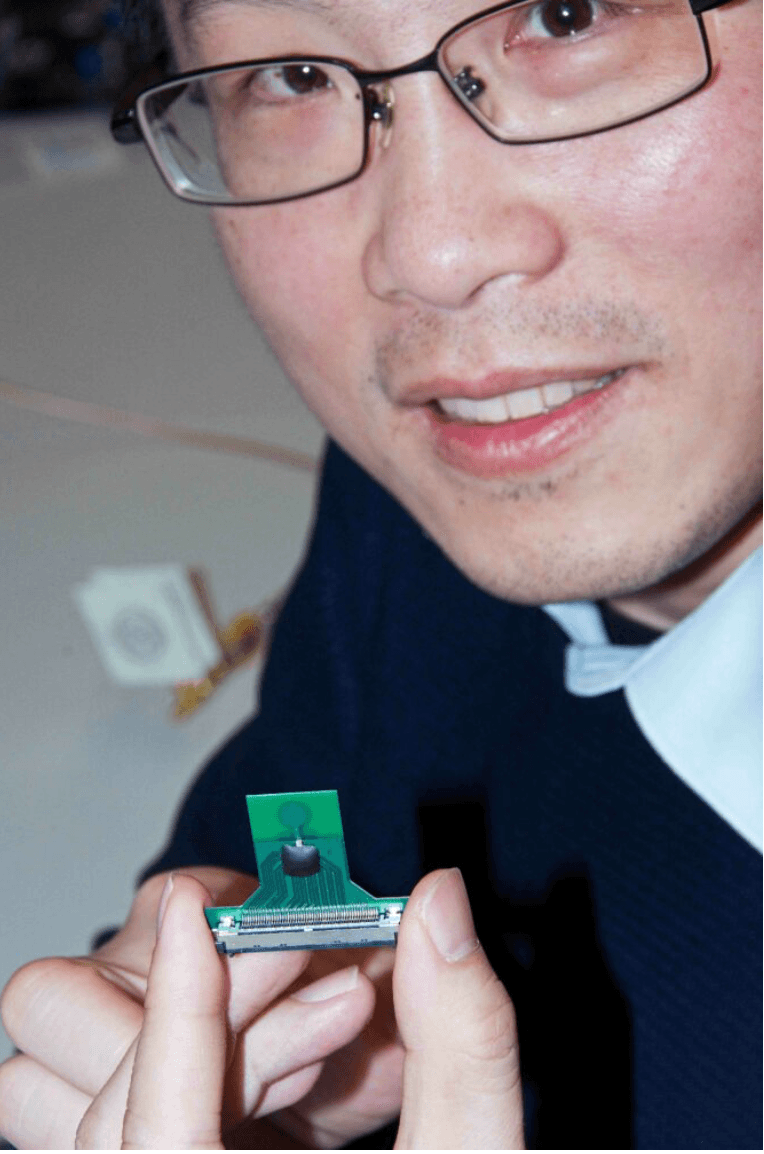 Minder ingrijpend
Het meten van breinactiviteit via de nieuwe verbinding heeft nog meer voordelen. De draadloze interfaces die momenteel beschikbaar zijn, zijn grote modules die geïmplementeerd moeten worden, met het risico van ongelukken en chirurgische complicaties. "Met het draadloze implantaat hoeft er maar een klein gaatje in de schedel gemaakt te worden, in plaats van dat deze helemaal opengemaakt moet worden. Daardoor wordt het risico op infecties significant beperkt."
Multidisciplinair samenwerken
Voordat het draadloze device toepasbaar is op mensen, zijn er nog wel obstakels te overwinnen. Een van de grootste uitdagingen in het project is het samenwerken in multidisciplinaire teams, vindt Liu. "Ik richt me op de draadloze connectie van het instrument, maar een ander team bij imec is bezig met de bepakking, terwijl weer een ander team zich bezighoudt met het decoderen van de data. Het is een interessante uitdaging om de samenwerking tussen al deze groepen experts te coördineren."
Winst op technologisch gebied
Ook op technologiegebied valt er nog winst te behalen. "Hoe zorgen we ervoor dat het instrument geen problemen veroorzaakt in het brein? Het is uiteindelijk de bedoeling dat we voor een lange periode van maanden, tot zelfs jaren, metingen kunnen verrichten. Dus het implantaat moet goed bepakt worden en bestand worden gemaakt tegen lichaamsvloeistoffen en dergelijke. Komende jaren zullen we het instrument steeds verder verbeteren op dit vlak."
Controle teruggeven
Momenteel is enkel het opmeten van breinactiviteit mogelijk met het prototype. Liu voorspelt dat het over tien of twintig jaar mogelijk is om via de draadloze verbinding het brein ook daadwerkelijk te stimuleren. "Zo kunnen we in de toekomst patiënten, die gevolgen ondervinden van een beroerte of andere ziekte, helpen door ze weer de controle te geven over hun ledematen."
Alleen al het draadloos kunnen opnemen van neurale activiteit in verschillende breingebieden is al een grote stap voor de wetenschap. "Er is op dit moment geen objectief beoordelingsinstrument om een aandoening in het brein op te sporen. Met deze tool hoop ik dat we patiënten in een vroeg stadium al veel meer kunnen vertellen over hun ziekteverloop.