Dreaming of switching to a technical job, but missing the right degree?
No worries.
Because we don't ask for a degree. If you bring a passion for technics and a strong dose of motivation, we will prepare you for a job in our cleanrooms as a first-line technician.
In 8 to 12 months, you will get a basic education in chemistry, electricity, electronics and mechanics, you'll learn the necessary process techniques and develop your technical skills.
As of the first day, we give you a permanent contract. The training months will be packed with variety: you'll be constantly hopping between classroom trainings and learning on the job.Dual learning is key in this trajectory, in order to enable your development at imec.
Ready to turn your passion into a career?
For whom?
Anyone who's looking for a new opportunity and wants to practice a technical job, can apply for imec school. We don't ask for a technical degree or technical experience. What do we ask? Knowledge of English and a tangible interest in technics.
Selection process
There are only 10 spots available for the training program, that starts in September 2019. The applications are now open. Interested to participate in this exclusive project? Apply now by uploading your CV and motivation, convincing us about your passion for technics. After submitting your application, the responsible recruiter at imec will contact you by e-mail about the futher course of your application.
Training program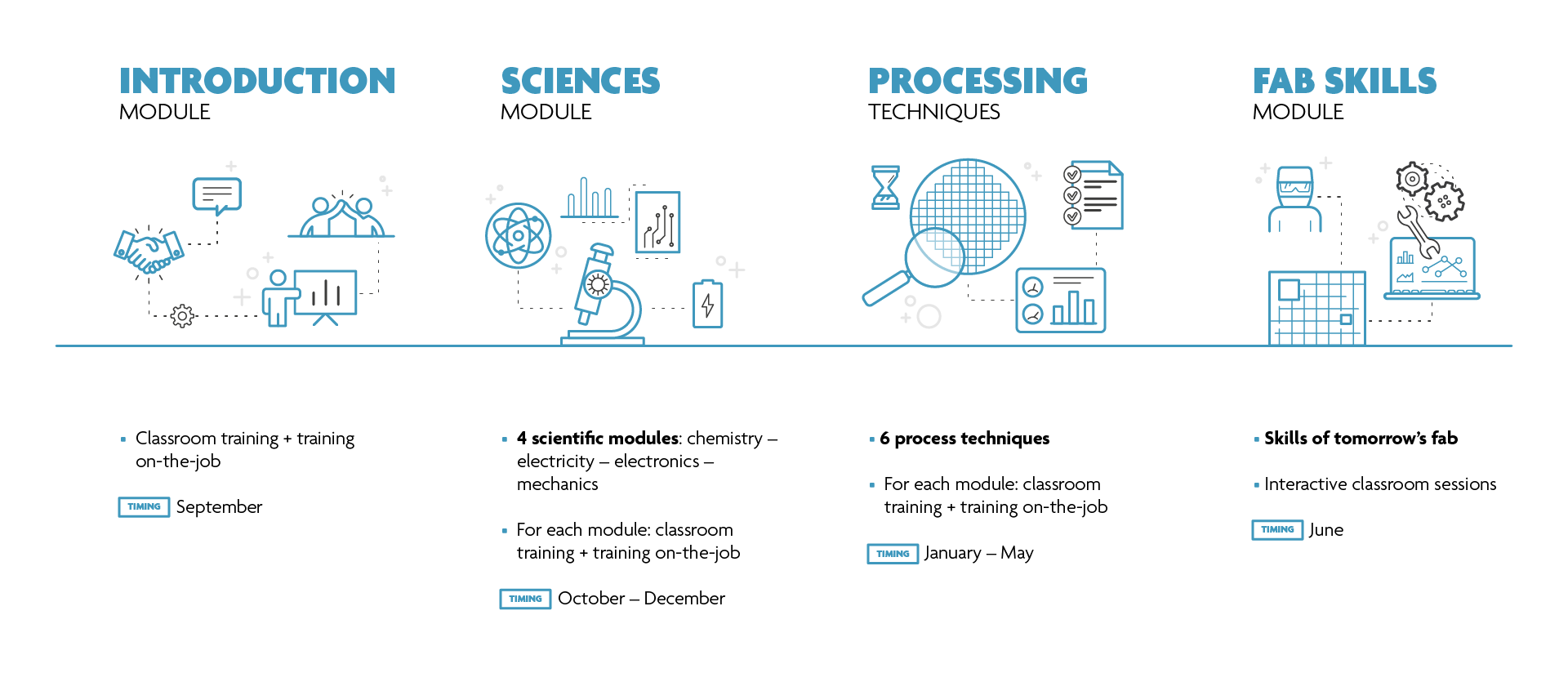 It's possible that there will be some slight changes in the timing.
About the job
You will work as a technician in our cleanrooms. A cleanroom is a dust free environment where we produce and test chips. The chips that we develop there will be used for life-changing technology in the coming years, like new diagnostic instruments to detect cancer in an early phase, sensor systems for self-driving vehicles, virtual and augmented reality (VR/AR), sustainable energy consumption and many more things.
You will be responsible for the first-line support of operational, technical, process and hardware issues with the machines in our cleanrooms. And those are not just machines, they're the world's best infrastructure. We need you to keep the machines operational, which enables our researchers to make prototypes of the newest technologies that will improve our lives.
As our cleanrooms are on duty 24/7, you will work in shifts. Sound scary? Well, it isn't. Because working in shifts means job variety and interesting benefits. And above all, it boosts your work-life balance.