Nagging headache, raging heartbeat, sweaty palms, ... Your body has a lot of ways to let you know you're under stress. Some of these signals can be measured, opening the possibility for objective stress monitoring.
Reliable measurements to improve research and treatments
In a lab setting, stress monitoring can lead to interesting results. But what if you could acquire reliable long-term measurements while a person goes through his daily life? That would take stress research to a new level, linking physiological stress signals to external factors such as context and location.
Moreover, it would clear the way towards proactive stress management. By closing the loop between identifying stress signals and providing personalized, real-time feedback, we empower individuals to take actions to manage levels of unhealthy stress. That could prevent chronic stress and other mental health problems.
In a similar way, objective pain monitoring helps to assess the effects of both drug and drug-free pain treatments. And it could be an essential element in a system for automatic dispensing of pain medication.
Imec develops the technologies that enable such ambulatory, clinical-grade stress and pain monitoring.
A lot of the research on this subject is conducted in the OnePlanet Research Center, our partnership with Wageningen University & Research (WUR), Radboud University and Radboudumc.
Non-obtrusive sensing and advanced algorithms
Physiological signals for stress and pain include:
heart rate and heart rate variability
blood pressure
skin conductivity
tension in face muscles
eye movements and pupil dilatation
brain signals
In order to register these signals in a non-obtrusive manner, imec develops an extensive portfolio of technologies for vital sign sensing, including on the body (wearables), in the body (ingestibles and implantables) and non-contact.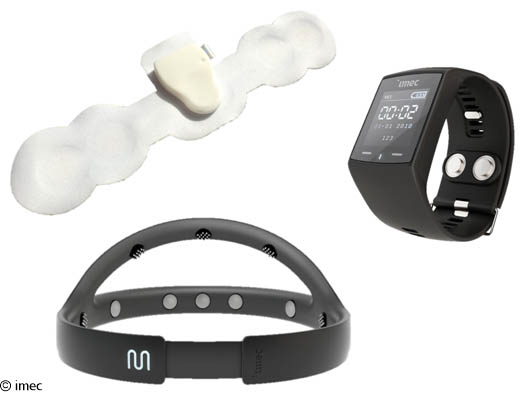 Advanced personalized algorithms translate the harvested data into reliable stress and pain levels. And by combining this output with contextual data such as GPS signals, phone logs and (self-reported) food and drink intake, they can generate personal, actionable insights that make it easier for people to live healthier, happier lives.
Are you in the process of developing wearable pain and stress monitoring devices that can improve lives? Then you're most welcome to join our research and implement our technology in your product.
Ambulatory stress monitoring in practice: the SWEET study
Chronic stress can have a devastating impact on our emotional and physical well-being – which may lead to anxiety, depression and a professional burn-out. Are we able to register, and act upon, early symptoms of stress? Then we'll improve people's lives and save millions in productivity losses and healthcare costs.
The SWEET study is a project that set out to investigate Stress in the Work Environment. In 2017, more than 1000 participants wore a wristband (imec's Chill band) and a health patch for five consecutive days. These wearables collected physiological data that was combined with contextual data from the subject's smartphone and self-reported, subjective stress data.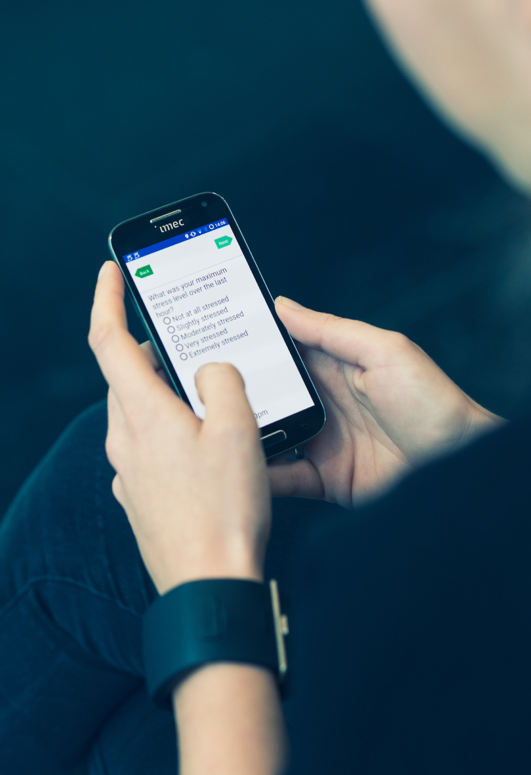 The SWEET study led to the world's largest data set on stress detection. It's just one example of how wearable pain and stress monitoring devices will have huge impact on future research and treatment. We're looking forward to exploring these possibilities – through open R&D or bilateral collaborations.