Novel nanomaterial promises improvements in batteries and many more sustainable applications
Imec and KU Leuven, partners in EnergyVille, present a novel nanomesh material that could mean a breakthrough in a variety of sustainable-application sectors. The nanomesh material is a 3D structure of nanowires that are horizontally interconnected on multiple levels, showing highly regular internal spacings and dimensions. As a result, it combines high porosity with an unprecedented surface-to-volume ratio. To visualize this: when filling a volume of a small can of soda, it would remain 75% empty while containing a surface area equal to the size of a football field. On top of that, the internal and external dimensions can be tuned to almost any specification, making it potentially compatible with a multitude of application requirements. Think about more efficient batteries, better catalytic convertors, fuel cells and hydrogen production. The press release can be found here.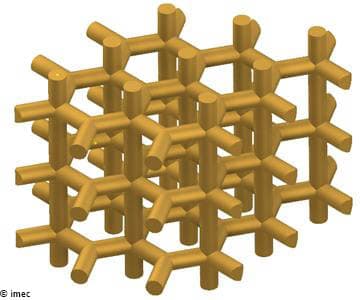 Noted presentation of Pol van Dorpe at renowned AGBT conference for genetics
Pol van Dorpe, principal scientist at imec, took the stage on Friday 1 March at the renowned conference for Advances in Genome Biology and Technology (AGBT). His lecture "Label-free identification of single nucleobases in a DNA strand using surface enhanced Raman spectroscopy in solid state nanoslits", talked about the leading imec technology to perform DNA analysis using advanced Raman spectroscopy. In collaboration with KU Leuven, the imec team published the breakthrough last year in the journal Nature Communications. Pol van Dorpe's presentation at AGBT did not go unnoticed. Genomeweb devoted an extensive article to it. And the 10 highlights by Decisive Bio-Insights mentioned imec's presence as an illustration of how the AGBT ecosystem is expanding into the semiconductor sector.
Register now for Future Summits 2019: a kaleidoscopic journey of three conferences presenting a different perspective on our tech future
The registrations for Future Summits 2019 on May 14 and 15 in Antwerp have now been opened. FutureSummits is imec's brand-new tech experience; a series of international events hosted by imec in different countries and continents. The edition in Antwerp is made up of three conferences and a vast interactive demo exhibition. Each of the three conferences presents a different perspective on our tech future.
On May 14, Imec Technology Forum (ITF) Belgium is all about groundbreaking innovations powered by nano & digital technology. Representatives from leading and innovative high-tech companies from all over the world tune in on ITF to get the latest updates from 13 talks and 55 interactive demos. And to take full advantage of the networking opportunities. On May 15, Forward Dive takes place, a visionary event, in the spirit of imec's 35th anniversary, on how technology will change society. Amongst the 8 inspiring keynotes – a line-up of top researchers, entrepreneurs and creatives – are the renowned Dutch creative inventor Daan Roosegaarde and the 15 year old Canadian TED speaker and IBM advisor Tanmay Bakshi.
On the same day, also AI Flanders is on the agenda, a dedicated conference about opportunities & cases to leverage Artificial Intelligence (AI) for your business. Reaching out to Flemish companies (yet also welcoming international players) and policy makers to help them understand and leverage the power of AI.
For all information and registration, visit www.futuresummits.com
2019 3D InCites process of the year award
The imec 3D integration team headed by Eric Beyne, imec fellow and program director 3D system integration, won the 2019 3D InCities Award for Process of the Year. 3D InCities is a leading online media platform for 3D- and heterogeneous integration technologies. It awarded imec for its low-warpage wafer-level transfer mold process for 3D die-to wafer assembly. A process in which thinned 300mm wafers are being post-processed after die to wafer bonding while mitigating warping and deformation of the wafers. Full details about the process can be found in the scientific paper. The award ceremony took place in Arizona, during the annual conference of the International Microelectronics Assembly and Packaging Society (IMAPS).
Unity Technologies acquires Graphine. And more news on imec.istart
During its keynote event at the Game Developers Conference in San Francisco, Unity Technologies - leading developer of 3D software for games and other applications - announced the acquisition of Ghent-based startup Graphine. Graphine is a spin-off from UGent and the imec.istart accelerator program. Founded in 2013, it is known worldwide for its streaming and compression software to increase the graphical quality of video games and interactive 3D applications. The acquisition by an industry world-leader like Unity will enable an even more widespread application of Graphine's technology and solutions. Based in Ghent, Graphine's R&D department will continue developing state-of-the-art streaming technology.
Read the press release here. And also discover the newest batch of nine promising startups that have joined imec.istart (Dutch).
Published on:
2 April 2019