Introduction
Imec is not conducting research in an ivory tower: our research agenda is – to a large extent – being determined by your requirements, i.e. the needs and innovation opportunities identified by our partners and customers. To address those needs, imec has a number of instruments at its disposal – such as our prototyping, product development and production capabilities, through which we can translate innovative ideas into market-ready solutions. Another example includes the imec.IC-link offering, which supports companies with the design, production and validation of custom-made chipsets – even in small quantities.
Importantly, these services can be accessed by a wide variety of customers – from start-ups, to small and medium-sized companies as well as multinationals. Yet, a prerequisite to provide these different audiences with the best possible guidance and support is the availability of good insights into their needs and concerns. That's why we sat together with Max Mirgoli, Executive Vice-President Worldwide Strategic Partnerships at imec, to find out what has been keeping you awake at night in 2016 and how those challenges translate into short and mid-term opportunities; opportunities that we can address together.
Feedback from the field
"When talking to customers in the last couple of months, three key topics kept coming back," observes Max Mirgoli. "The first set of questions was voiced by our partners and customers in the chip making industry. They have become used to a cadence of two-year refreshment cycles in which semiconductors get increasingly powerful while realizing a better power budget. But that cadence has started to slow down for cost reasons. Hence, they are eager to discover the next generation of technology options, and get more info on when those will become available. And they're clearly looking at imec to come up with the answers."
"Secondly, in the smart systems domain interesting things are happening as well," he adds. "Look at what is ongoing at the crossroads of the life sciences and the semiconductor industries, where chip technology has become fundamental to enabling the next generation of smart life science applications. And the same is happening across all application areas that make use of Internet of Things technology – whether in agriculture, robotics, etc. All players involved are trying to understand what will be the impact of this – in terms of semiconductor feature requirements and shipment volumes."
According to Max Mirgoli, imec is instrumental to driving innovation in this space. A recent example of how imec is making a difference here, includes last year's launch of miDiagnostics – an imec and Johns Hopkins University collaborative effort that aims at a more efficient healthcare. Leveraging the partners' respective expertise in nanoelectronics and medicine, miDiagnostics develops labs-on-chip that require only drops of blood for the on-chip detection of cells, proteins, nucleic acids, and/or small molecules.
"A final question I received on a regular basis, relates to the potential of combining hardware and software expertise," Max Mirgoli continues. "In essence, that's not surprising: after all, it is the combination of hardware and software that has led to some of the most significant technological breakthroughs. Yet, in practice we see that hardware and software are still largely being decoupled – both in research and the industry. But again, in 2016, imec has been able to address this opportunity – thanks to the merger with digital research center iMinds. And mark my words: this is a marriage made in heaven! Combining the expertise of iMinds in domains such as cryptography, data mining, data analytics and data connectivity with our world-leading position in nanoelectronics will enable us to dramatically increase the pace at which we – and our customers – can innovate."
Taking the next steps together – in 2017 and beyond
So, building on this knowledge, how can you call upon imec in 2017 to take the next steps – whether that means translating innovative ideas into market-ready solutions, or reinventing your existing product portfolio?
"It is important to recognize that innovation is no longer the prerogative of big, established companies. Increasingly, start-ups and SMEs have an important role to play here as well. And the good thing is: imec's innovation services can serve both worlds," claims Max Mirgoli.
"Obviously, companies in the chip making industry can continue to rely on us as their reliable, strategic partner to help mitigate the risks of redesigns and other mistakes as they investigate the use of new materials and new device concepts or the potential of future technologies, such as extreme ultraviolet (EUV) lithography."
Secondly, customers and partners can rely on imec's expertise in coming up with new, miniaturized and different technology pieces – and integrating those. The colleagues from Holst Centre (set up by imec and TNO), for instance, are helping companies in the digital health realm – from concept to device. One example includes a health patch that was launched in November 2016 – the first of its kind to track physical and cardiac activity, while monitoring bioelectrical impedance. The health patch integrates unique technologies and components from imec and its industrial partners.
Another example of how imec speeds up product development, thereby tuning products to consumers' needs, can be found in imec's City of Things testbed in Antwerp (Belgium). Building on imec's living lab methodology, the project leverages interactive user research (such as panel feedback and co-creation) and innovative business modelling within a real-life, large-scale setting to develop, test and scale up digital innovations.
"Leveraging that knowledge and those innovation capabilities is something that SMEs and start-ups are highly interested in," concludes Max Mirgoli.
"Moreover, many companies have great ideas for innovative solutions in a wide range of domains – but what they usually lack, are the devices on which to run these solutions. That's where we come in as well. Through our imec.IC-link activities, for instance, via which we help start-ups and SMEs acquire the specific, low-volume chipsets they require – at a fraction of the mass cost. Or through imec Florida, which focuses on integrated circuit (IC) design research for a broad set of semiconductor-based solutions such sensors and imagers, and via which we can now also provide the US market with low-cost access to advanced foundry services."
"And let's not forget our system prototyping and low-volume offering from imec Taiwan, which works together with today's visionaries to turn their great ideas into valuable, bonafide products. One example in this domain includes the development of an innovative bathroom mirror that allows people to see themselves in front and rear view simultaneously; an innovation developed in 2016 in collaboration with two leading Belgian design companies."
"In 2017 and beyond, our partners and customers can continue to count on those assets to take the next steps – together with imec."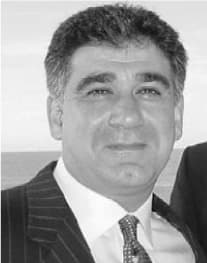 Max Mirgoli is the Executive Vice-President of Worldwide Strategic Partnerships at imec. He has over 26 years of experience in the semiconductor industry, has held various leadership roles in the industry, and has an in-depth knowledge of the semiconductor industry's dynamics.
Prior to joining imec, Mr. Mirgoli was the COO and Managing Director of ICOS Vision Systems. Before that, he served as the Corporate Executive Vice-President and General Manager of the Automation and Controls Division of Matsushita Electric Works (Panasonic).
Mr. Mirgoli holds an MBA from Notre Dame College and a Master's of Science Degree in Electrical Engineering.
Published on:
1 January 2017