Ann Monté, researcher at CMST and Fien Burg, research manager at RSscan, tell us more about this development.
Preventing injuries in sportspeople
The way we walk (or run) is very individual. This can be seen from a person's running style, for instance, but you also need to be able to see the sole of the foot from below. If you can, you'll see that every person's pressure profile is different.
Walking or running incorrectly can lead ultimately to issues such as back and hip problems. And if you are 'extreme' in the way you walk, run or jump – the way athletes do – it can even result in serious and long-lasting injuries.
Fortunately, these problems can often be solved by wearing the right shoes or having the correct soles. Today, there are systems on the market – sensor plates – of approximately 0.5 by 2 meters. The sole of your foot is measured when you run or walk over these plates. Then, based on these measurements, you can make the right selection from the wide range of the shoes and soles available on the market. The Belgian company RS Print – a sister company of RSscan – even takes things a step further (no pun intended!): based on the measurements, a 3D printer is able to produce a personalized sole. And Fitstation – a joint initiative between RSscan and HP – uses the pressure readings and a 3D scan of your foot to produce a shoe customized just for you.



Today, sensor plates are used to help people such as athletes to select the right shoes and soles for them, based on the pressure profile measured while walking or running.
Preventing amputations in diabetics
Far and away the largest market for sensor plates is the diabetes market. In Belgium alone there are some 600,000 people who have diabetes, of whom around 15%, over time, will develop injuries to the soles of their feet, including in places that are subject to high forces of pressure. In 1 in 15 cases, these injuries can lead to the amputation of the foot and sometimes the lower leg as well.
But with early detection and treatment, around 80% of amputations can be avoided.
The peak pressure value and impulse (pressure over time) are important predictive parameters that may provide an indication connected to the risk of ulceration. Today, these parameters can be measured using sensor plates that the patient walks across. However, sensor soles in the shoe should enable far more accurate readings to be taken, plus they can also be used in combination with a corrective sole or shoe to check whether the problem has been remedied in this way.
From sensor plate to sensor sole
A sensor plate makes it possible to measure the pressure profile between the plate and the foot (or shoe, if the person is wearing shoes). Typically, these readings will be taken at the doctor or in a store such as a runners' lab or other location where the sensor plate is available. Sensor soles – which can just be inserted into someone's shoe – offer many new possibilities compared with sensor plates. In particular, sensor soles enable readings to be taken inside the shoe rather than underneath it. That way, one can obtain a very clear picture of the exact effect the shoe (and the corrective sole) is having on the foot movement. Also, with a sensor sole, you can track a person's movement pattern over a longer period of time – days or weeks.
The Belgian company RSscan had been playing around with this idea for some time. Then, when the EU InForMed project was launched, RSscan saw it as the ideal opportunity to get to work with researchers from CMST/imec and Holst Centre on the topic.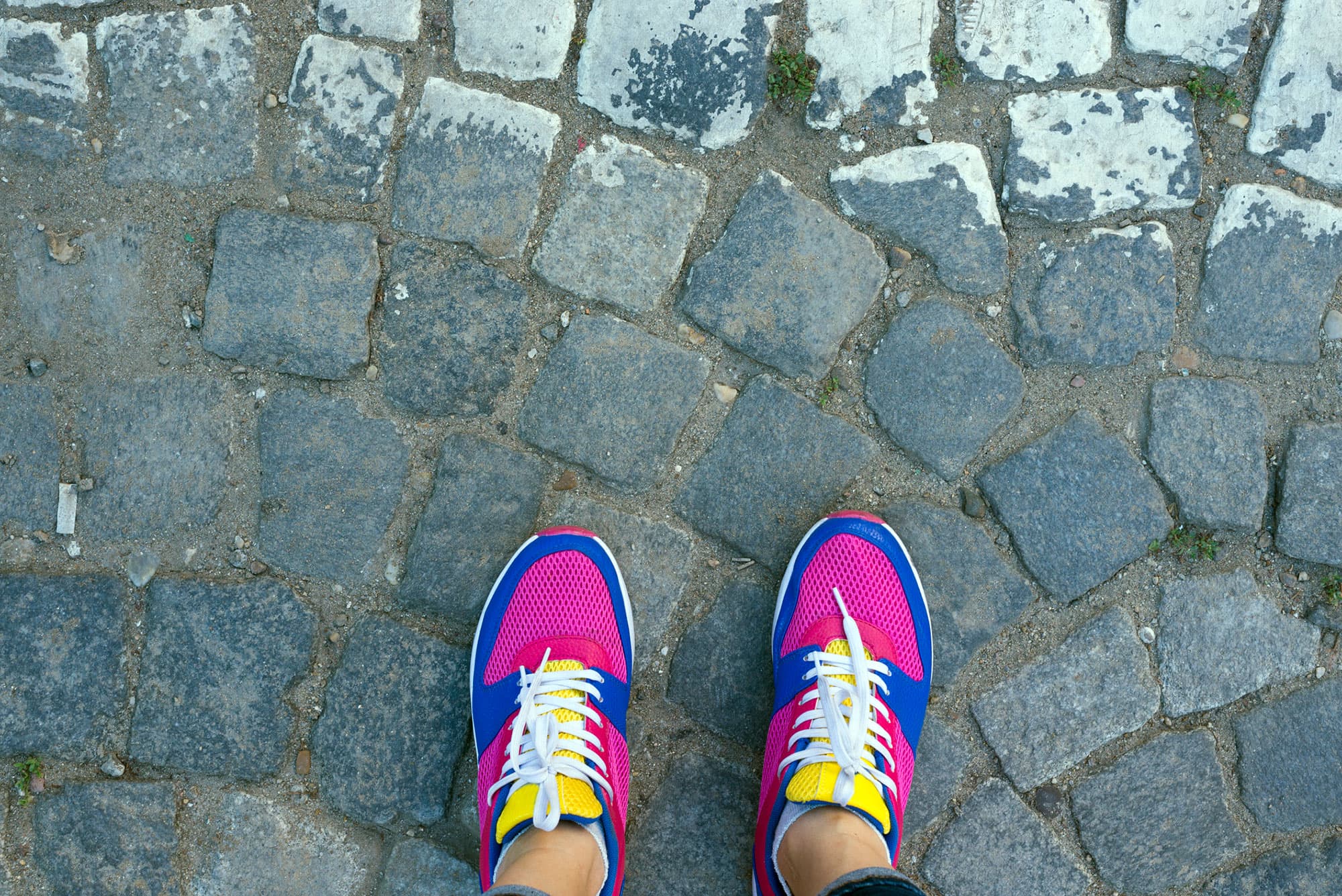 In particular, sensor soles enable readings to be taken inside the shoe rather than underneath it.
Two potential technologies
CMST/imec and Holst Centre each have their own area of expertise that may be of interest for the product that RSscan ultimately brings to market. CMST/imec uses polyimide as the carrier for its 'flexible electronics', with laminated copper on both sides. Sensors and interconnections are then made by patterning the copper. Holst Centre works with thermoplastic polyurethane (TPU) and prints silver structures on it using roll-to-roll techniques. Roll-to-roll printing is cheaper, while copper etching allows to produce finer structures.
Unique: multiple sensors and high measurement frequency
The sensor sole is made up of two layers: one with sensors, while the other is a pressure-sensitive layer. When pressure is exerted on the pressure-sensitive layer, resistance is reduced and more current flows through the sensors. This makes it possible to measure differences in pressure.
Various sensor shapes have been trialed: square, round and finger-shaped structures. The interconnections have a unique winding structure that enables the sole to bend without losing function. The fact that this actually works can be seen from a test using a support sole with a 'deep liner' at the heel. The sensors kept working while running the tests, despite the fact that the sensor sole was loaded in this curved position.
The sensor layer has been designed in such a way that the customized soles can be trimmed without losing the essential connections. Function was maintained in both size 39 and size 46.
The unique and most striking feature of the design is definitely the sensor density: one sensor every 5 mm! The soles produced by most of RSscan's competitors only have between 10 and 13 sensors.
The high density is important for research purposes, as well as for the broad application of the sole. For certain medical problems, you need a high density of sensors at the heel, whereas for others it's more on the front part of the sole.
The measurement frequency that can be achieved with this sensor design and the supporting electronics is also unique. For example, speeds of 500 to 1000 Hz can be measured. Again, this is very important for research and for doctors investigating specific complaints.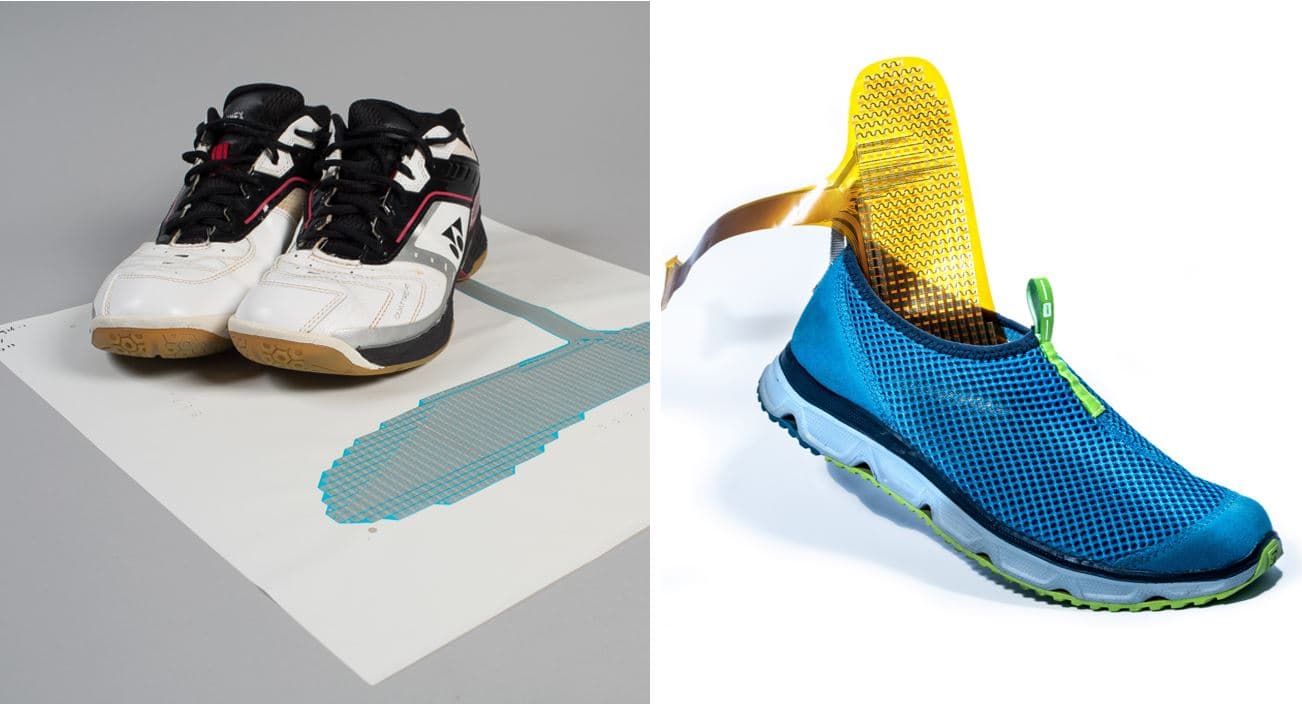 On the market by 2020
The results from the InForMed project show that the sensor is now within reach for RSscan. Further development at RSscan will now focus on the electronics module and product design to provide optimum user-friendliness. Finding the best technology, i.e. roll-to-roll or copper etching, will be researched further with CMST/imec and Holst Centre.
The sensor soles will be extremely use-friendly. First because they are so thin and second because the supporting electronics (data processing and storage, wireless radio) are very compact and hence, unlike with comparable products, they can be clicked on to the shoe. This means readings can be taken without you even noticing.
Want to know more?
Ann Monté received the M.Sc. and Ph.D. degrees in electronics engineering from the University of Ghent, Belgium, in 2003 and 2008 respectively. Until today she is affiliated with the Inter-University Microelectronics Centre (imec), in the Cmst group at the University of Ghent. She is involved in research on the design of driver electronics for both displays and lighting as well as in the design of integrated sensor systems. She is author or co-author of 25 papers in international technical journals and conference proceedings.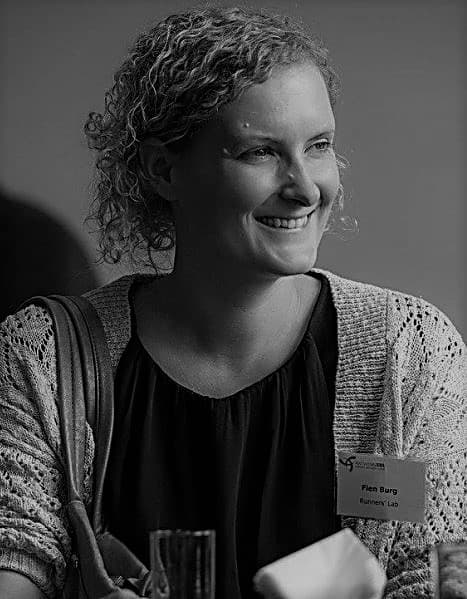 Fien Burg received her master's degree in Rehabilitation Sciences and Physiotherapy in 2007 at KU Leuven, Belgium. In 2009, she obtained an additional certificate in Biomedical and Clinical Engineering Techniques, also at KU Leuven. In 2014 she received her doctoral degree in Biomedical Sciences titled 'Biomechanics of the foot-ankle complex before and after total ankle arthroplasty: An in vivo and in vitro analysis'. Since 2014, she is active as Research Manager at rs scan International.
Published on:
28 June 2018