San Francisco (US), Jan 30, 2017 – At this week's SPIE Photonics West, imec, the world-leading research and innovation hub in nano-electronics and digital technologies, showcases a prototype of a high-performance multispectral time-delay-integration (TDI) imager that is based on charge-coupled device (CCD)-in-CMOS technology. Due to its high sensitivity and record high speed (up to 300kHz), this next-generation TDI imager targets high-end applications, such as remote sensing, life sciences and machine vision. The specialty imagers are offered through various business models, including full-custom design, prototype TDI sensors and evaluation cameras.
TDI imaging technology relies on the collection of charges that are generated from multiple exposures of an object moving linearly with respect to the imager. Traditionally, this is done through CCD technology where the charge transfer in the CCD pixels results in a noiseless integration and transfer synchronized with the moving scene. By implementing the CCD TDI pixels together with a CMOS readout, imec combines the best of both worlds on one single chip: low-noise TDI performance, and low-power, on-chip integration of fast and complex circuitry readout.
Imec produced the sensors in one CMOS-compatible flow, resulting in a simple and cost-effective solution. Using backside-illumination technology, the area which is exposed to light is maximized, increasing the sensor's light sensitivity. To enhance the TDI imaging performance, the TDI CCD-in-CMOS technology was combined with multispectral or RGB color filters that can be processed at wafer level or alternatively, filters on glass may be used.
Imec offers its CCD-in-CMOS TDI technology through various business models, ranging from full-custom design to offering of imec's prototype TDI sensors and evaluation cameras. The prototype TDI sensors use a format with 4,096 columns and 256 stages per CCD array (or band). A version with one CCD array is available, as well as a 7-band version, allowing to add 7 spectral filters. The prototypes integrate CMOS drivers and readout circuitry.
"This unique low-power TDI technology excels in speed and sensitivity. Also, the availability of multispectral filters allows to extract significantly more features of the moving scene than a traditional TDI solution," says Jonathan Borremans, program manager at imec. "This makes the technology very attractive for high-end applications, such as remote sensing, medical imaging and life sciences, and industrial machine vision, where these characteristics are exploited to their maximum."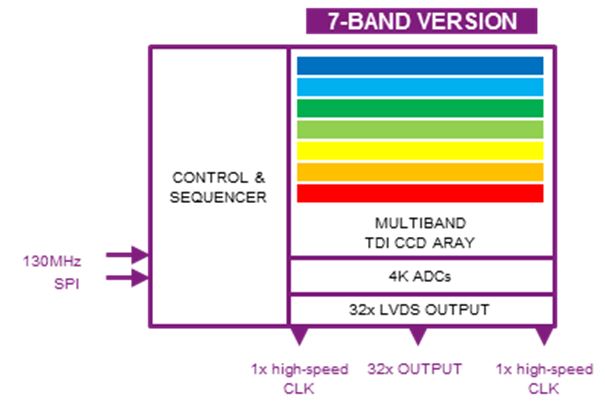 Schematic representation of a multispectral TDI image sensor with 7 bands

About imec
Imec is the world-leading research and innovation hub in nano-electronics and digital technologies. The combination of our widely acclaimed leadership in microchip technology and profound software and ICT expertise is what makes us unique. By leveraging our world-class infrastructure and local and global ecosystem of partners across a multitude of industries, we create groundbreaking innovation in application domains such as healthcare, smart cities and mobility, logistics and manufacturing, and energy.
As a trusted partner for companies, start-ups and universities we bring together close to 3,500 brilliant minds from over 70 nationalities. Imec is headquartered in Leuven, Belgium and also has distributed R&D groups at a number of Flemish universities, in the Netherlands, Taiwan, USA, China, and offices in India and Japan. In 2015, imec's revenue (P&L) totaled 415 million euro and of iMinds which is integrated in imec as of September 21, 2016 52 million euro. Further information on imec can be found at www.imec-int.com
Imec is a registered trademark for the activities of IMEC International (a legal entity set up under Belgian law as a "stichting van openbaar nut"), imec Belgium (IMEC vzw supported by the Flemish Government), imec the Netherlands (Stichting IMEC Nederland, part of Holst Centre which is supported by the Dutch Government), imec Taiwan (IMEC Taiwan Co.) and imec China (IMEC Microelectronics (Shanghai) Co. Ltd.) and imec India (Imec India Private Limited), imec Florida (IMEC USA nanoelectronics design center).
Contact:
Hanne Degans, Press Officer, +32 16 28 17 69 // +32 486 06 51 75 // Hanne.Degans@imec.be